Quartz Countertops  •  Cabinets & Hardware  •  3 Sinks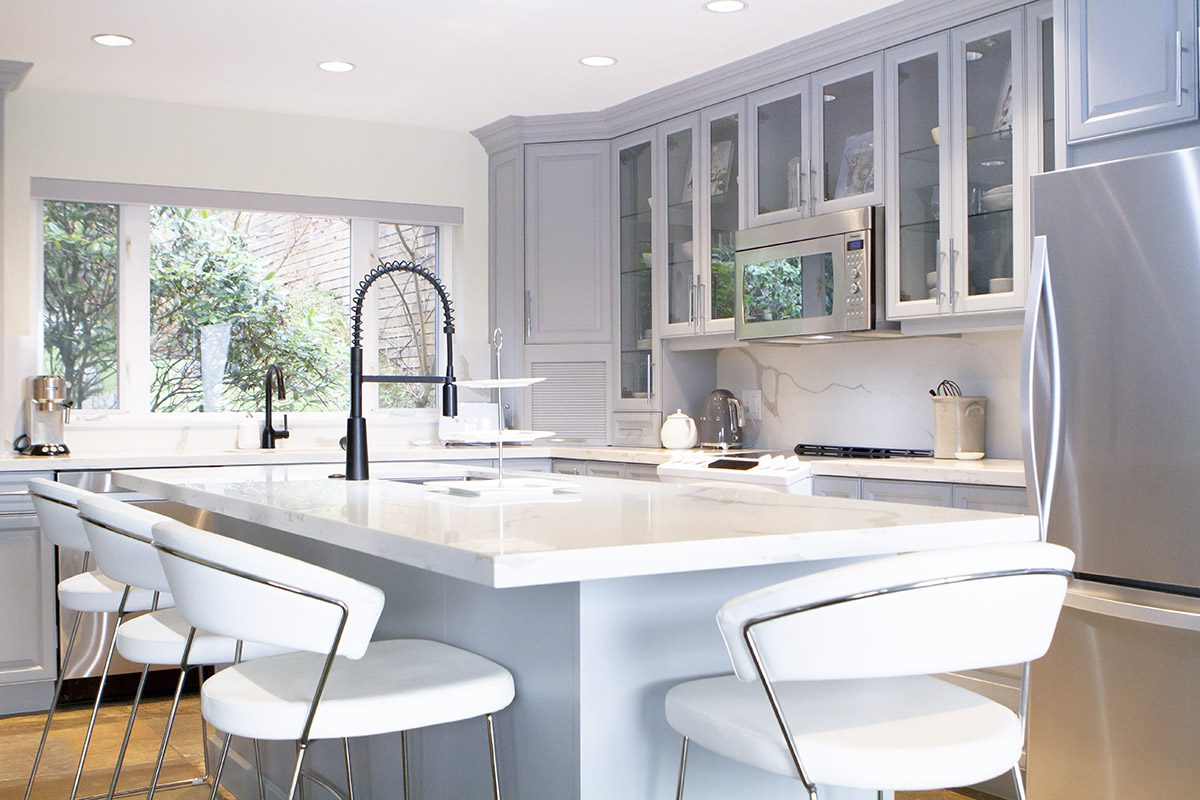 Kitchen Island Rebuild
Cabinets & Hardware
Three New Sinks
Cost: Under $31,000*
*Costs are a rough guide only. Your own specific project may cost more or less depending on many variables.
Dave and his wife lived on a quiet street in a beautiful home with commanding views of the water, and a custom-commissioned kitchen that cost them a fortune about two decades ago. Could we save their kitchen… and bring it into the 2020s?
One of our most popular kitchens that we have done was for a Realtor in Deep Cove in North Vancouver. That client has since referred us to a great many clients and this one happened to be his neighbour.
Dave and his wife lived on a quiet Deep Cove street, in a beautiful home with with commanding water views. They had lived in their home for years and had actually originally commissioned their current kitchen. (It had cost them a fortune about 20 years ago!) The kitchen was all high end custom cabinetry, with three sinks, a big island, and loads of storage. The only problem was, after so much time, styles have changed and their kitchen needed to be brought into the 2020s. The cabinets were in great condition and the layout was extremely functional so they thought we might be the right fit to help them save their cabinets, and save a ton of money on the renovation. Turns out, they were right!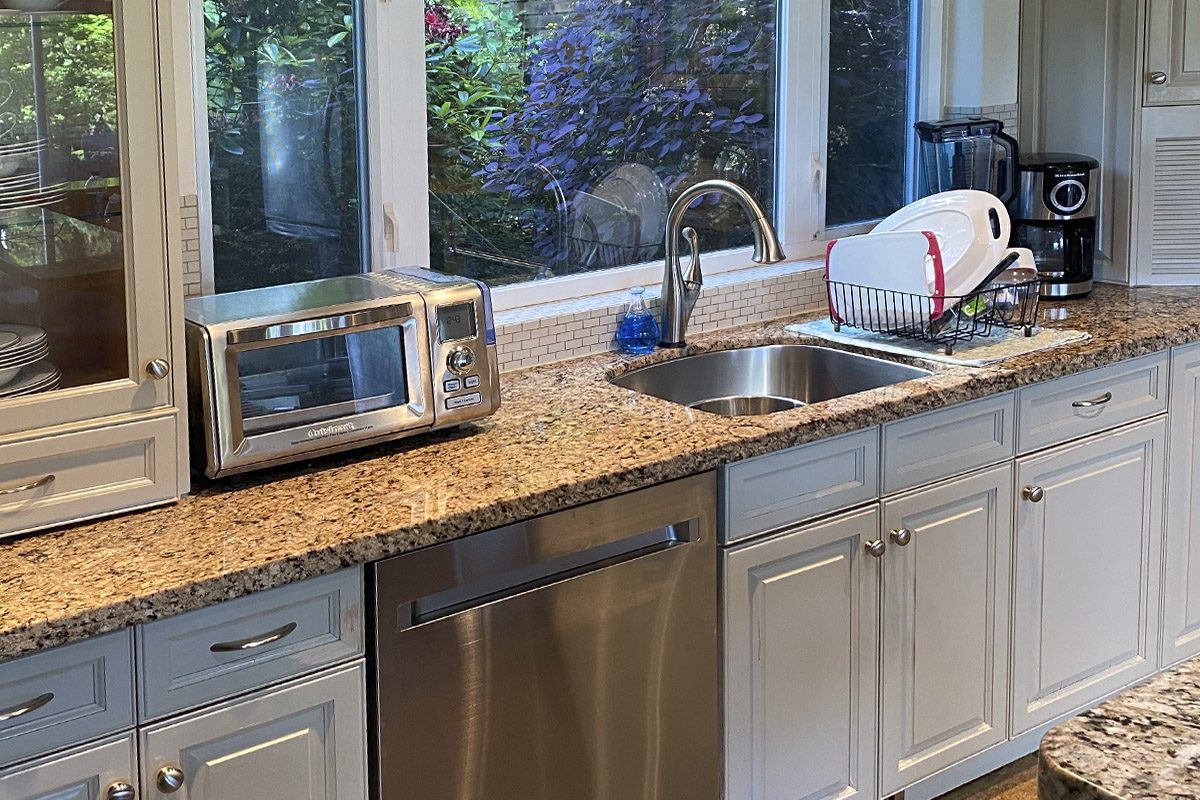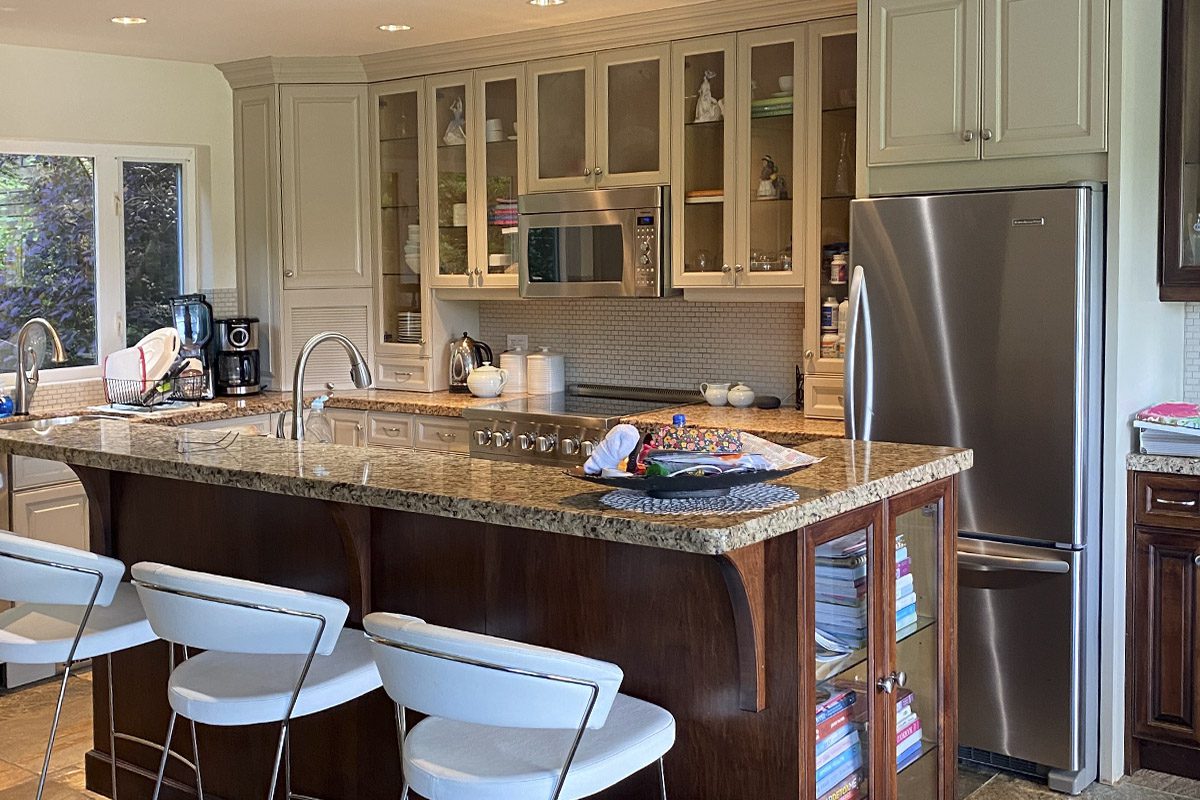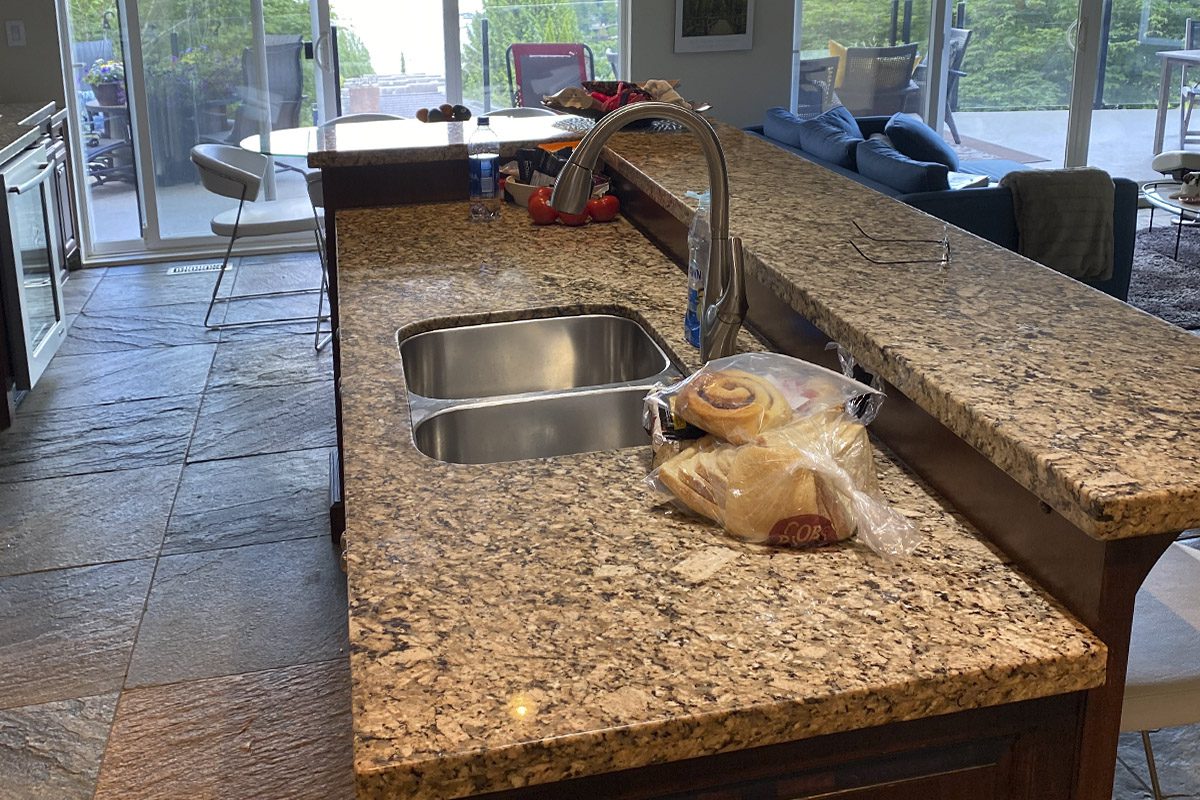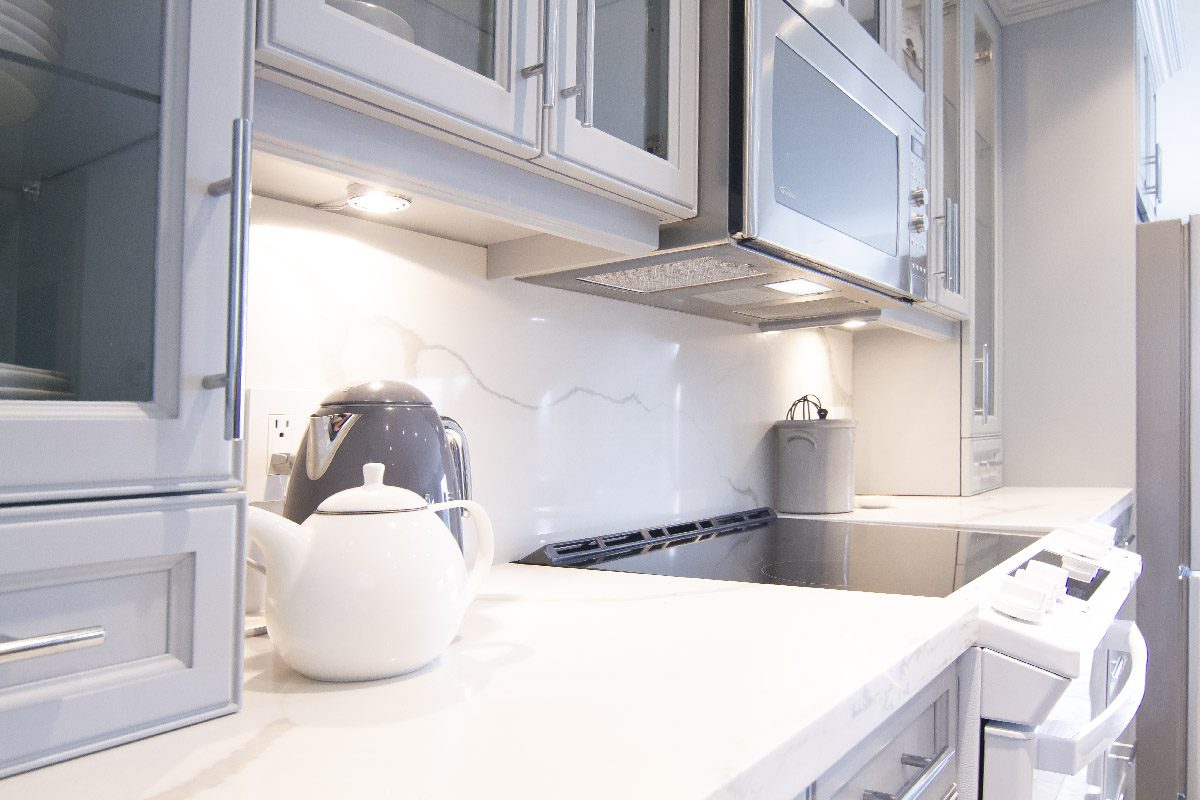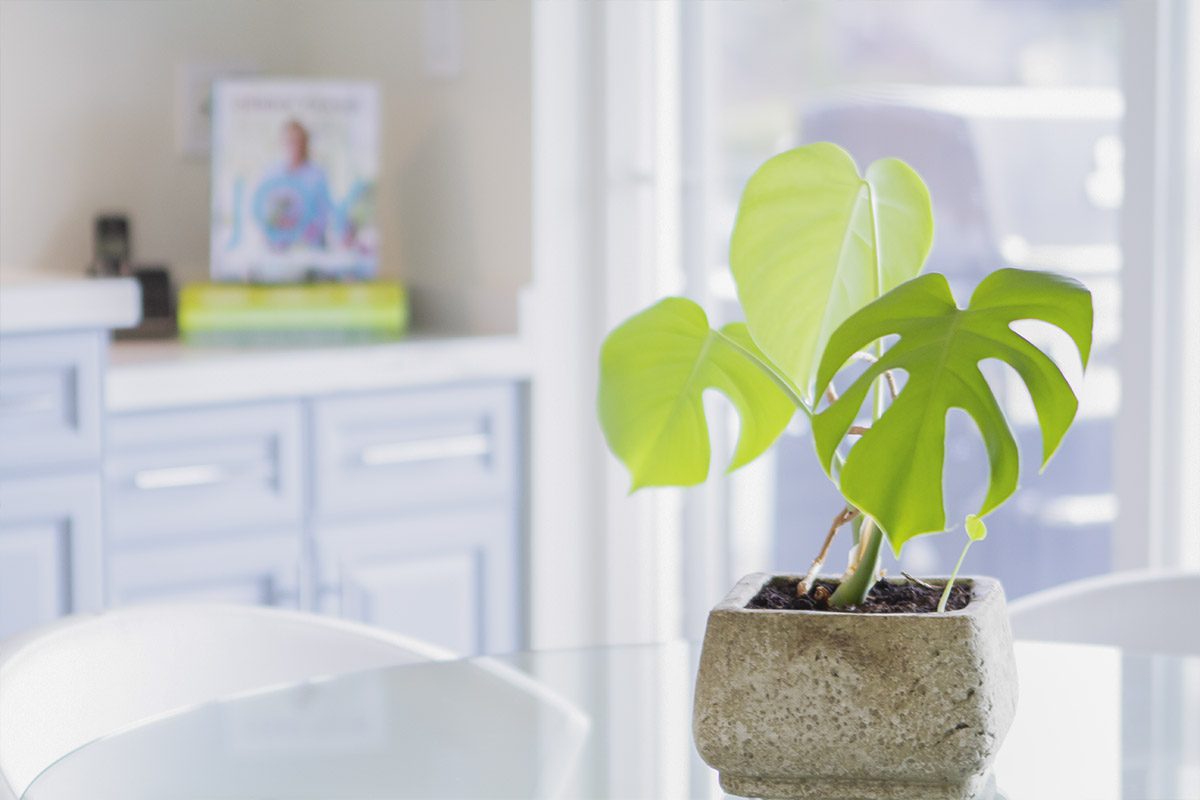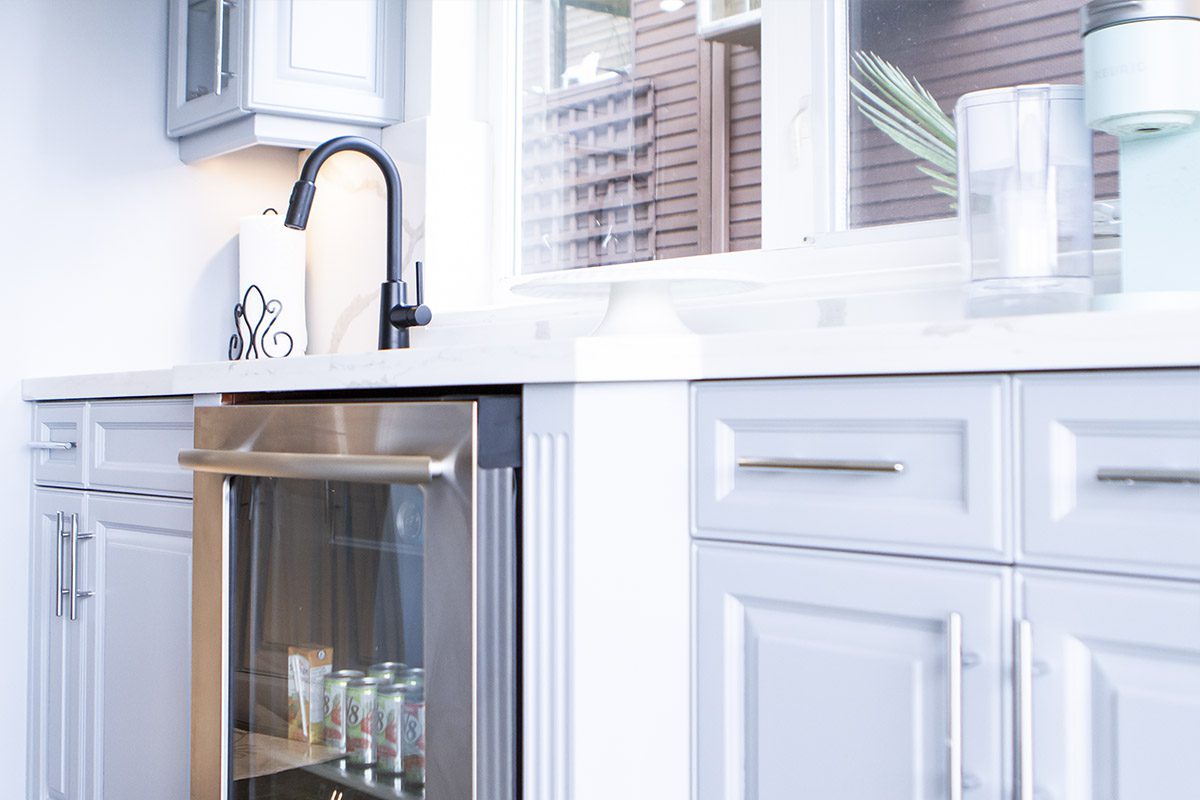 Photographs by Jon Milstein
KITCHEN ISLAND | The couple wanted to modify their island to get rid of the once-so-popular raised bar, to create one stunning and expansive piece of quartz for their island countertop. We were able to make it happen by removing a cabinet at the end of the island, adding new gable ends around the entire island, and modifying the furniture kick at the base of the island. We then extended the countertop overhang over the area where the old cabinet once stood, to allow for another seat at the island. The result was a much more open feel to the kitchen, with extra seating – and it didn't add a significant cost to the renovation. This is one of the most common cabinet modifications we do these days because you get so much bang for your buck!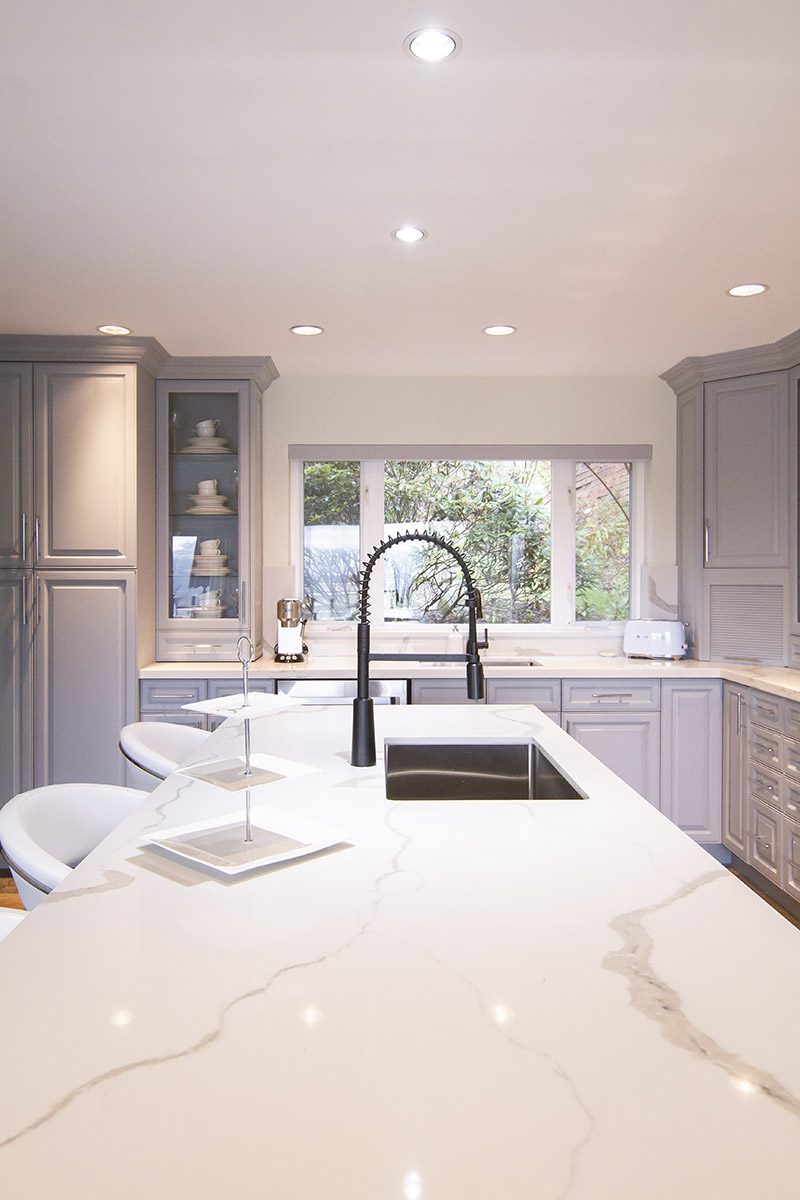 The result? A much more open feel to the kitchen, with extra seating, and little additional cost to the renovation. This type of island reno is one of the most common cabinet modifications we do these days, because you get so much bang for your buck!
CABINETS | Dave and his wife wanted a contemporary colour that would work with the warmth in their floors and create a nice contrast with their white quartz countertops. So the cabinets were refinished in Benjamin Moore's colour Gull Wing Gray, which is very popular and part of our standard colour series. With so many glass door display cabinets, we extended the refinishing to include the interiors of these cabinets so it would all match the exterior.
The couple finished the cabinets with new contemporary steel pulls sourced from Richelieu. We estimate that cabinet refinishing versus replacement in a kitchen of this size, while considering the high quality cabinetry that was there, saved our clients at least $15,000.
COUNTERTOPS | The quartz countertops they selected were Royal Stone C9628 and is an ever-popular white quartz with bold gray veining running throughout the slabs. Not only does it look stunning, but there's zero maintenance.
BACKSPLASH | As with most of our kitchen remodels these days, our clients opted for a quartz backsplash in place of tile. It not only looks sleek, and scrumptiously modern, but it's also a dream to clean and maintain. No more scrubbing stained grout lines around the stove that never come out clean!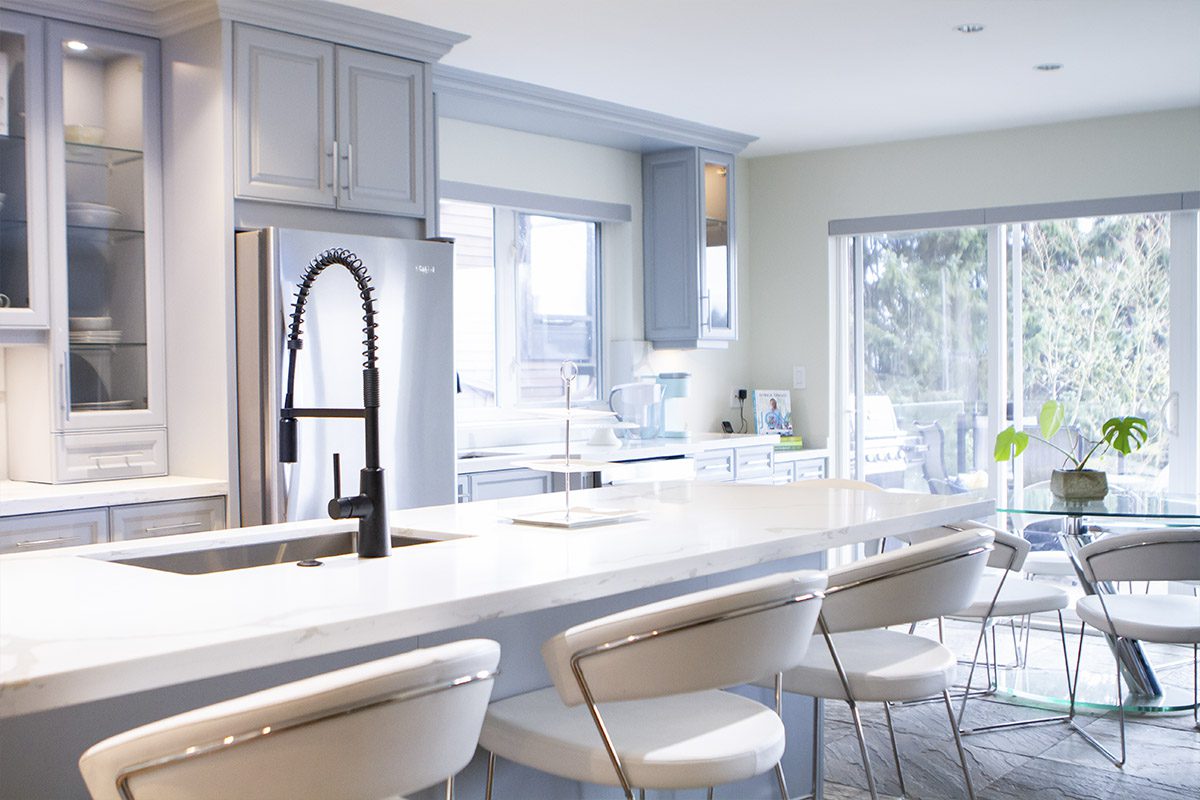 SINKS | The final touch was the installation of the three modern square profile 18 gauge stainless steel sinks and matte black faucets from our suppliers Pearl. The sinks have ever so slightly rounded interior corners to make for easy cleaning and come with a bottom grate to protect the sink from scratches.
With a showroom in Richmond AND everything stocked in Vancouver, Pearl have been a godsend since the start of the pandemic. No more 6-10 month wait times for a sink! The other bonus for these clients is they have fantastic quality products without the bloated prices of many name brands. When you have three sinks in your kitchen, that makes a BIG difference in the bill. The cherry on top was the new matte black air switch installed into the countertop to operate the island garburator.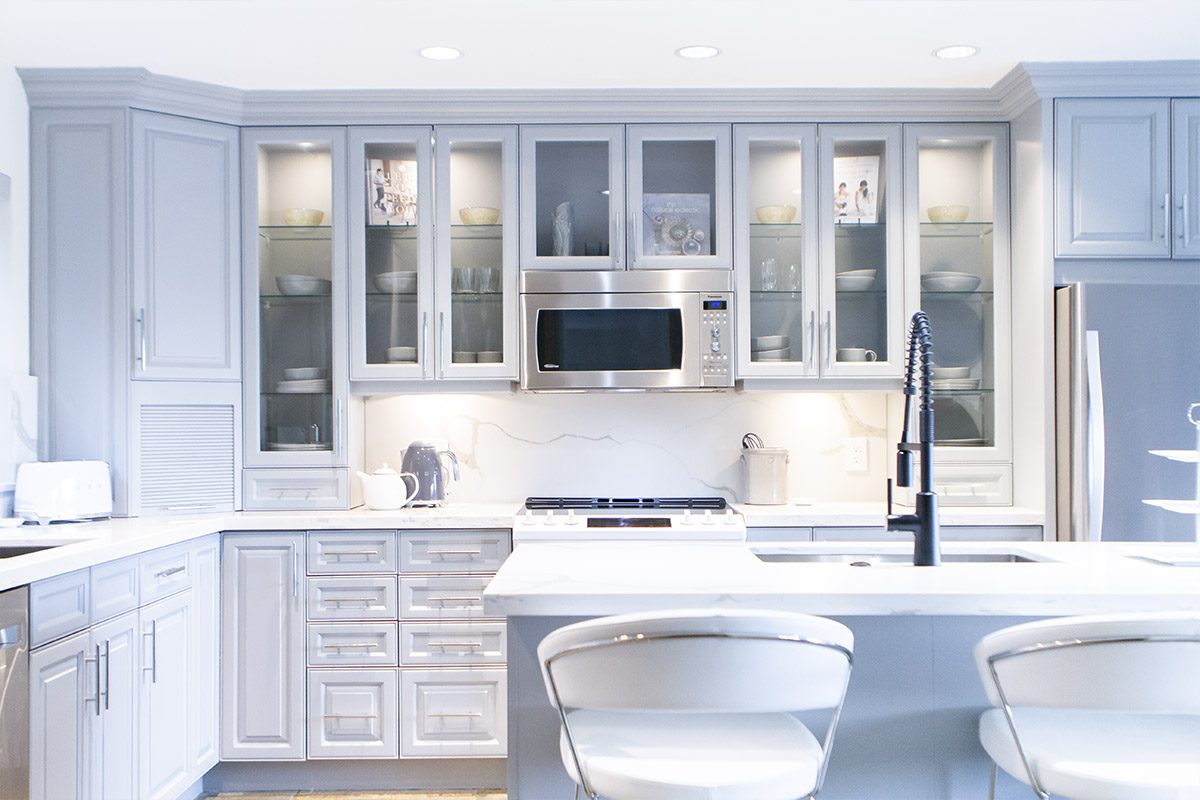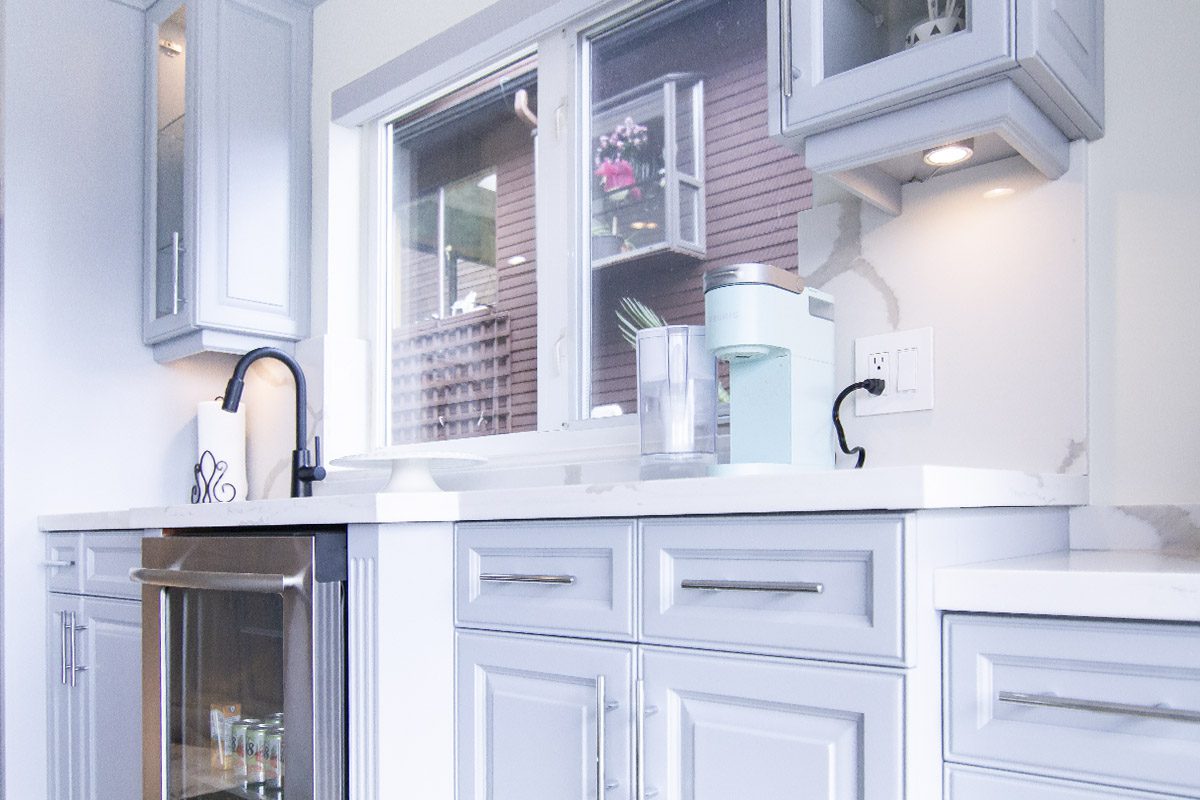 These clients were a dream to work with throughout the project. They knew exactly what they wanted, and jumped right in.
We remember cringing slightly when we presented them with their project quote because the number came in a little higher than we had ballparked in our first meeting, but they were elated because their new kitchen was going to cost a tiny fraction of what the kitchen had originally cost to build 20 years ago! They were extremely patient while we ripped apart and reconstructed their kitchen (even if it was only 2 weeks!) Dave was even kind enough to leave us a nice review.