Roll up your sleeves to save time & money!
OUR SERVICES
From DIY Doors, to cabinet refinishing and refacing, to full kitchen makeovers in under 10 days! We have a kitchen reno for every budget!
Book an Appointment

Time for a bathroom or kitchen refresh?
We specialize in on trend, on time, and on budget. That's why we're the best.
Our incredible kitchen and bathroom transformations are hassle-free, budget and eco-friendly, with a factory-finish that will stand the test of time. Plus, we're proud to offer the only Lifetime Warranty* in Vancouver.
We stand by our work, but we know life happens – so we'll even throw in touch ups, free of charge!  
EXPLORE YOUR RENO OPTIONS
↑  LOWEST COST / QUICKEST TURNAROUND
DIY Doors
Cabinet Refinishing
Cabinet Refacing
Full Kitchen Remodel
Bathroom Remodel
Brand New Kitchen
↓  HIGHER COST / LONGER TURNAROUND
Learn more about each option below.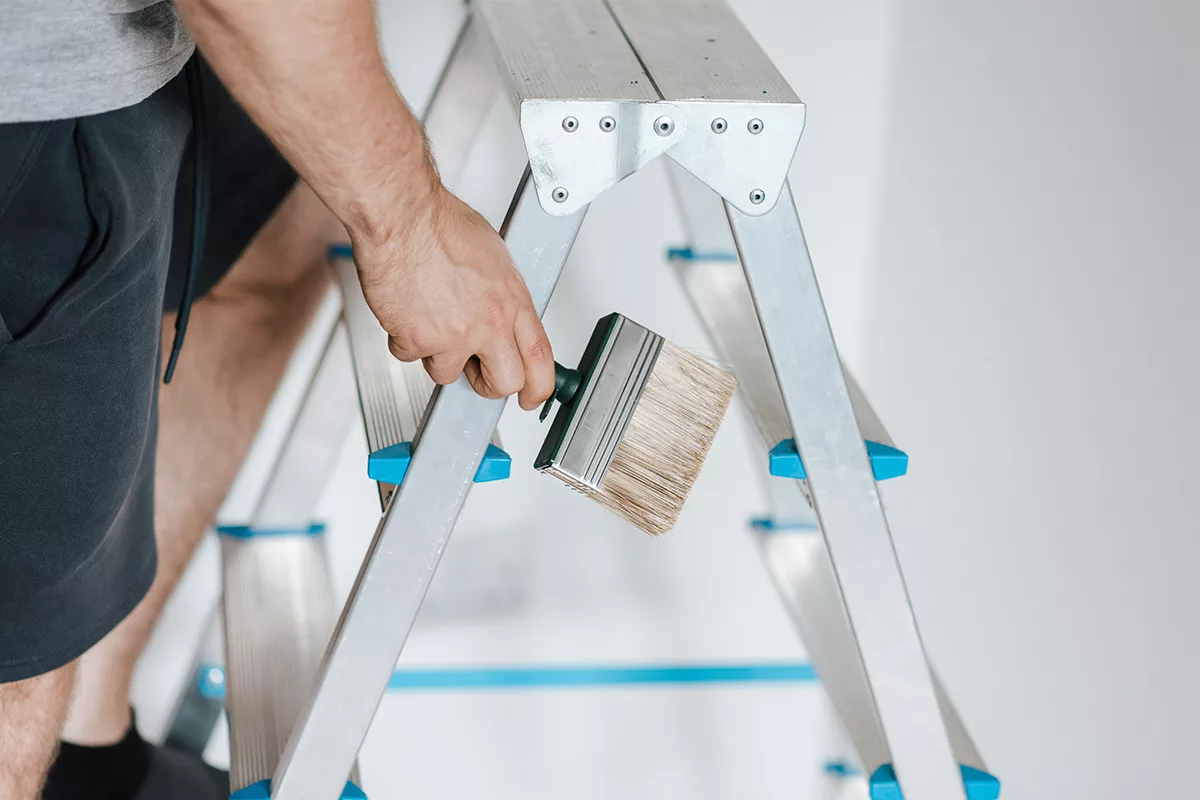 NEW! DIY Doors
STARTING AT $1500
Roll up your sleeves to save time and money. Drop your cabinet doors off at our shop, and leave with a DIY paint kit (and some insider tips!) We'll refinish the doors professionally, while you sand and paint the cabinet trim at home. The end result? A pro finish and brand "new" cabinets at a fraction of the price.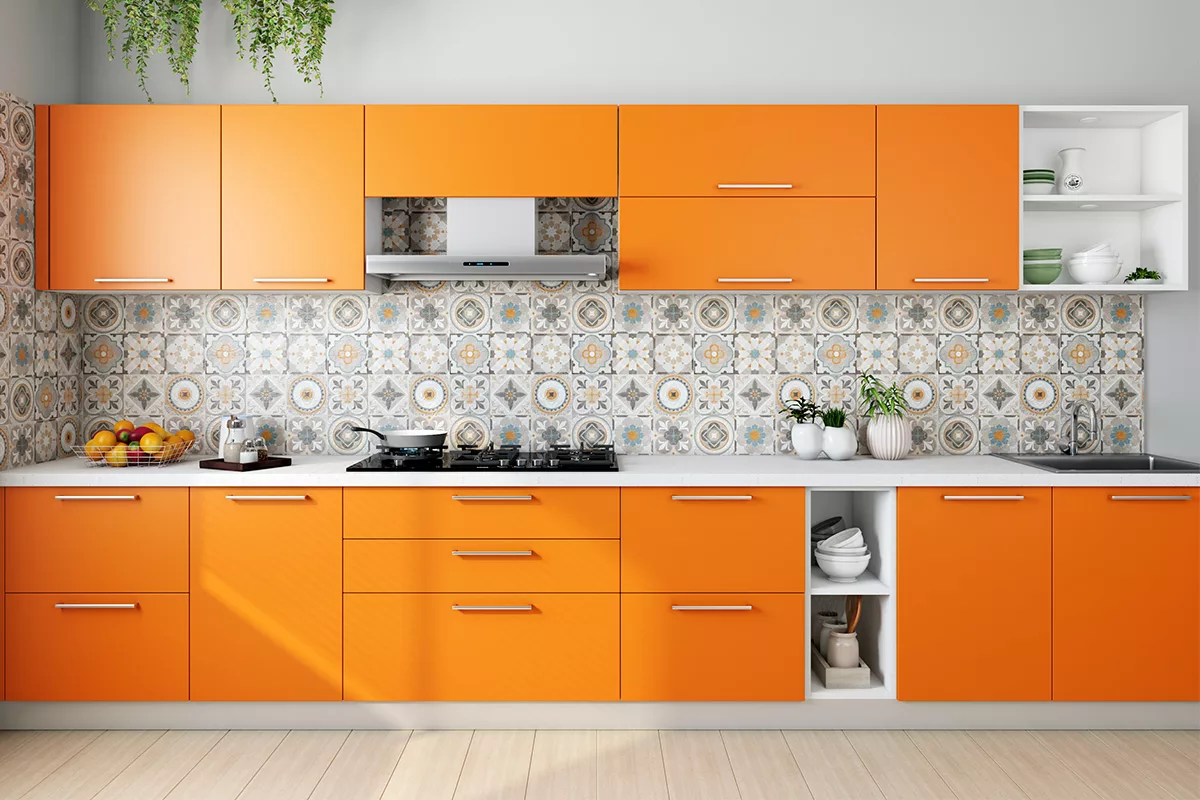 Cabinet Refacing
We'll order brand new flat-panel doors (and gables, if needed) for your kitchen, then apply a vinyl wrap or veneer to the cabinet exteriors, toe kicks, and edges of the cabinets. Choose from a few solid colours, and many wood veneers to simulate the appearance of oak, ash, and other woods. Finally, we'll install your new doors and handles, and allow you to enjoy your refreshed kitchen – and extremely durable new cabinets!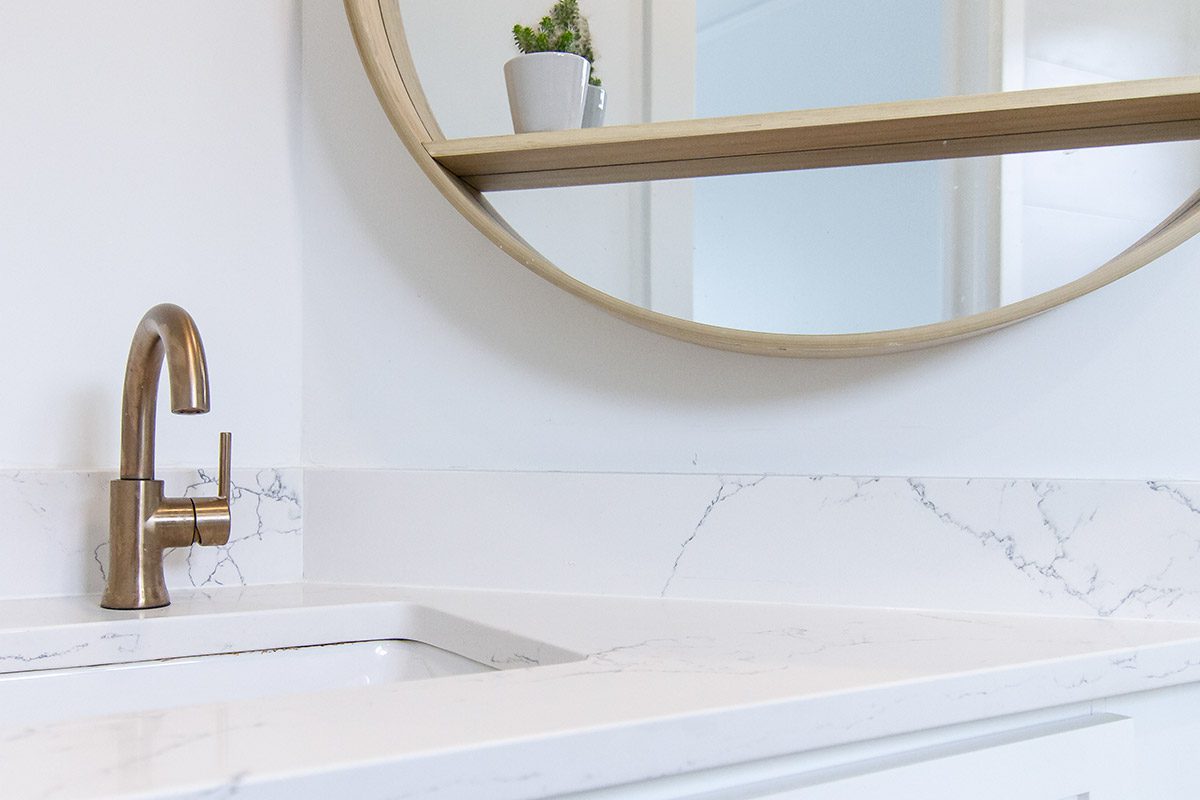 Bathroom Remodel
Want that spa-like feel? We'll refinish or reface your cabinets, and work with you to choose the perfect new vanity, stunning shower tiles, luxurious hardware and a modern shower or tub that suits the space. With new lightning and eye-catching flooring, you won't want to spend your time anywhere else.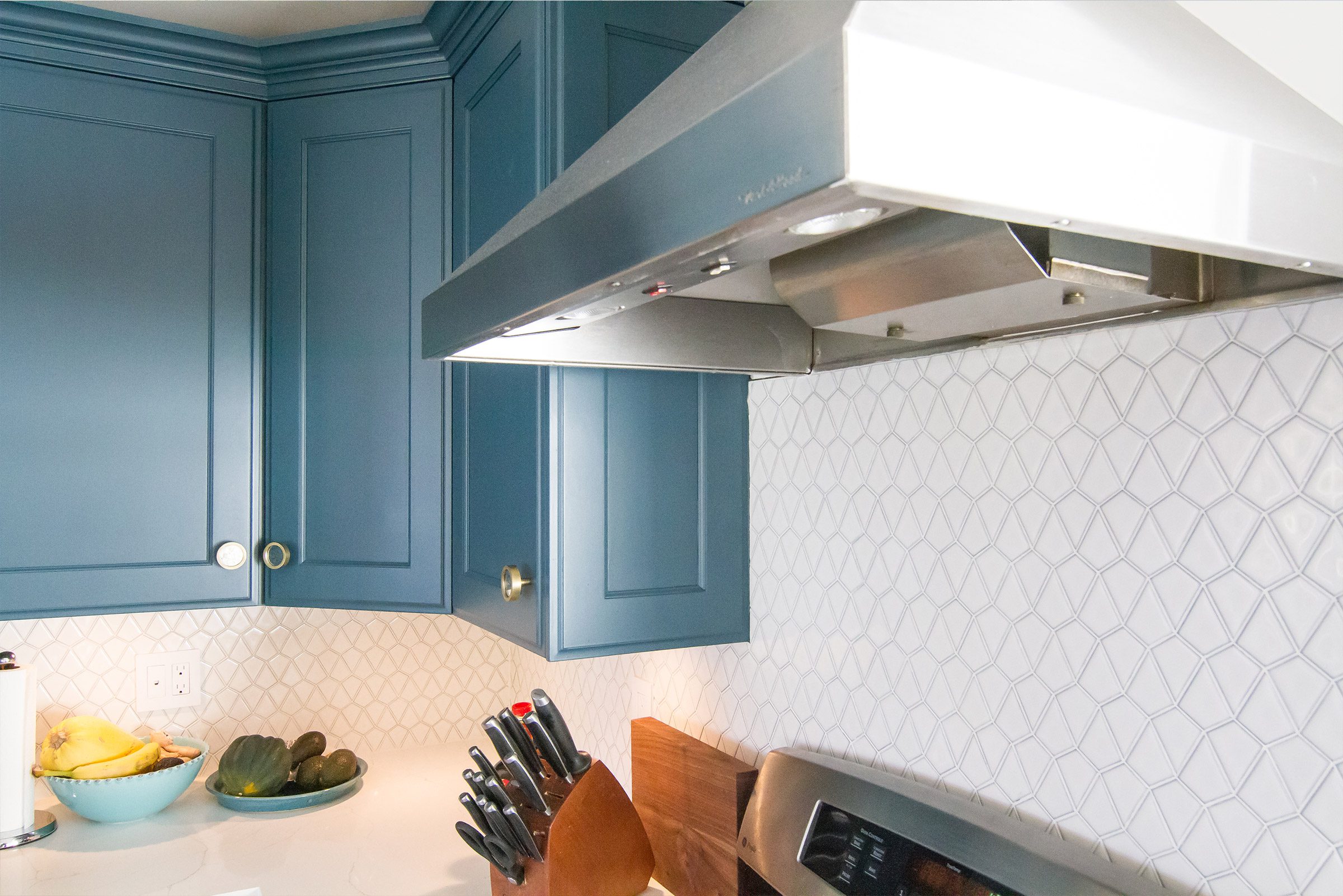 Cabinet Refinishing
STARTING AT $4480
We'll take your existing cabinets and spray them with the highest quality, low-VOC lacquer for a factory finish that stands the test of time. There's no demolition, no need to empty a single cabinet, and major wait for functioning kitchen. Choose from a variety of colours, sheens, and hardwares, and in under 5 days you'll be enjoying your "new" cabinets!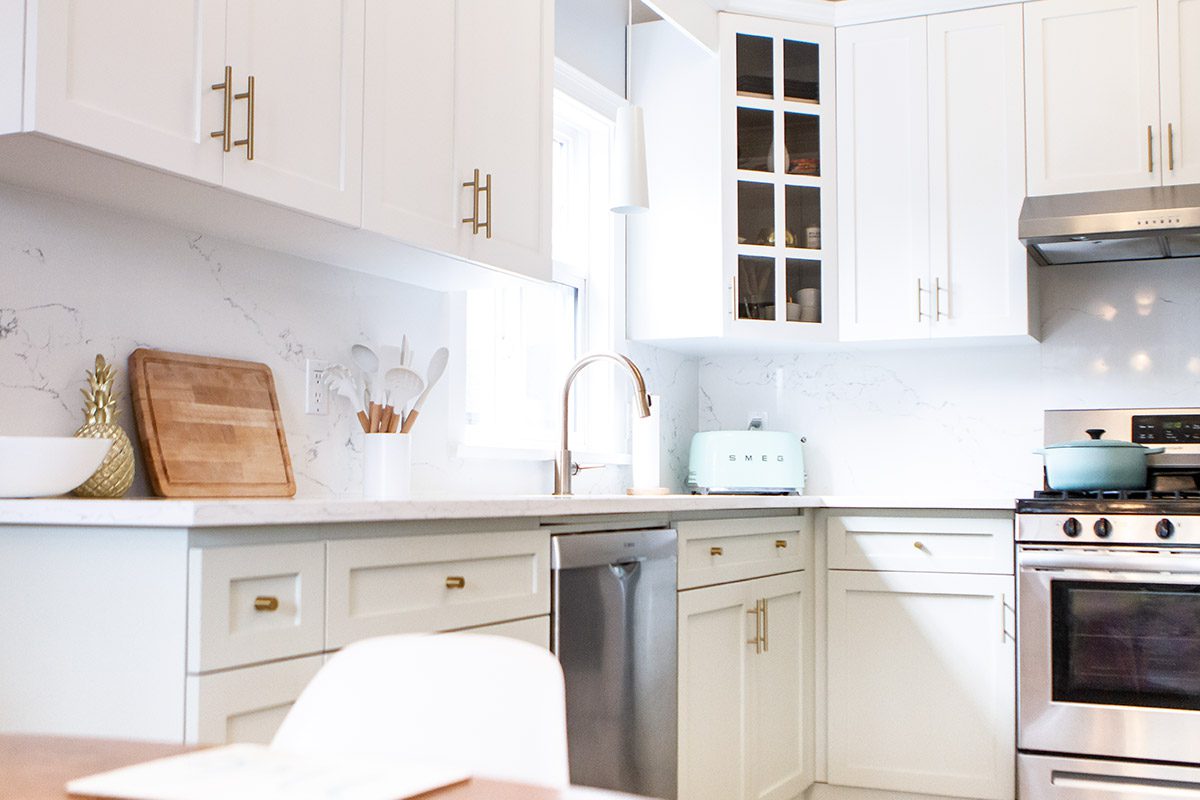 Full Kitchen Remodel
Transform your kitchen cabinets with a choice of refinishing or refacing… then dare to dream! We'll replace your current counters with new quartz countertops, update your backsplash, install new soft-close drawer mechanisms and modern hardware, and more. You can even choose to change up your space entirely with new flooring and lighting from our local partner brands. And just like that… you're home!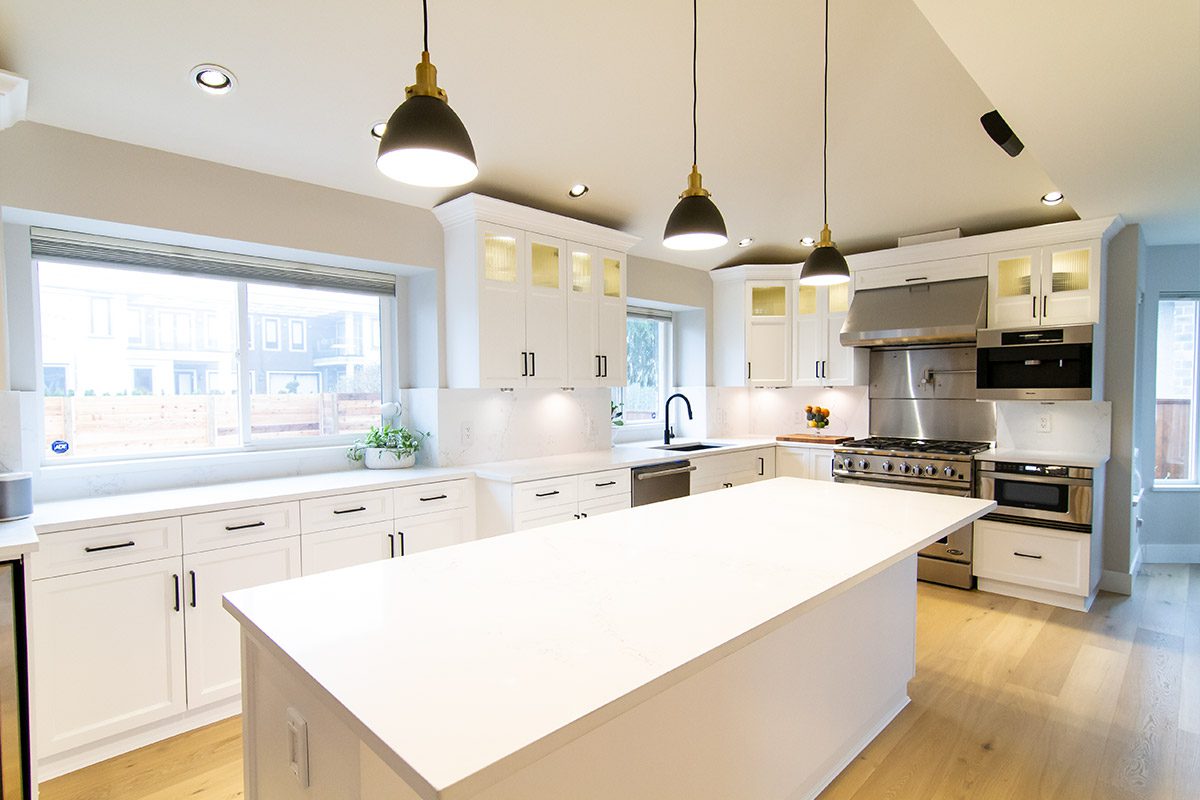 Brand New Kitchen
Have YOUR kitchen, YOUR way. We'll work with you to plan and design the kitchen of your dreams, and work with our partners at Duke Millwork to build brand new doors, drawer fronts, and custom shelving. Update your space with quartz countertops, standout backsplash, and new hardware – then bring the project home with new lighting and floors!
From small kitchens and single vanities to 65+ cabinet drawers and doors, we have a package that's right for you…

If you can dream it, we can build it.
Whether you want to update your cabinet colour or are looking for a total kitchen reno, our Vancouver-based team is here to help. Our designers and cabinet experts work with vetted brands and local wood shops to bring your project in on time and on budget. Explore the possibilities!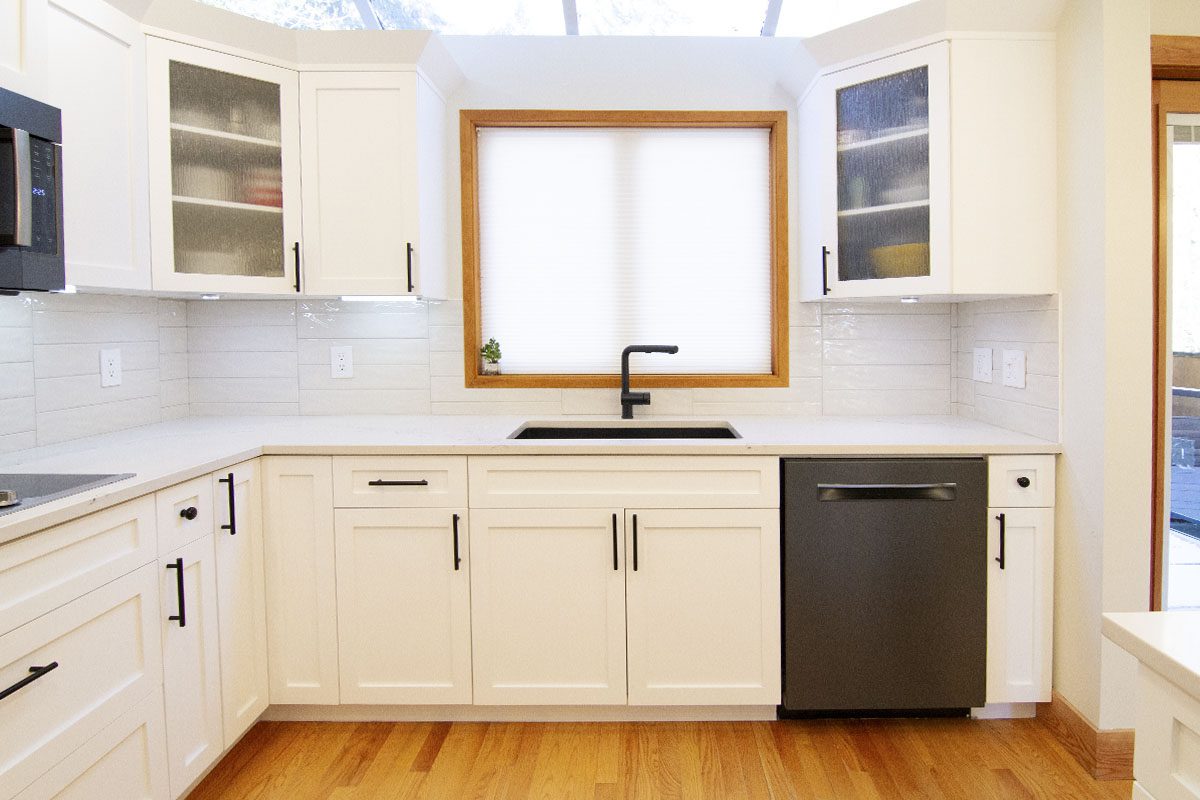 Old Doors - New Look!
Want to save money and the environment? We'll take your existing cabinets and spray them with factory-grade lacquer or reface them with solid colour or wood veneer. There's no cabinet emptying, no demolition, and less than a week for functioning kitchen.
Brand New Doors
Want to truly modernize your kitchen or completely change the style? We can measure and order brand new door and drawer fronts, and refinish them along with the rest of the cabinets. Once we're done, you won't even recognize your kitchen!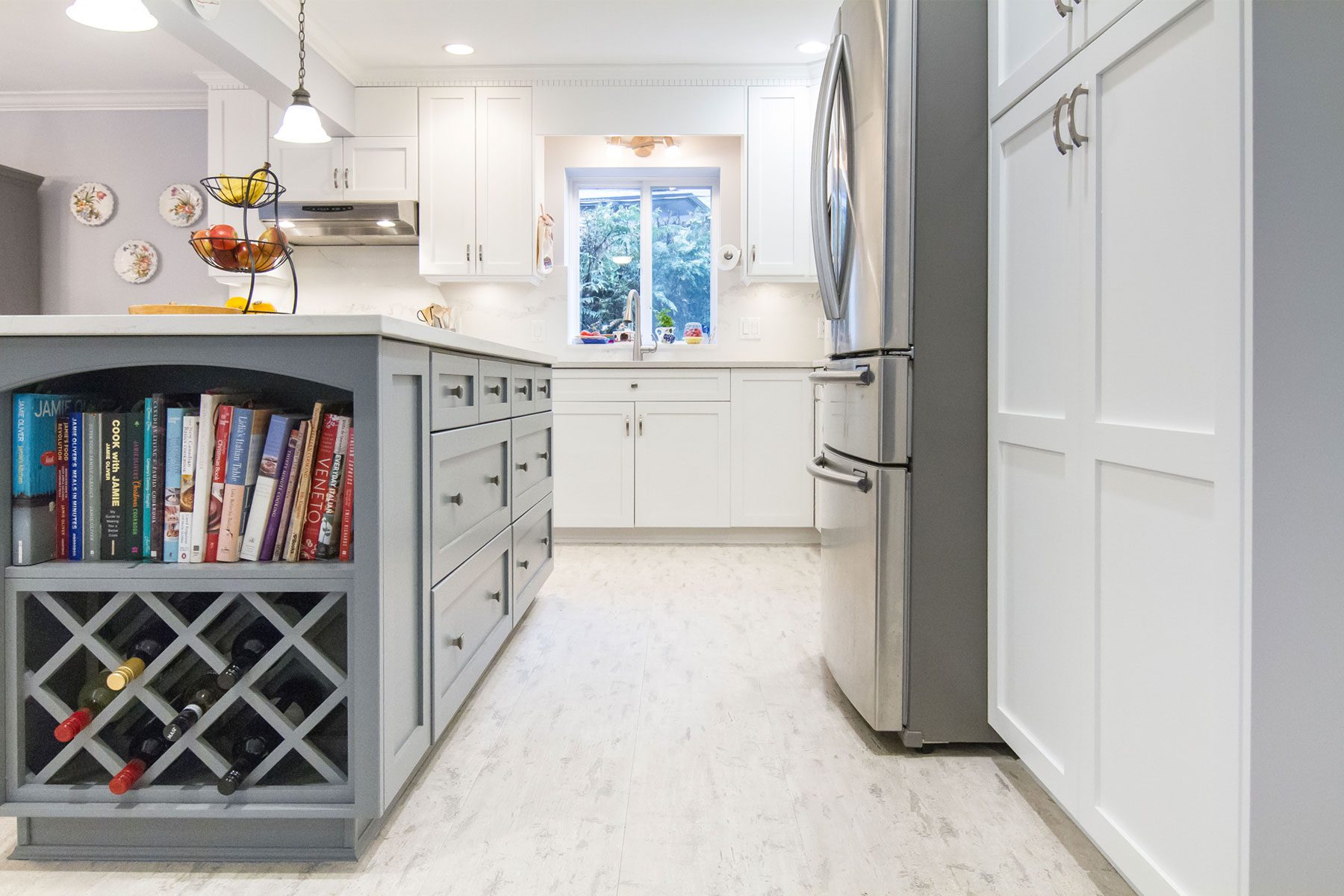 Custom Cabinetry
Have YOUR kitchen, YOUR way. We can help design and build brand new doors, drawer fronts, and custom shelving to suit your list of wants, needs, and simply-must-haves. Our locally-based partners at Duke Millwork will ensure you get the kitchen you dreamed of.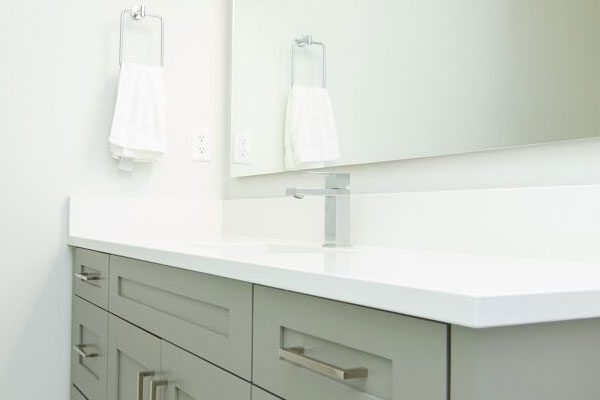 Soft-close Drawer and Doors
We can add soft-close hardware to almost any drawer or door so your cupboards never bang shut again. Hear that? Silence.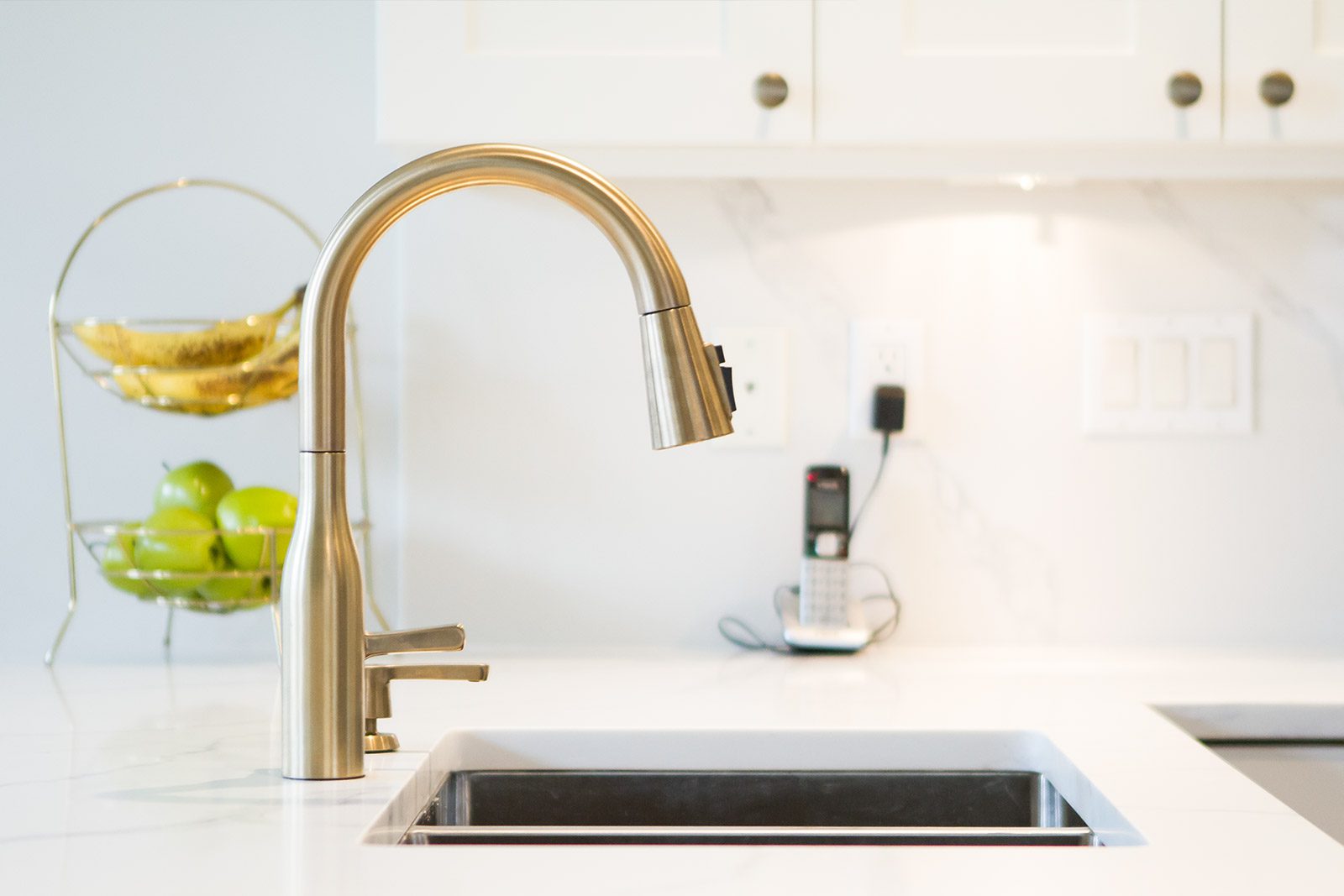 Modern Countertops
We'll remove your current countertops and install new quartz countertops offered by some of the best and most cost effective brands.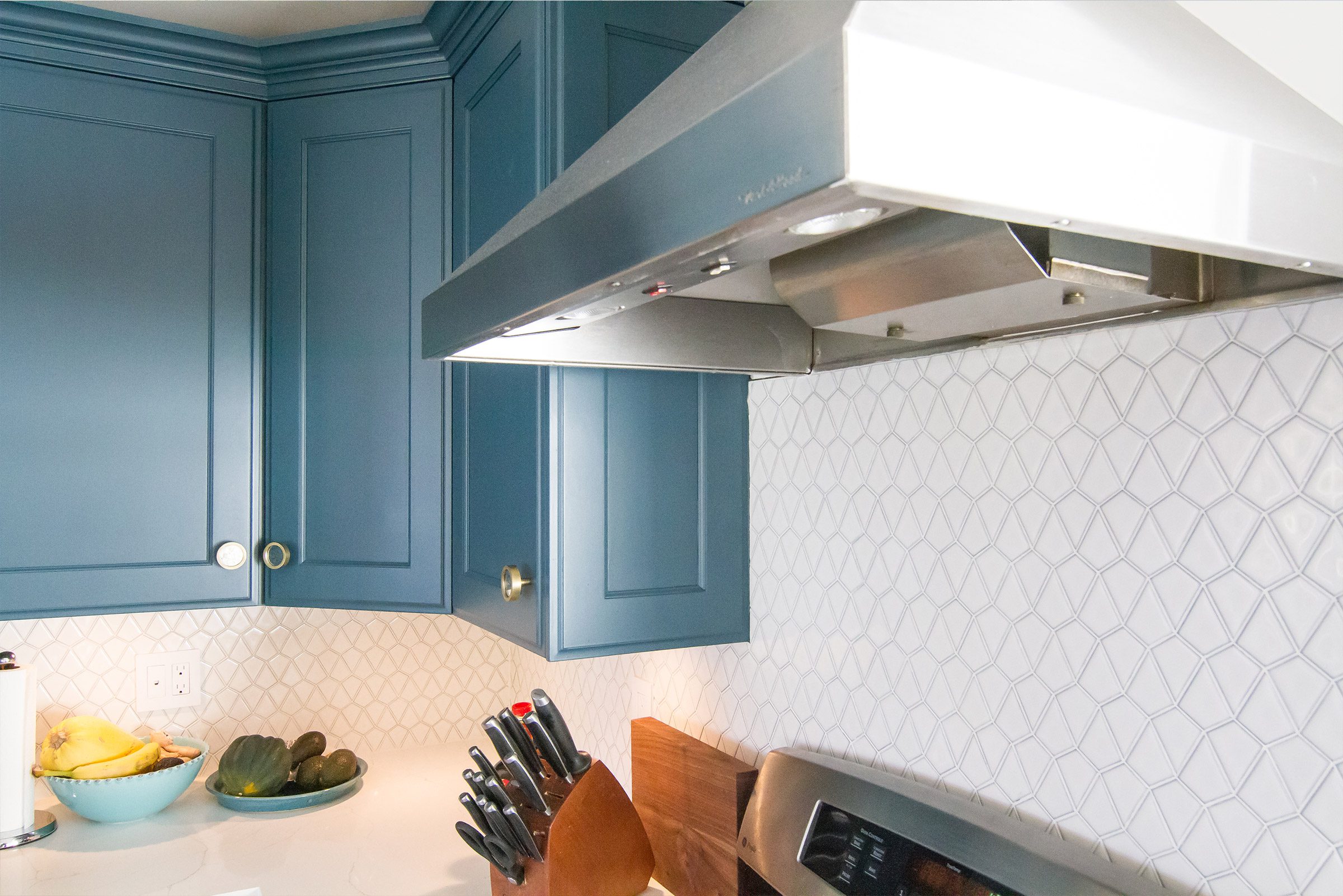 Fresh Backsplash
We'll change up your existing backsplash and bring in a new tile OR quartz backsplash of your choice. You won't believe the difference!
Fresh Wall Paint
There's nothing quite like a fresh coat of paint! Once you've updated your kitchen, let us brighten up your space with a tone that compliments your new, modern space. Transformation complete!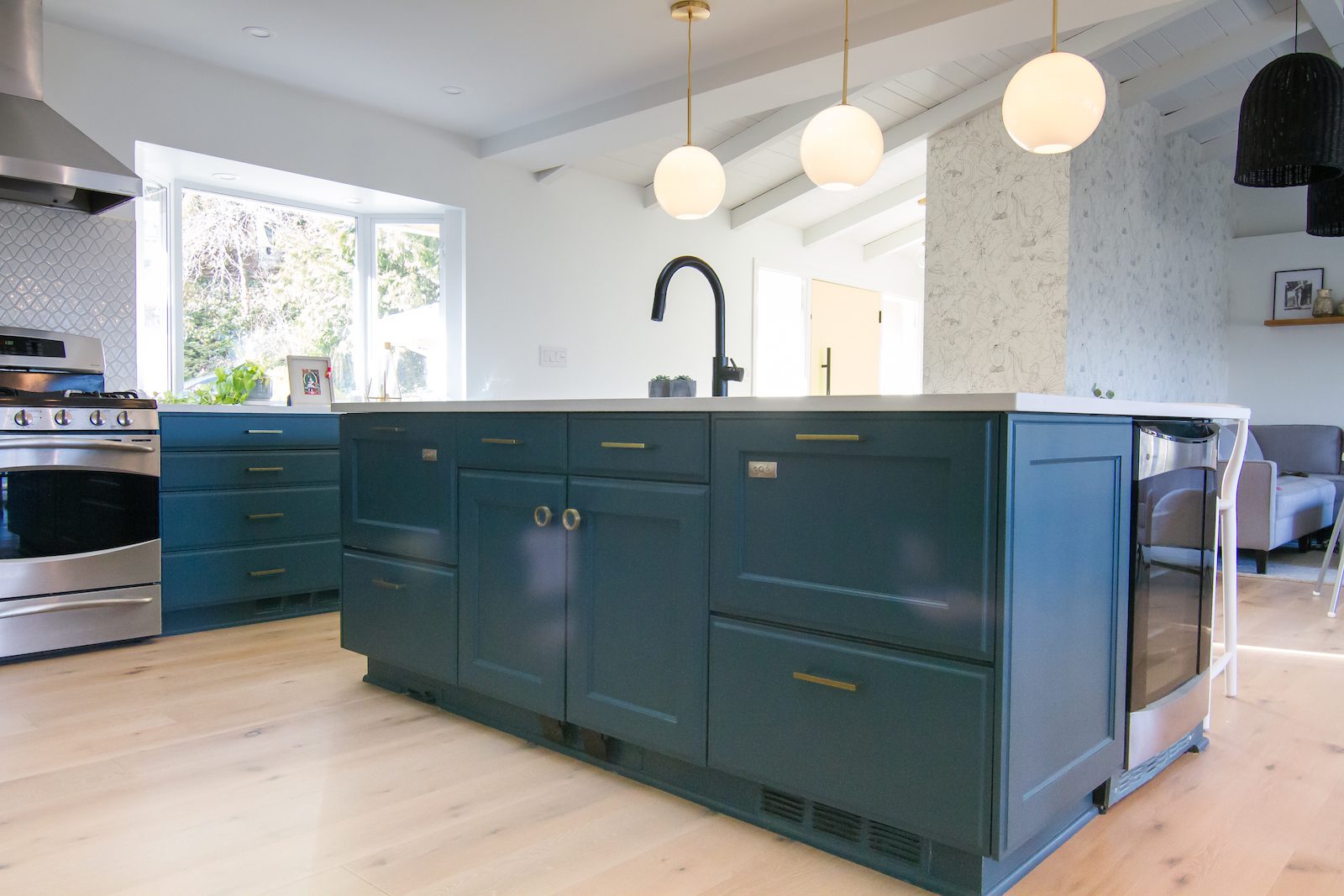 New Flooring
Tie your project together with a stunning foundation. We'll help you find fresh, sustainable solutions that will stand the test of time (and suit your budget) for a space that feels that much bigger and brighter!
Modern Lighting
Let some light into your kitchen with a lighting refresh. Our designers work with you to select pendant lights, wall sconces, puck lights, under-cabinet lights, or whatever pop of light will make your new space shine!
From small kitchens and single vanities to 65+ cabinet drawers and doors, we have a package that's right for you…

Why Solid Colour Cabinet Refinishing?
Our team are the experts in solid cabinet transformation. So all you have to worry about is picking a colour. That's not to say you can't have uber-trendy two-toned cabinets with different-coloured upper and lower cabinets, we just don't do that natural wood look.
We take the white glove approach to cabinet refinishing. We know we've put you out for 3-5 days while we work on transforming your home so we'll make it as painless as possible. We'll even take care of dinner! Just ask.
Factory Finish
A factory finish in 4 days, start to finish!
Major Cost Savings
50% the cost of installing new cabinets and at a fixed price with no surprises!
Lifetime Warranty*
The most extensive cabinet warranty in Vancouver. Rest easy — we have you covered!
Hassle-Free Process
No need to empty a single cabinet!
Quality Paints
Low-odour, low-VOC paints for every job!
White Glove Customer Service
A professional cleaning, dinner reservations, and more. We take care of the little things so you're not inconvenienced while we work.
Most of our competitors tend to use architectural paints that were designed for use on doors, trim and walls. These coatings just don't have the durability that is needed in a kitchen or bathroom. Our products provide a far superior look and feel, are low VOC, and have the added benefit of providing outstanding durability.
Cabinet painting, new counters and updated backsplashes for a full kitchen makeover in under 10 days!