Roll up your sleeves to save time & money!
Roll up your sleeves to save time & money!
All the wow of a new kitchen…
without the price tag!
Refinish your cabinets to look, feel and function like new
Who says renovations need to be stressful?
Bring your kitchen into 2023 without the cost, mess, and stress of gutting your space! Our industry-leading refinishing process takes your existing cabinets and sprays them with the highest quality products available. The result is a factory finish with the most stain, scratch, and dent resistance in our industry – a finish that actually looks and performs like brand new custom cabinets!
Keep your total kitchen remodel managed in-house, with just one phone call. We'll guarantee your quote, then bring your vision to life with cabinets refinished in any colour, and new knobs or pulls of your choice. There's no demolition, no need to empty a single cabinet, and no month to wait without a functioning kitchen. In just 4 short days you can enjoy your "new" cabinets again!
From small kitchens and bathrooms to 65+ cabinet drawers and doors, we have a package that's right for you…
Google Reviews
4.9 

59 reviews
A big thank you to Jon and the team for what has been a great upgrade to the space. The difference before/after is meaningful. Very happy with the result.

Antoine Crosby


January 24, 2023

We just had our kitchen finished and we love it. It took us about 2 years to finally decided to do this and we are so happy that we went... Read more with Jon and his team. Martin was the project manager for our house and his communication and response to all our questions and concerns was excellent. They even sent a bouquet of flowers when they found out that my mom had a fall and a concussion. Can't say enough about the care & commitment of this team. Great Company!!

Deana S


October 31, 2022

We can't say enough about Cabinet Painting Vancouver! From start to finish everything went entirely as planned, and we couldn't be happier with the final result. We did... Read more our kitchen and bathroom together and it was all completed in the time guaranteed. The team was amazing and always respectful of our home. From the outset, Natalia was instrumental in guiding us through the design process and provided exact quotes for the project. Also, she referred us to suppliers that we might not have otherwise been aware of. Martin, the project manager, was exceptional. Always on time, willing to listen to concerns and consistently kept us in the loop with progress on delivery of countertops, plumbers, painters, and other contractors. He checked in on-site regularly to ensure that we were happy with the progress and even stopped by on his wedding day to check and make sure everything was going as planned. Thanks, Martin (& Jasmine)! The finished product was exactly what we had dreamed of and has made such a difference in our home. We highly recommend Cabinet Painting Vancouver to everyone who is considering a kitchen and bathroom refresh. Linda & Doug

Linda Findlay


October 31, 2022

These guys do great work!

Robin Sukorokoff


October 1, 2022

We made the right choice when we contracted Cabinet Painting Vancouver to refresh and repaint our 14 year-old kitchen, as well as to repair and repaint nicks and scrapes on... Read more walls, wainscotting and molding throughout our 2-storey home. Both projects were in progress simultaneously – and both were completed on schedule and on budget to our complete satisfaction. We were especially impressed by the professionalism of Jon Milstein and his team, from Naty's original proposal, to the detailed and unobtrusive painting work performed by Rafen and Hector, capped by the expert restoration of our kitchen, involving the precise realignment of some 45 doors and drawers by Jacobus Visser. It looks better than new! We were fortunate to discover this company by chance – and would recommend it without hesitation.

Gayle Stevenson


October 1, 2022

Really pleased with the quality of the cabinet painting. Looks new and is very durable.

Gemma Dunn


August 31, 2022

This was a great kitchen upgrade for us. We were comfortable from beginning to end. The team cared for us as clients from understanding our needs, creating the quote... Read more and through to finishing paint touch ups. I really appreciate all of the work Naty, Jacobus, Martin and Jon put into our kitchen. Their process really works as advertised.

Sharla Reid


August 31, 2022

They came and did exactly as was described to me and my wife. We had colour decision issues so they got us a designer to help. That made it perfect.... Read more We had a few small issues and they returned to fix it to our perfection. Job well and easily done.

Patrick Ma


July 31, 2022

We are very pleased with our new cabinet painting. The workmanship and professionalism is top notch and the cupboards and drawers look better than new.

Richard Smith (Smirby)


July 31, 2022

What a difference it makes!!! Night and Day, it looks like the cabinets were always white. We would like to thank Jon, Martin and Natalia for helping us with this... Read more amazing transformation.

Mike Peebles


May 31, 2022

Jon and his team did a fabulous job updating my kitchen cabinets. I had an issue with the dust that ended up inside my cabinets (I was told there would... Read more be minimal dust, but it was everywhere) but Jon immediately sent over a cleaning team and they emptied every single cabinet, cleaned inside, and put everything back. That's great customer service. Small details that had to be addressed later were promptly addressed. Communication was excellent too. Thumbs up.

Mary Lynn Machado


May 31, 2022

I found this company on google search and after contacting 3 providers, decided to go with Cabinet Painting Vancouver (seemed higher quality work). The process is methodical. I... Read more dealt with different people throughout. Spoke with Naty in sales who was able to answer all my questions and even helped me pick the colour. Martin was the project manager who made sure the right people came to do the right tasks. I had 2 painters come in throughout the week for the actual work and 2 people (1 of which was 1 of the painters) come back to reinstall the doors/handles. Finally I talked to Jon for the final payment. Everyone I dealt with was professional and pleasant. Martin was great at being flexible with scheduling. The work was of high quality. They even did caulking that the original cabinets didn't have. Overall the idea of not having to tear out and dump old cabinets into the landfill is very comforting. The repainting is transformational. Although it isn't cheap, it is good value (a lot cheaper than new cabinets without sacrificing much). I moved into a 17 year old condo with original kitchen/bath cabinets. The place needed a lot of TLC and I didn't want to spend too much. This spend was the best bang for my buck amongst all the things I did.

Kee Lim


May 31, 2022

I am very pleased with my kitchen and bath update. The communication with the team is great. They walk you through everything and we're patient with this... Read more senior!

ann+ green


May 31, 2022

Our cabinets were greatly improved by the painting. The kitchen looks brighter and Cabinet Painting were professional, hard working and ensured the work was completed to our satisfaction. The online... Read more estimate went smoothly and was easy and convenient.

Mary Flesher


May 1, 2022

Best decision we could have made for our kitchen renovation. We found this small company on Instagram and after reading some reviews we decided to contact them. We... Read more met Natalia via zoom for the quote and to walk us through their process. Martin, our project manager, was easy to communicate with and kept us in the loop on the progress. Siam and Miroslav came into our home and did the prep work. They were meticulous in their work, which minimized the mess. Martin and Jasmine were there for the final inspection and addressed a few minor details for us in a timely manner. This company delivered on all that they promised. The quality of their work was outstanding. They helped us modernize our 16yr old kitchen and in turn increased the value of our home. We also made use of their vendor partners. We used their contacts to purchase new appliances and kitchen hardware. We love being in my new kitchen everyday.

Darren


May 1, 2022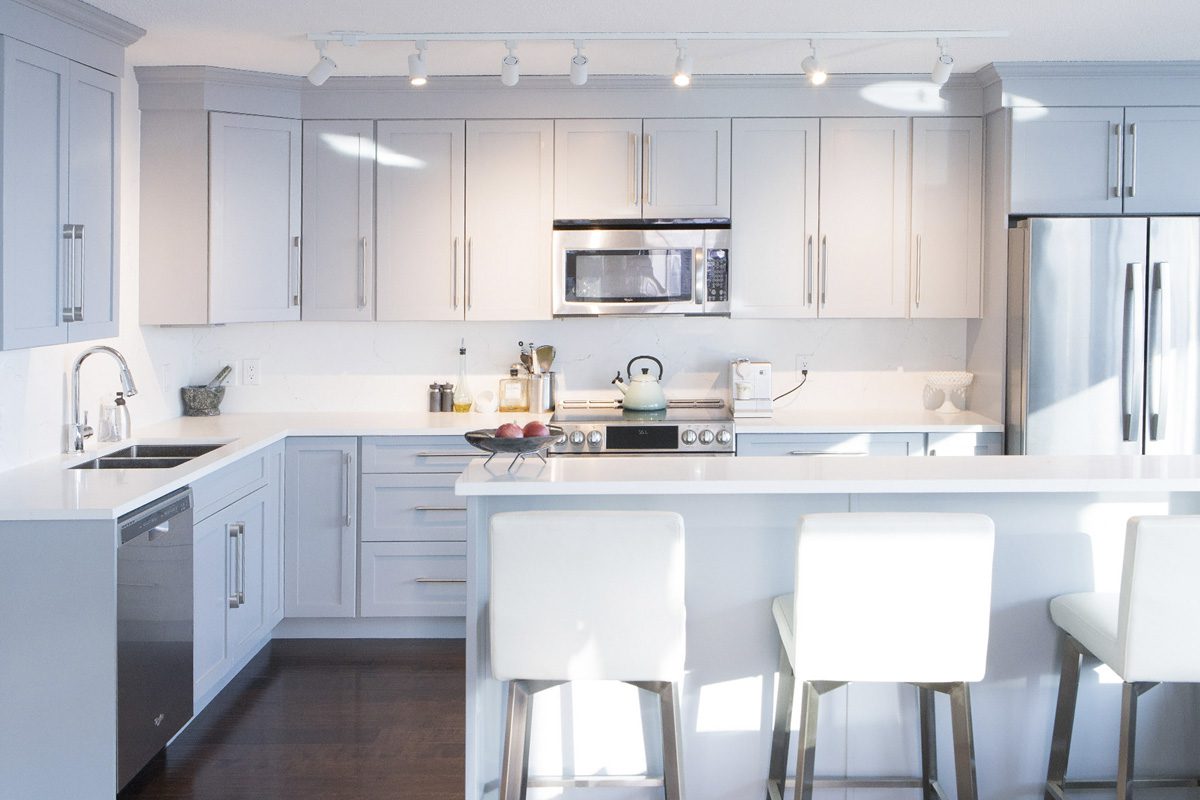 Prices to Suit Every Space ...and Every Budget
Whether you're looking for a full kitchen reno or just a facelift, we have a kitchen refresh for every budget. Our cabinet refinishing and refacing options cost 50% less than new cabinets. Plus, our DIY Doors program lets you roll up your sleeves and save even more!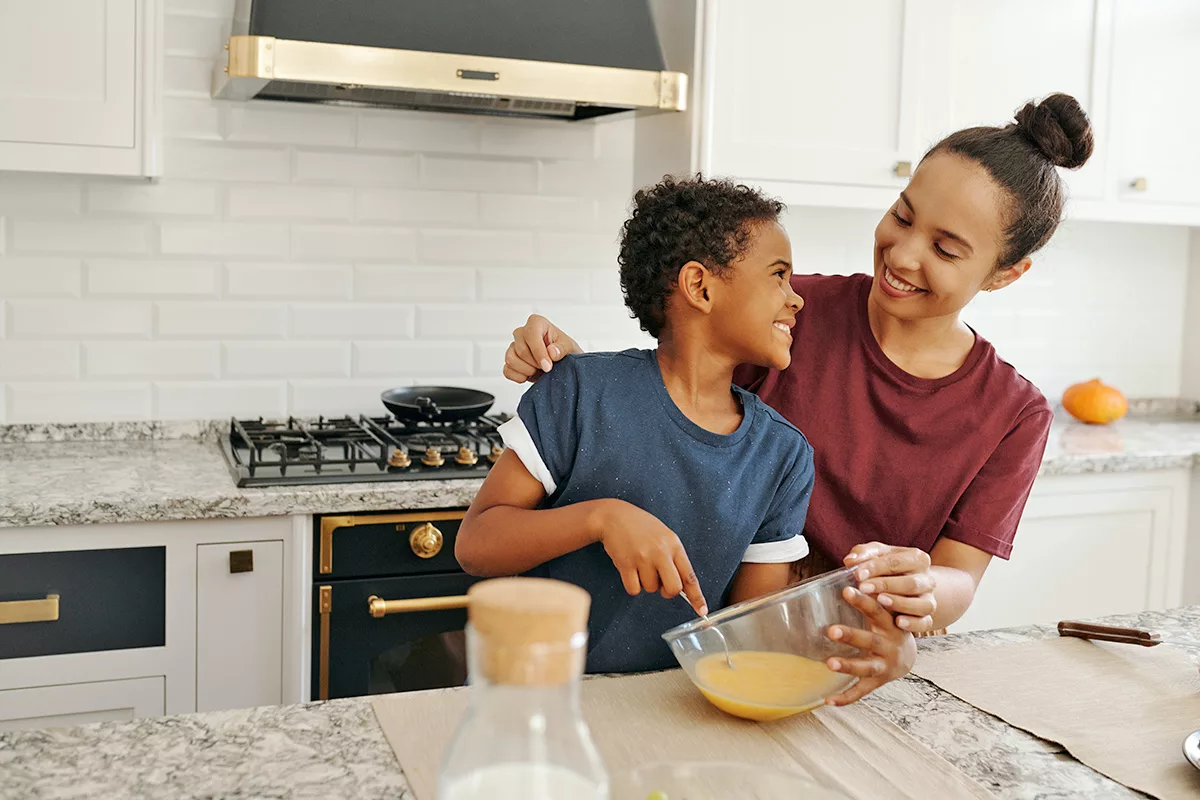 A Quick Turnaround Without the Hassle
Getting your dream kitchen or bathroom has never been easier. Book online, then watch as our crew refinishes your cabinets in as little as 5 days. Even our full kitchen renos come in under 2 weeks – cabinets, counters, flooring, lighting, and all!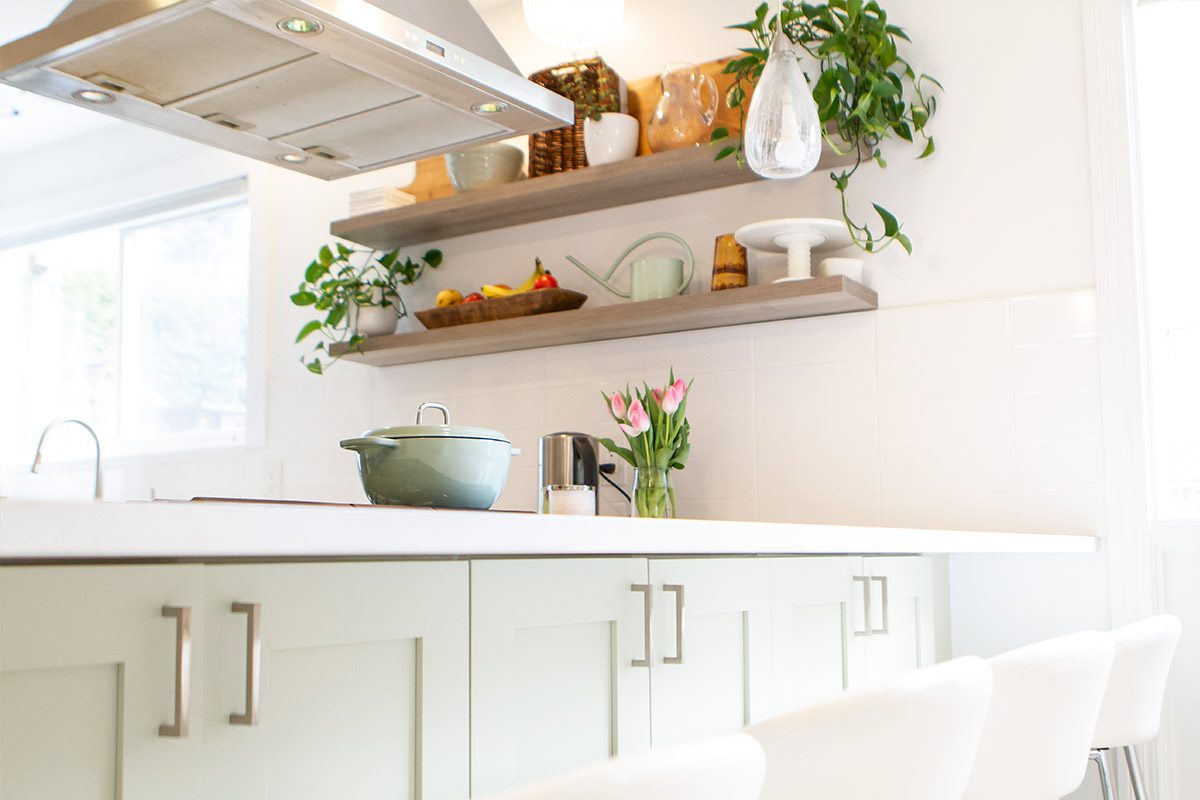 Lifetime Warranty and Free Touchups
We take pride in our work…but we know that life happens! So we're pleased to offer Vancouver's only Lifetime Warranty* on painted cabinets. As long as you're in the same home, enjoy free touchups on those nicks and scratches, too.
Looking for a full kitchen facelift?
We now install countertops, tile backsplashes, and new hardware!
Does your dream kitchen need a little more than just cabinet refinishing?
See how we seamlessly guide you from design to completion in just 10 working days.
Hello, neighbour! We're a small company born in North Vancouver that serves Greater Vancouver and the Sea to Sky corridor.
Slide the arrows left to right to see the big difference Cabinet Painting Vancouver made in other homes around Vancouver.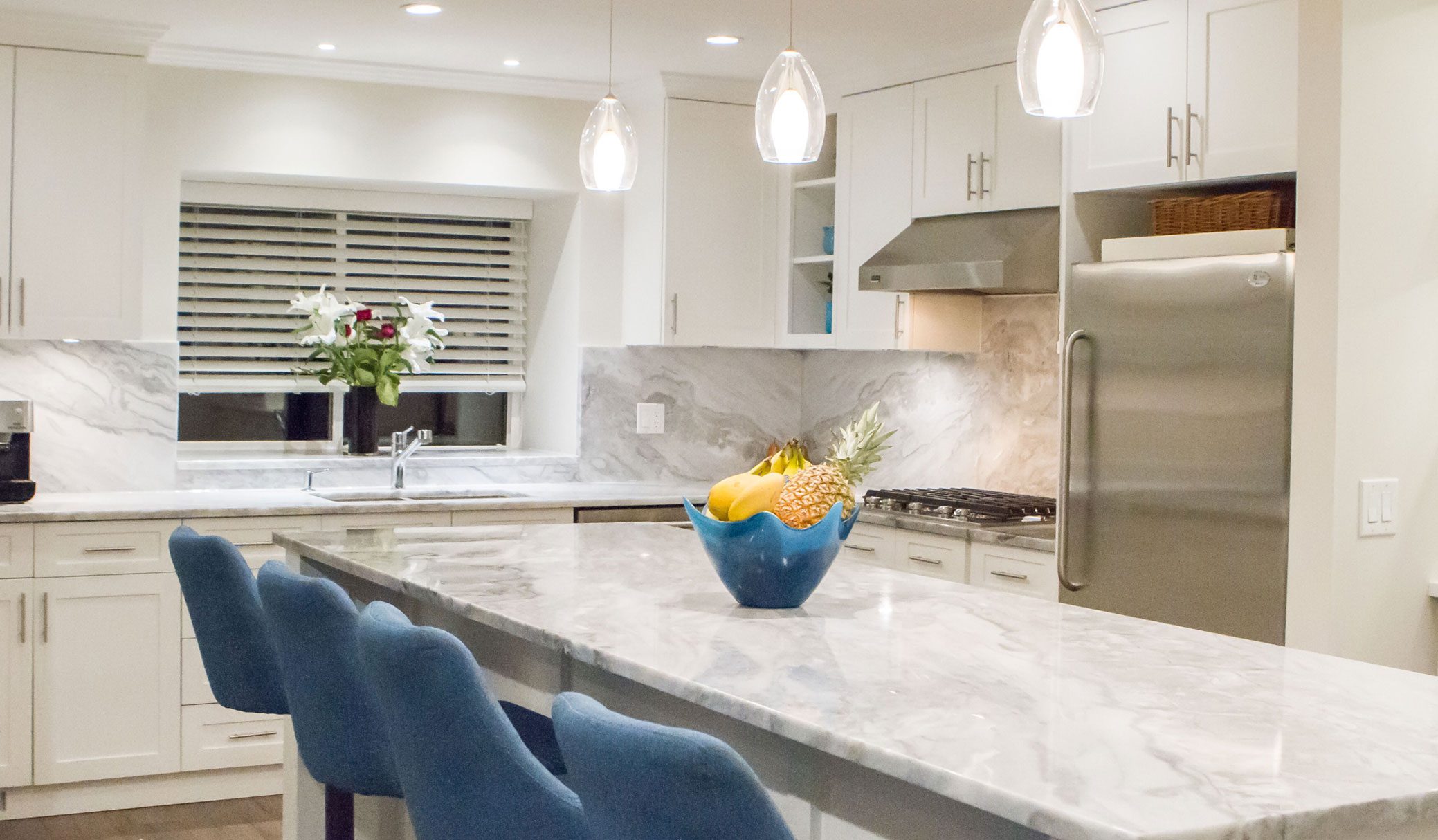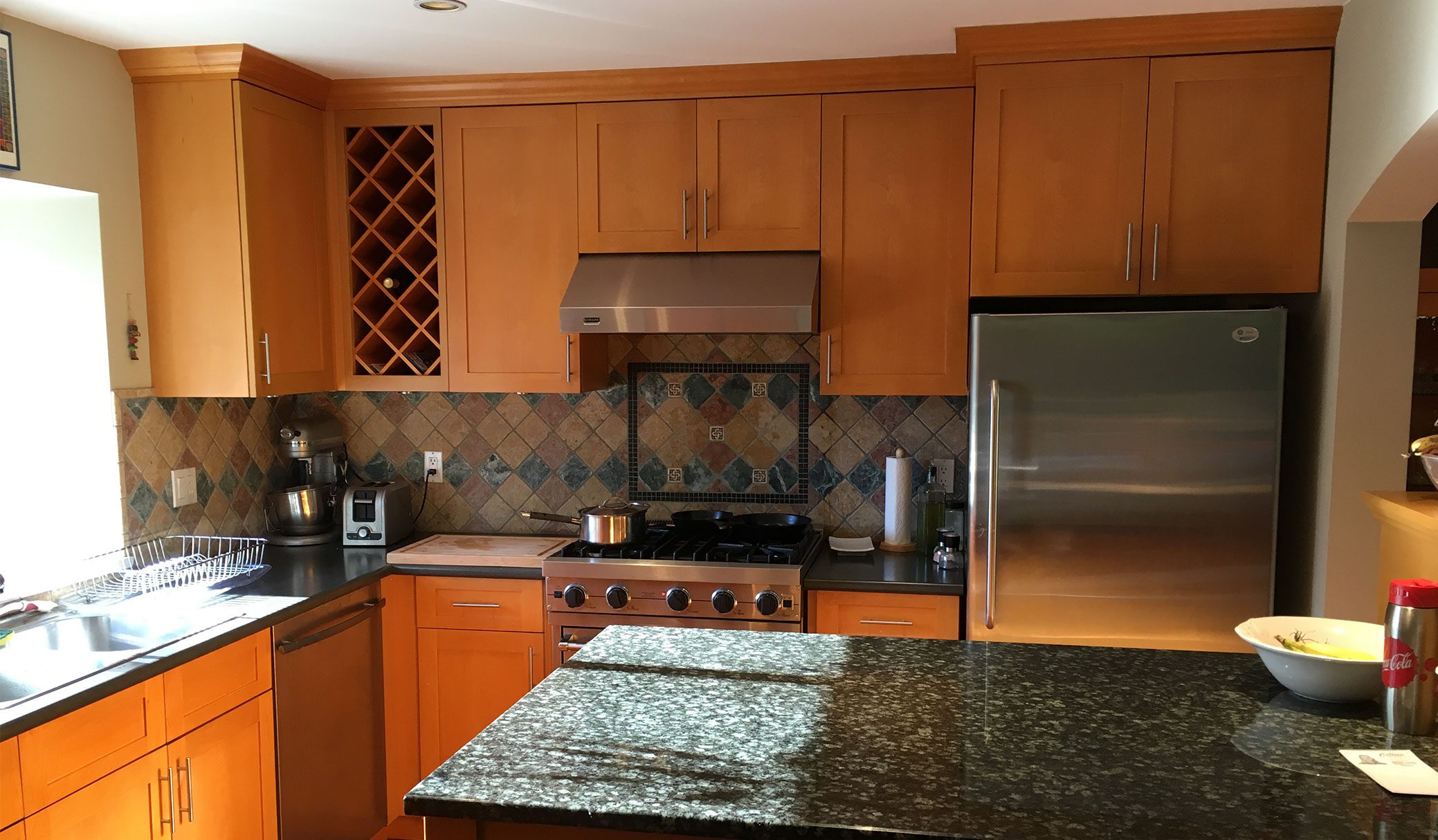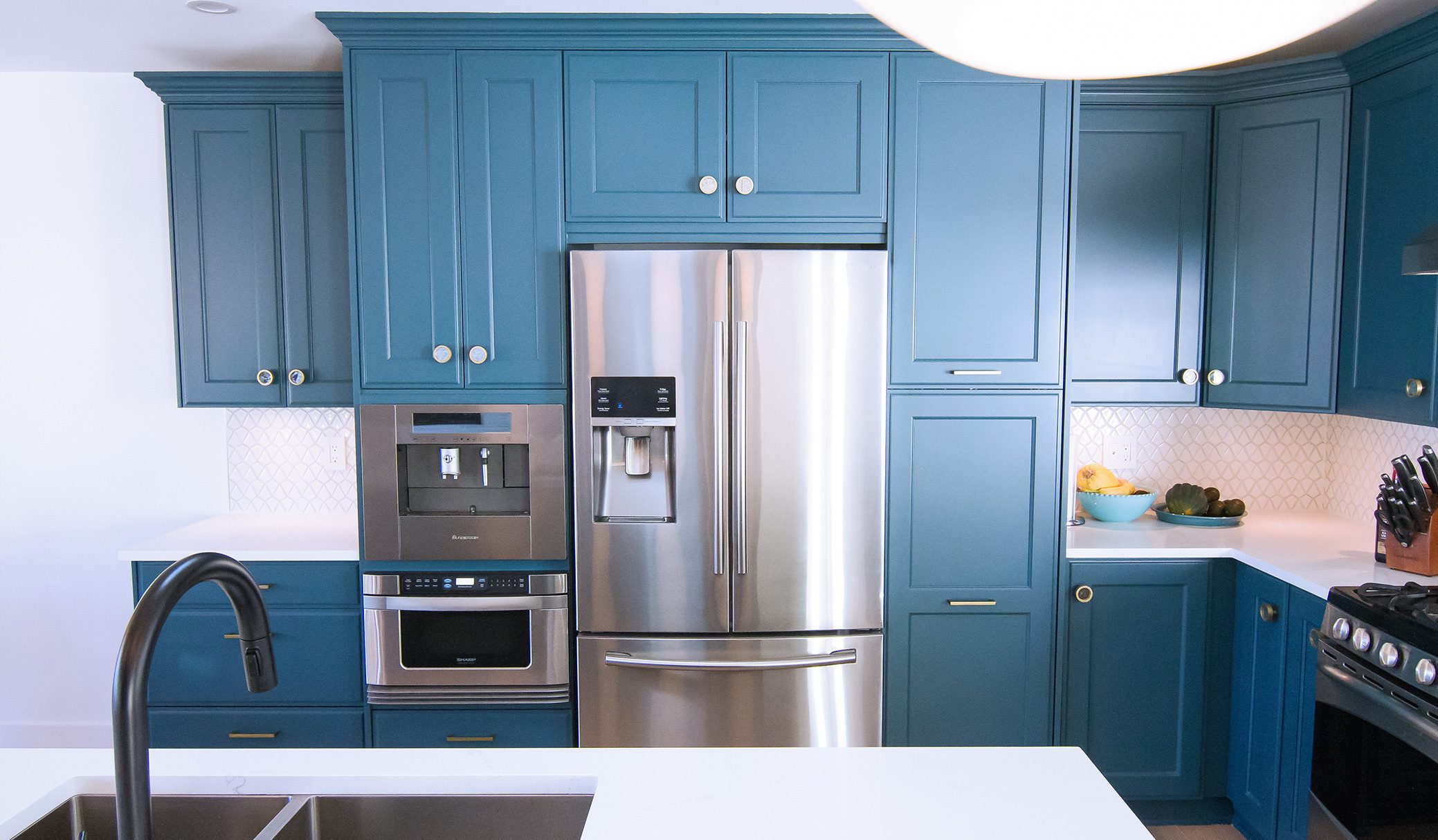 of cabinets saved from the landfill to date
More Reviews from our Customers
5 

  across the board
Cabinet painting, new counters and updated backsplashes for a full kitchen makeover in under 10 days!