Cabinets & Hardware  •  Quartz Countertops  •  Sink & Backsplash  •  Bathroom Vanity
Cabinet Refinishing
Quartz Countertops
Backsplash & Sink
Bathroom Vanity
Cost: $23,350*
*Costs are a rough guide only. Your own specific project may cost more or less depending on many variables.
Our client Anne needed our help to make the most out of every square inch of her home… because it's only about 350 square feet! Could we help this busy grandma turn her dark, dated micro suite into a smart space for cooking, baking and entertaining?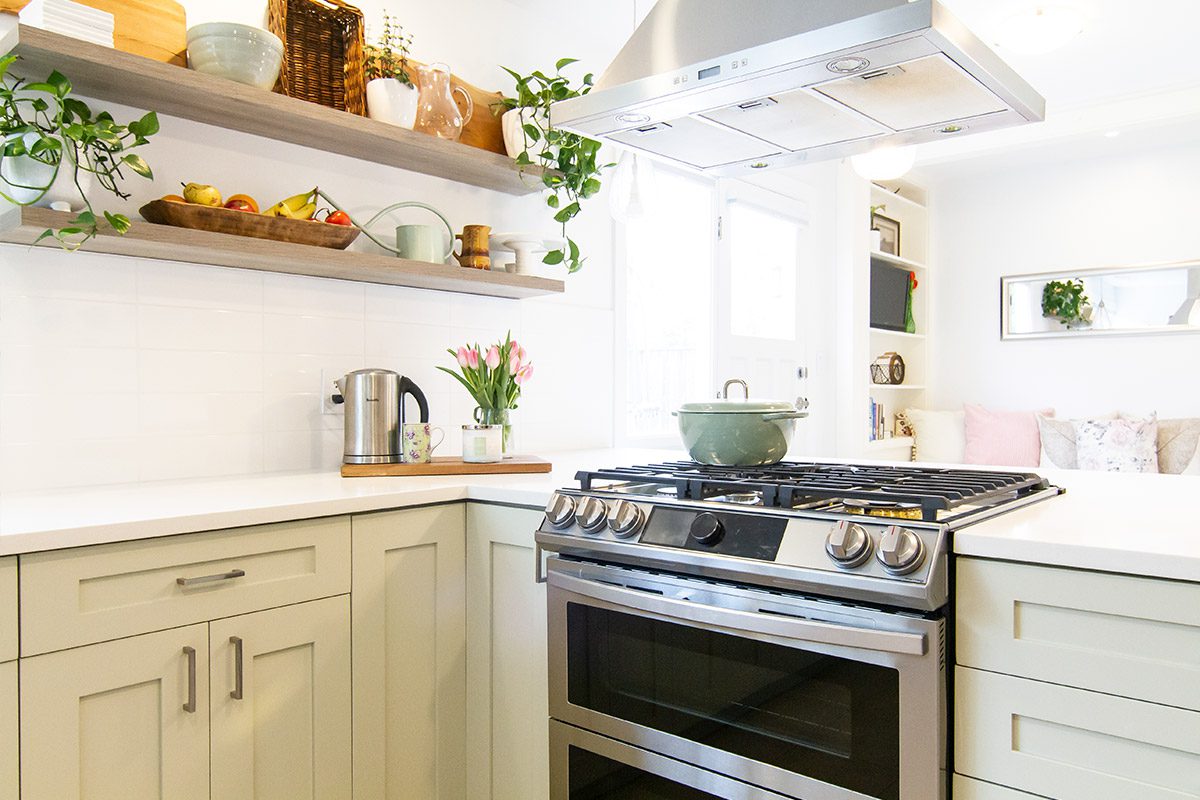 Anne is the proud grandmother of a bunch of hockey playing kids who had graciously given up most of her family home so her son and his family could move in upstairs. But she loves cooking, baking and entertaining… so how to make it all happen in a micro suite? (Oh, and we forgot to mention that she also has a part time job washing all of her grandkids' hockey equipment!)
When you see Anne's space you can really appreciate how the kitchen is the heart of this home…and it takes up about 80% of it! Her cabinets were in great condition but the whole space was dark, north-facing, and in need of a serious upgrade. The cabinets had classic shaker-style doors so we knew they would be a perfect candidate for our most popular and cost-effective kitchen update, which includes a cabinet refinishing, new quartz countertops, a new backsplash, and a new sink and faucet to top it off.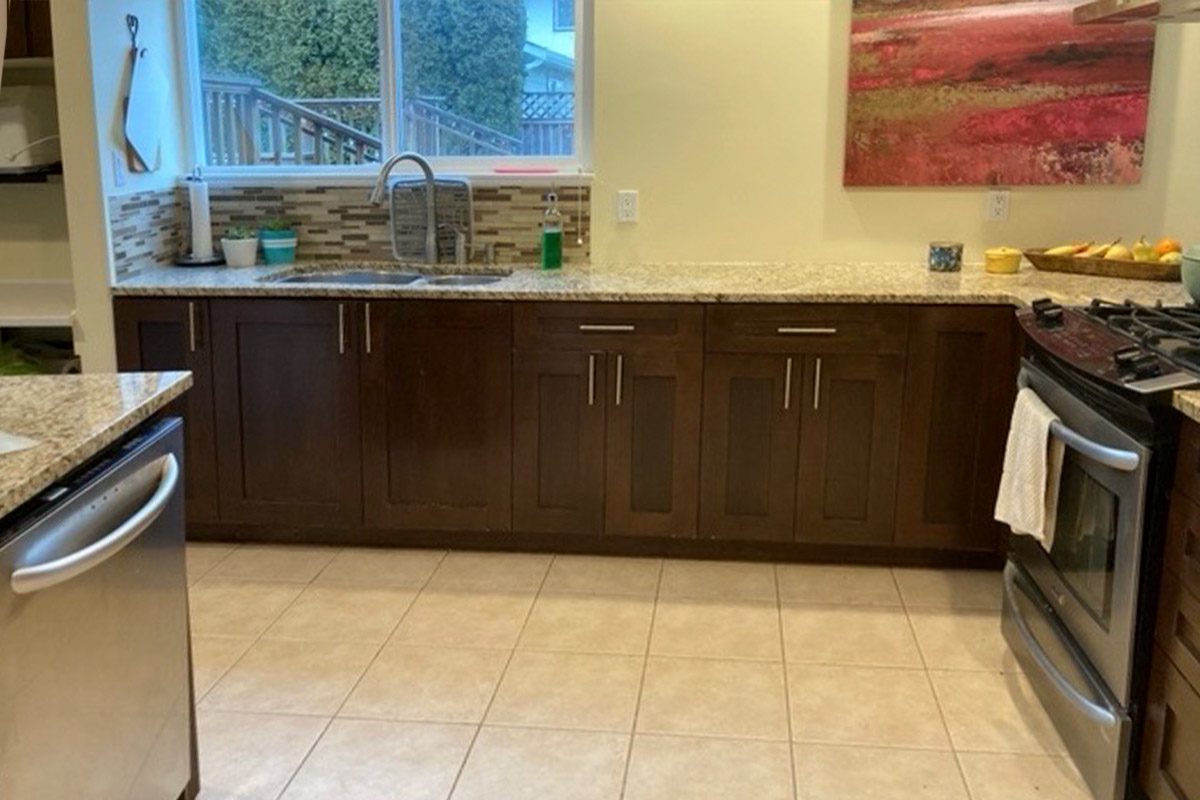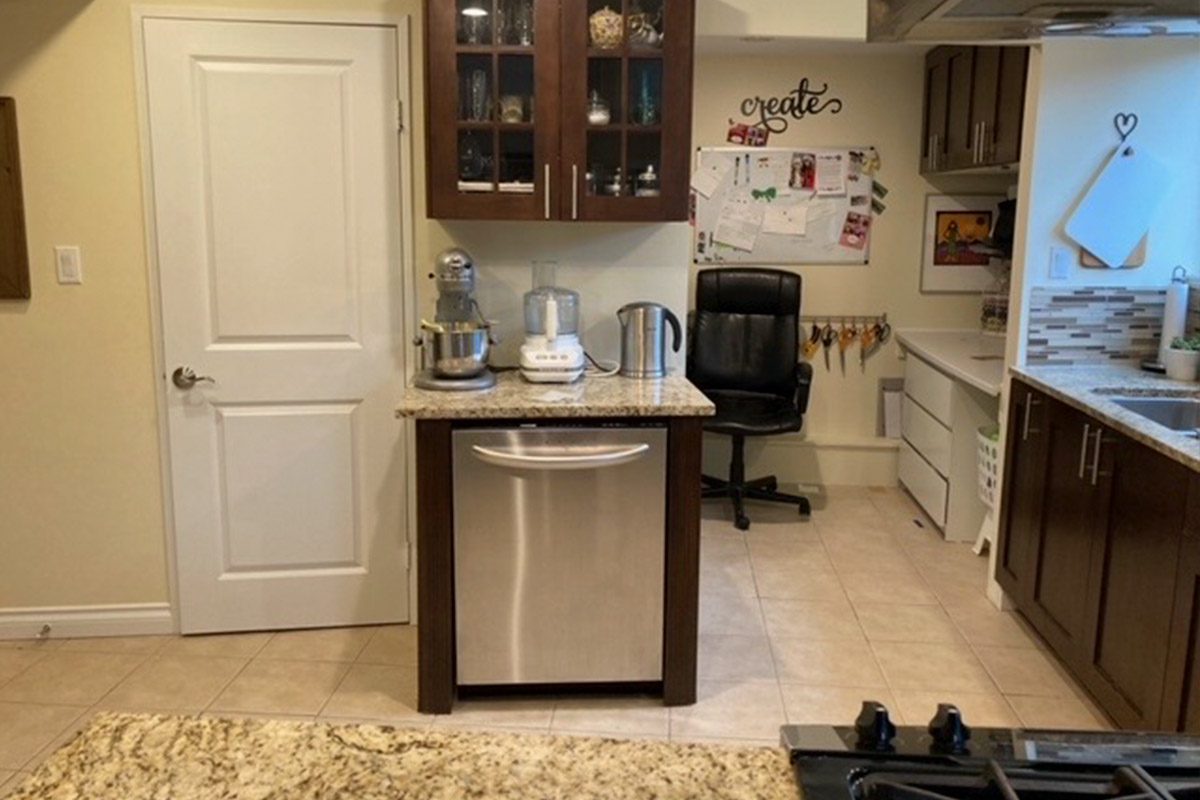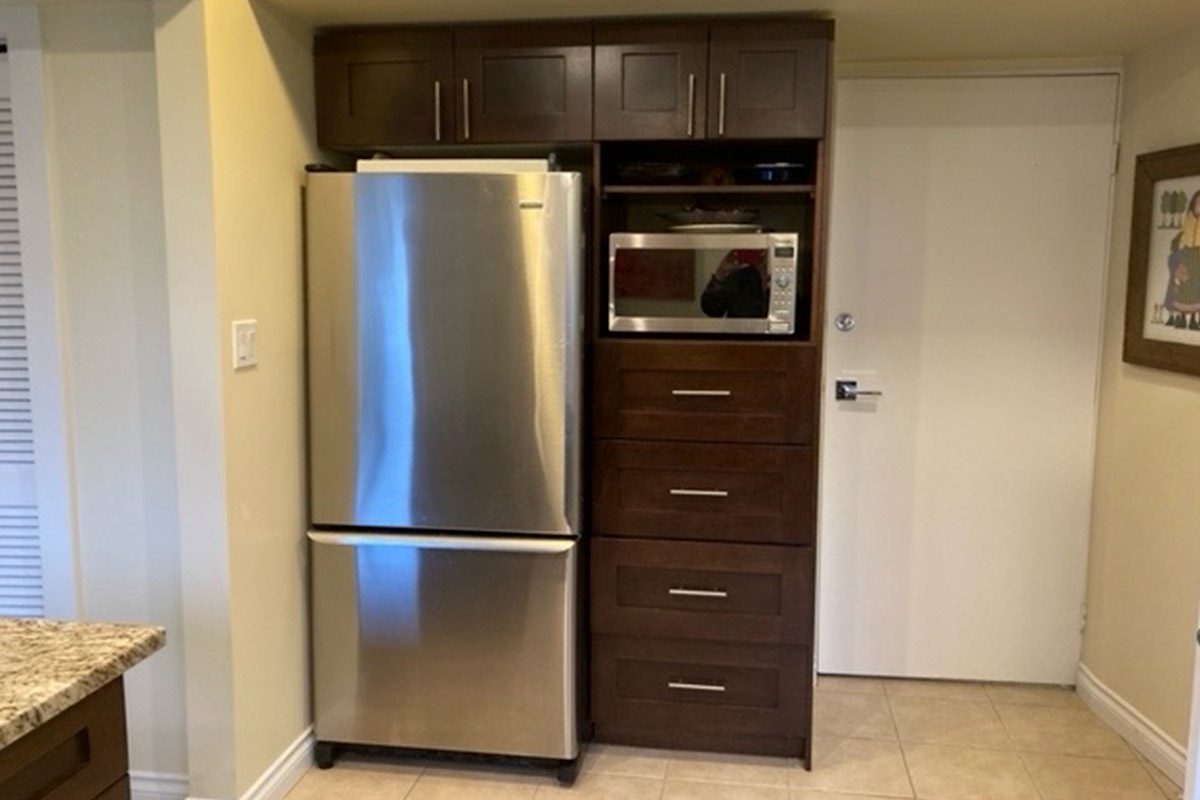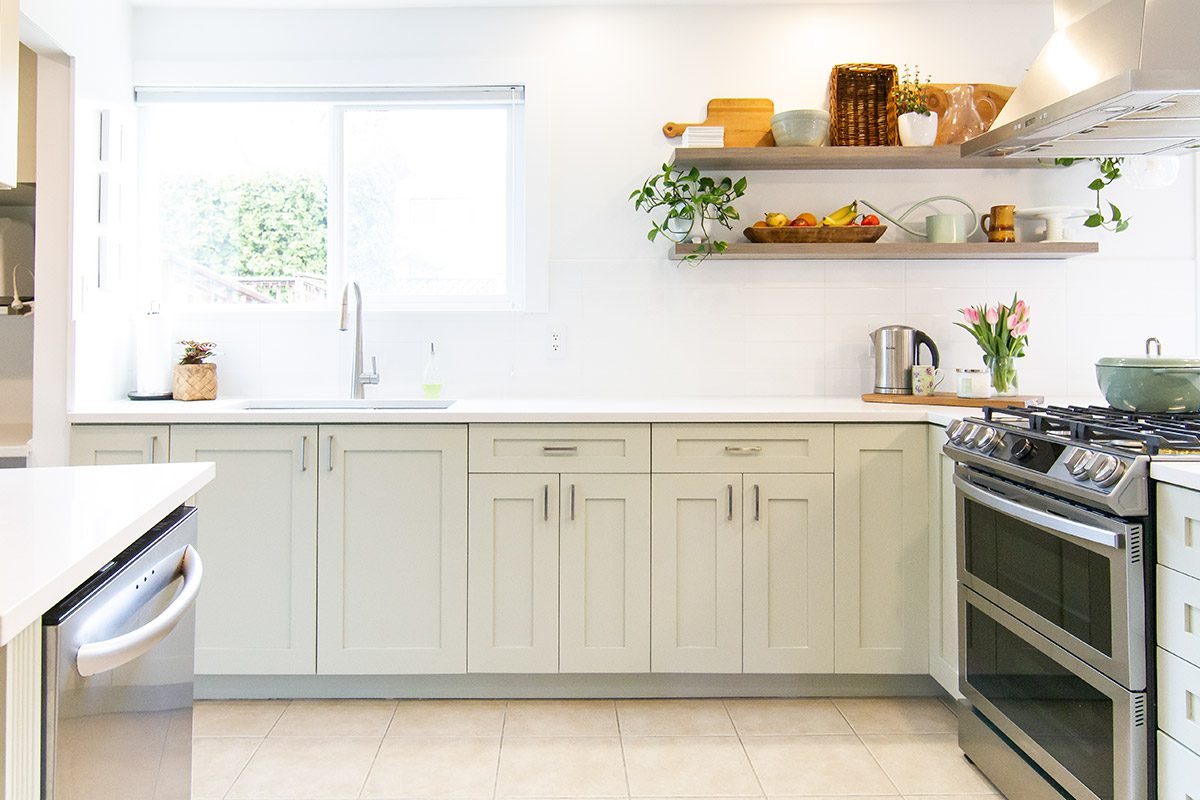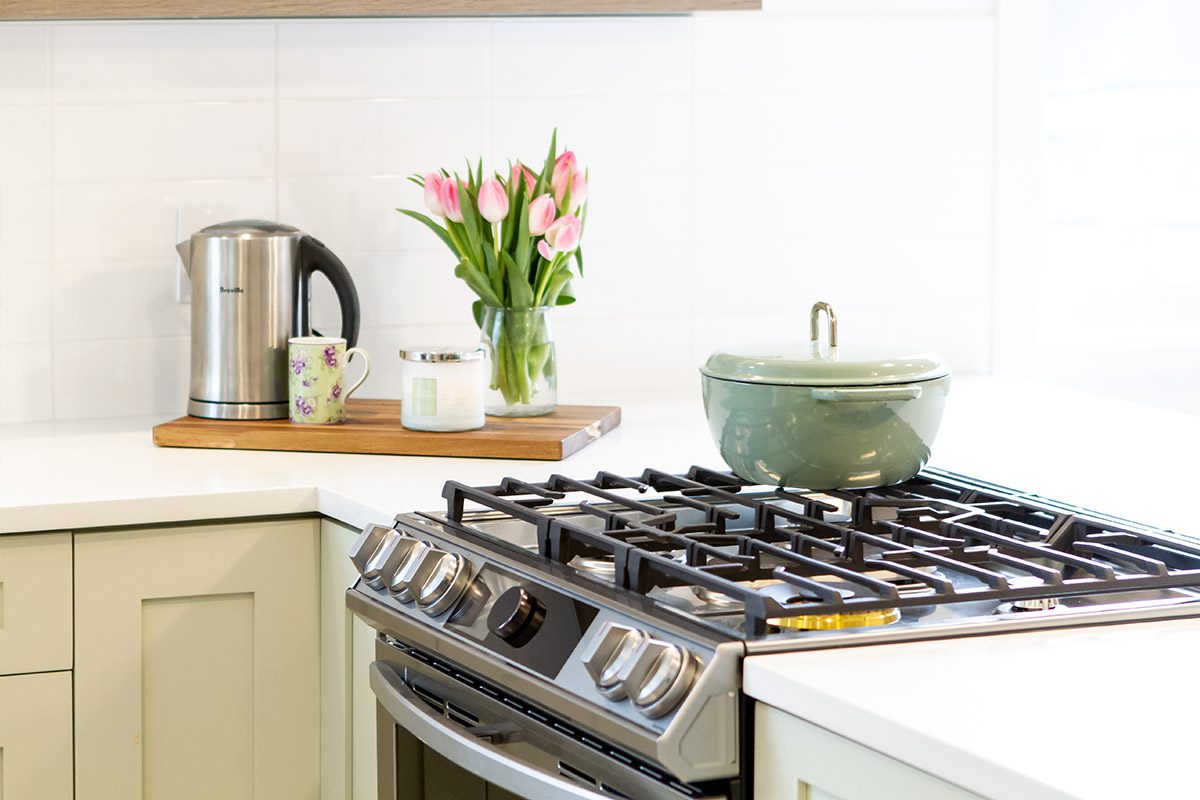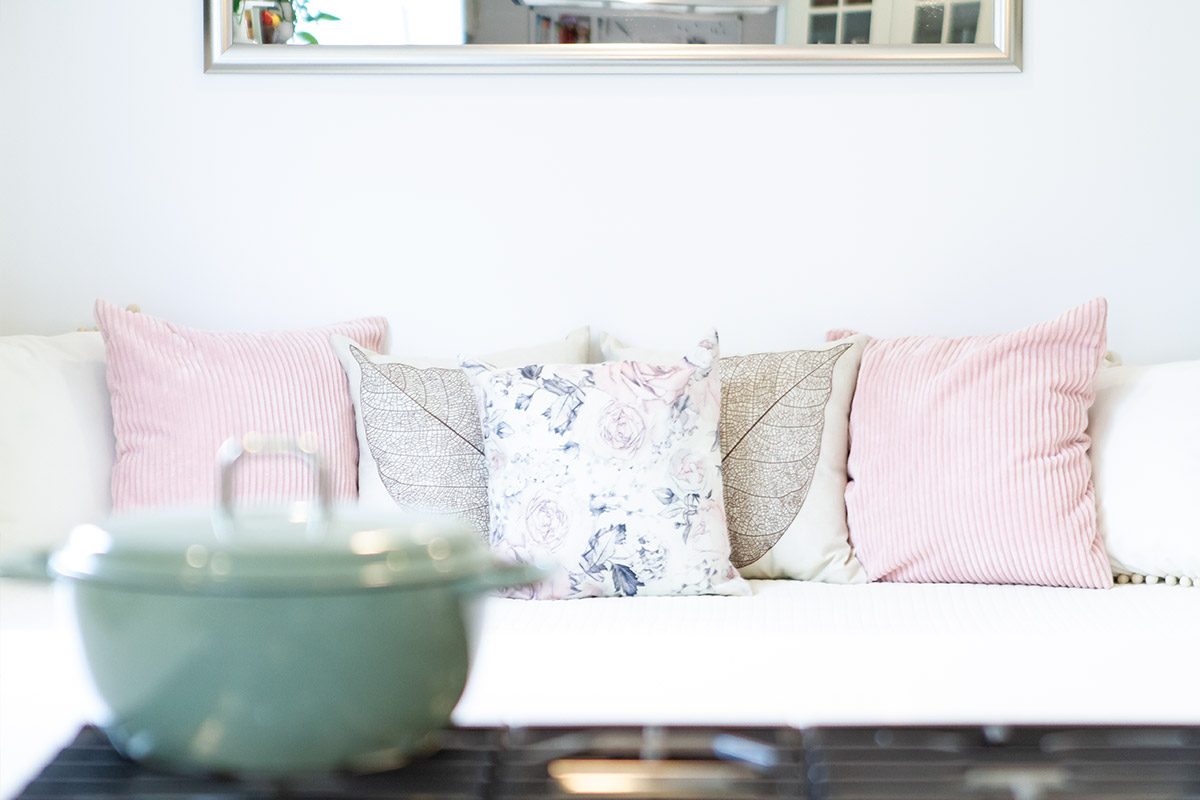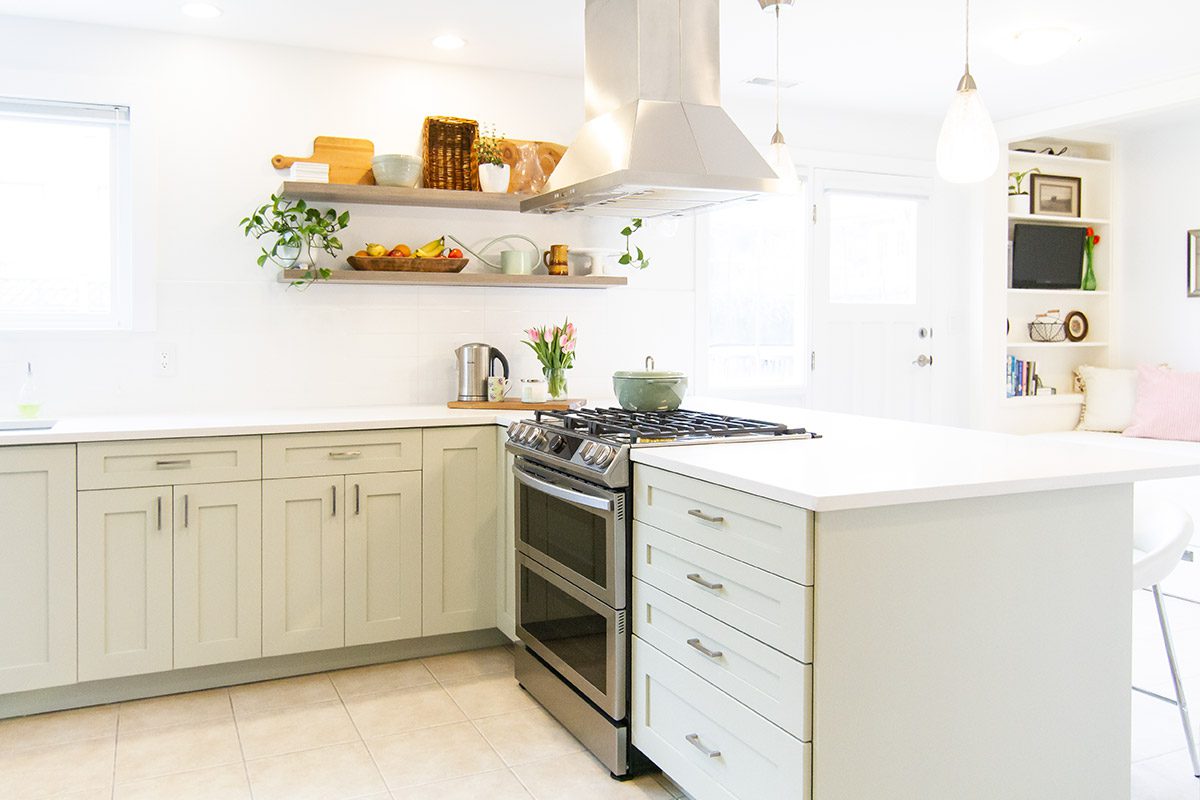 Photographs by Jon Milstein
BATHROOM | Anne is a big fan of sustainable practices in construction, so that was one of the reasons she decided to save the cabinets and seek us out. There was only one spot where she decided the cabinetry had to go. Her bathroom needed a new vanity with a simpler layout, so we ordered a brand new custom vanity from our supplier Duke Millwork, and finished it off with a new sink and faucet from Pearl. We're not sure what the original designer of the bathroom cabinetry was smoking… but it made for an interesting layout 🙂 No two cabinets were alike in height, depth, or doors. They may have gotten some cabinets on sale and tried to make them work in the space. Sometimes you just need a custom cabinet built to suit the space!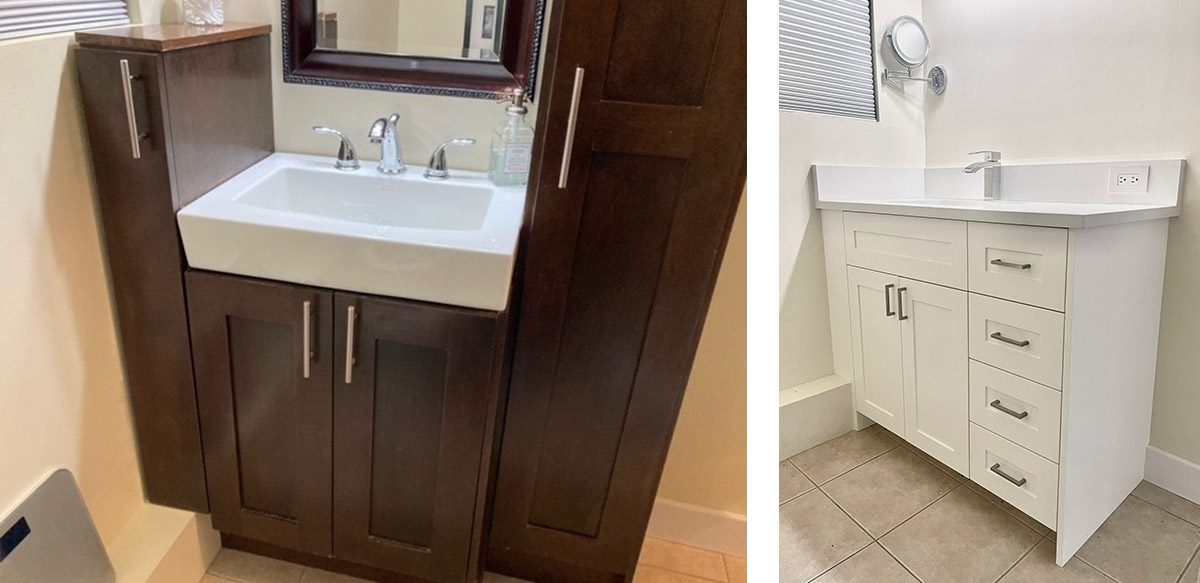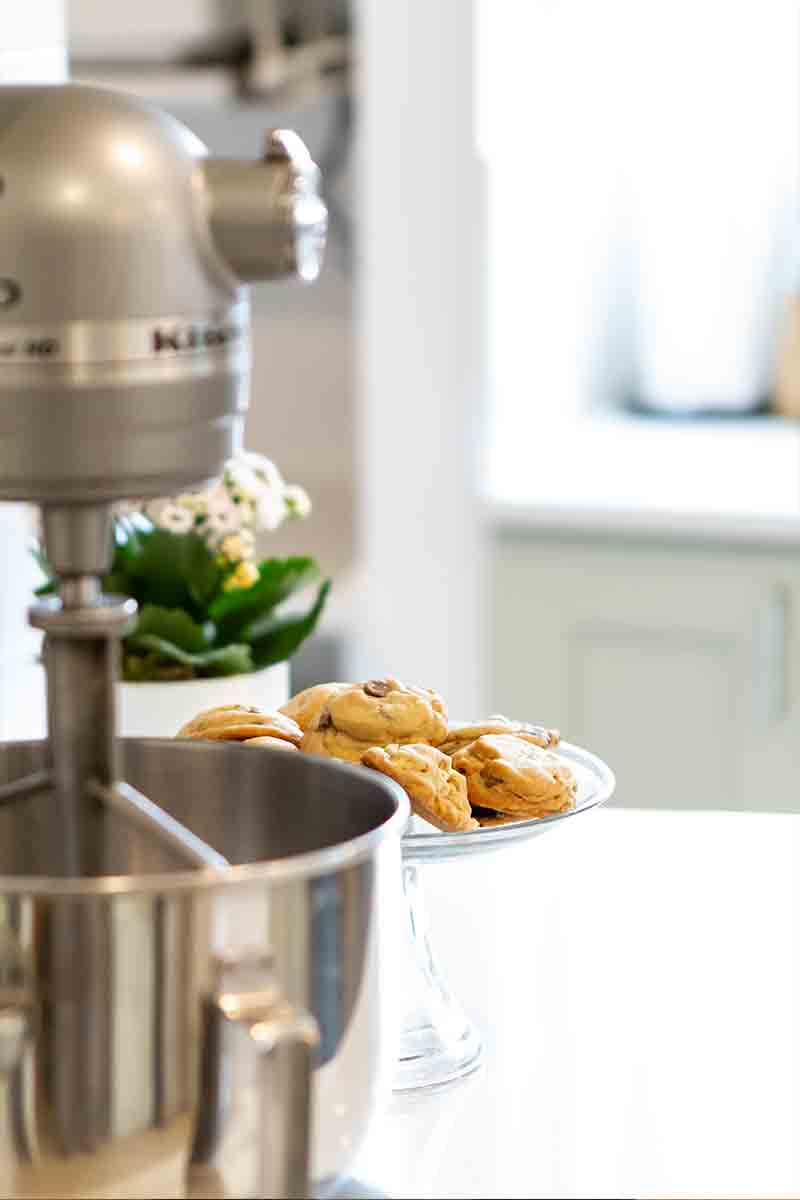 Anne's kitchen is the heart of her 350 square foot home. We finished up as usual, in under two weeks, so this busy grandma could get right back to baking cookies and taking care of her family!
KITCHEN CABINETS | For Anne's kitchen cabinets, we used our famously bomb-proof lacquer system, which applies the industry-leading lacquer, in a low sheen, on all doors and drawers. This is the exact same lacquer you'd receive if you were to order a new $30,000 set of high end custom cabinets, but we apply it to your existing doors and drawers. Doors and drawers get 99.96% of the wear and tear in any kitchen so using the industry's highest-quality products will be the biggest factor in having cabinets that perform like new for 5-10+ years. For on-site refinishing of the cabinet boxes, toe kicks, etc. we used a waterborne lacquer which performs like a lacquer but is low VOC and totally safe to be sprayed inside the home.
Anne chose one of our favourite colour combinations to date! Benjamin Moore's calm neutral green, Vale Mist 1494, was chosen for her cabinets. It contrasts beautifully with the rest of the colour choices in the room and works seamlessly with her existing floor tile.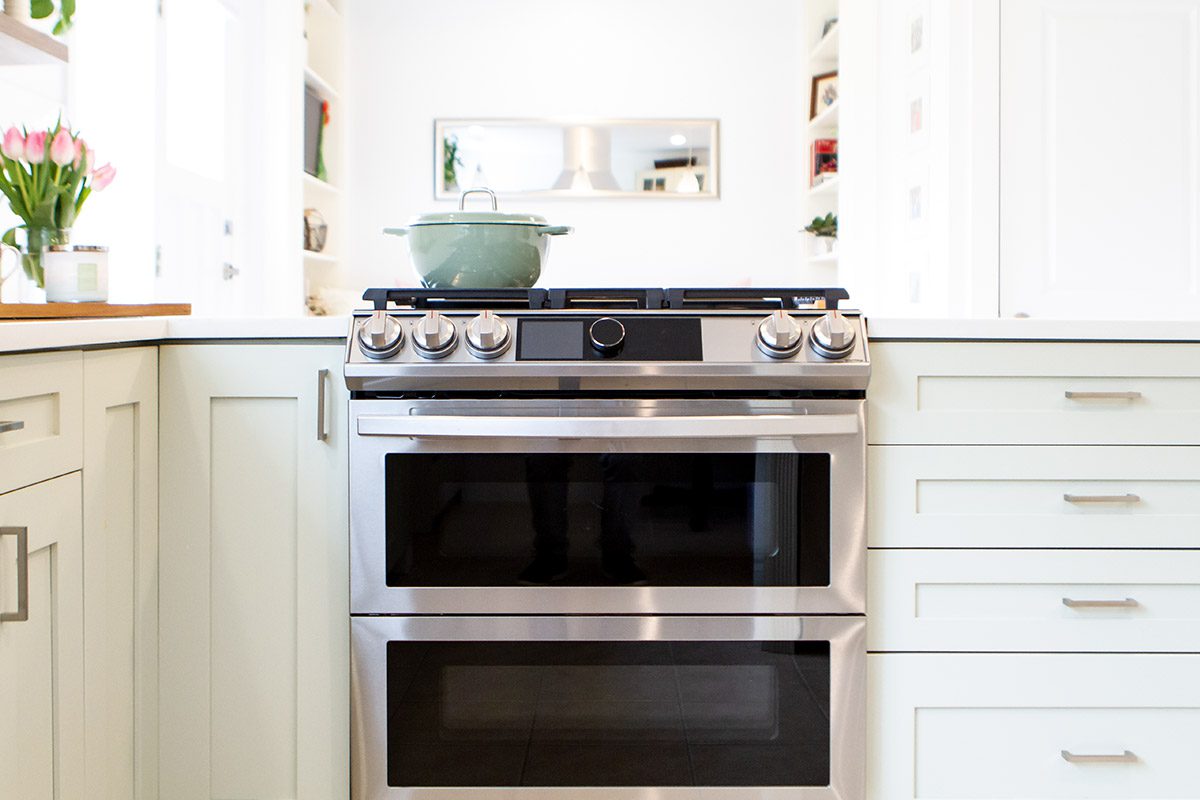 COUNTERS | The countertops were a classic white quartz from Fir Stone, with subtle flecks throughout the slab, which was a big departure from her original granite. It paired nicely with the cabinets to highlight the subtle contrast of colour.
BACKSPLASH | For her backsplash, Anne chose a beautiful and classic wide white subway tile with a white grout and schluter edge. The tile came from our preferred vendor Ames Tile, which meant we were able to get Anne a 30% discount on the product!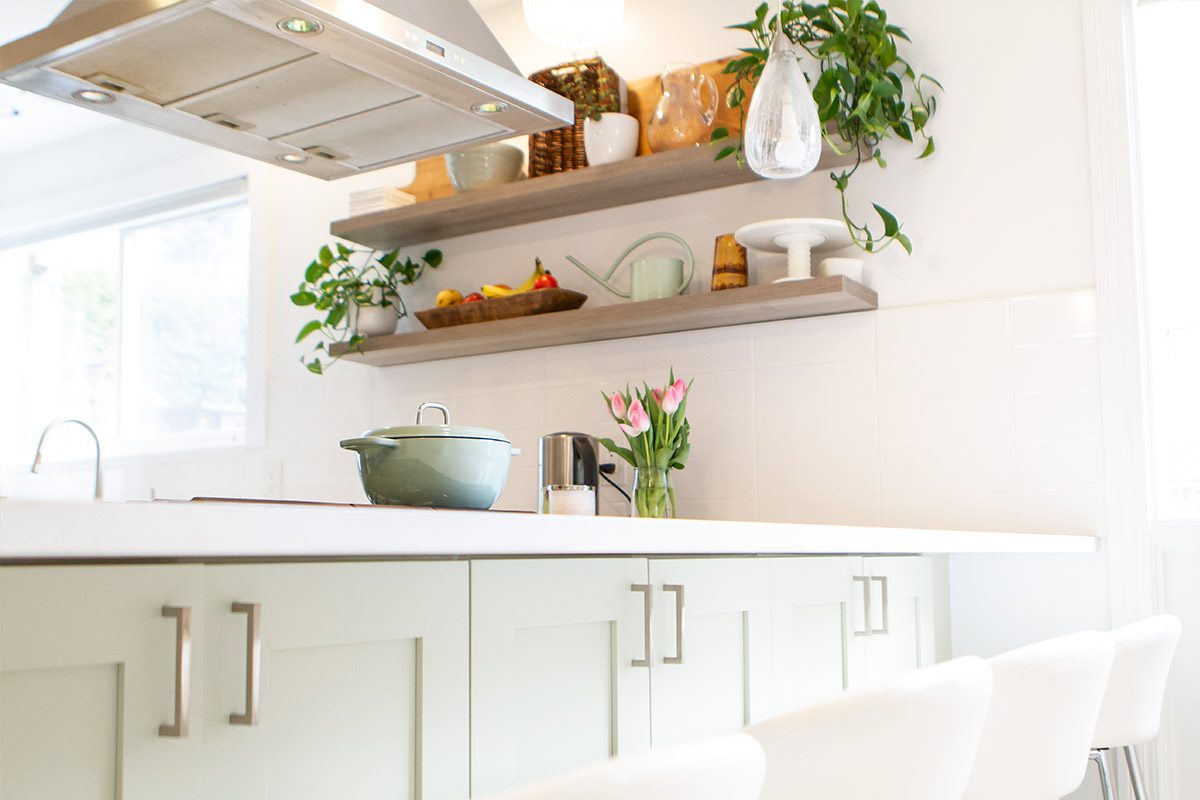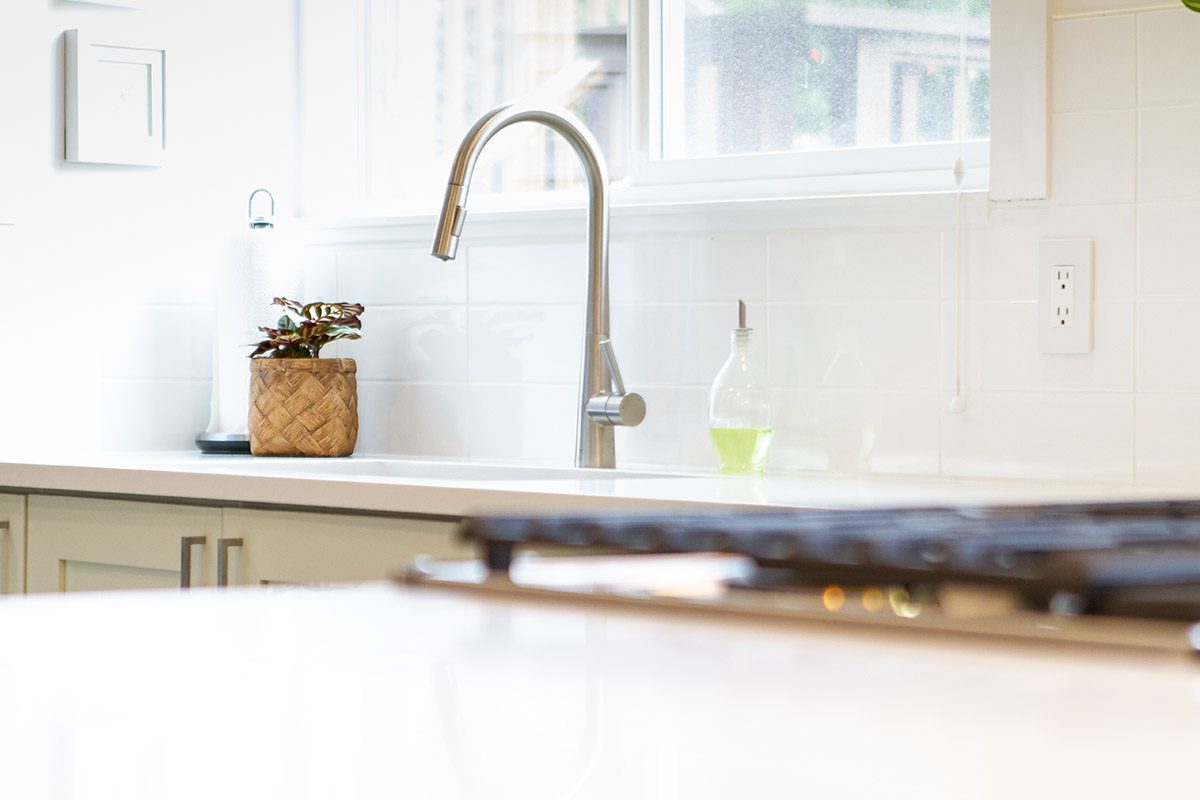 FAUCET | The faucet from our favourite local supplier Pearl, is called the Georgia, and comes in a stainless finish with a pull down spout.
All in all, this project went quite seamlessly and we finished up as usual, in under 2 weeks, so our client could get right back to baking cookies and taking care of her family.