Port Moody's Little Italy
53 Cabinets  •  Counters & Backsplash  •  Flooring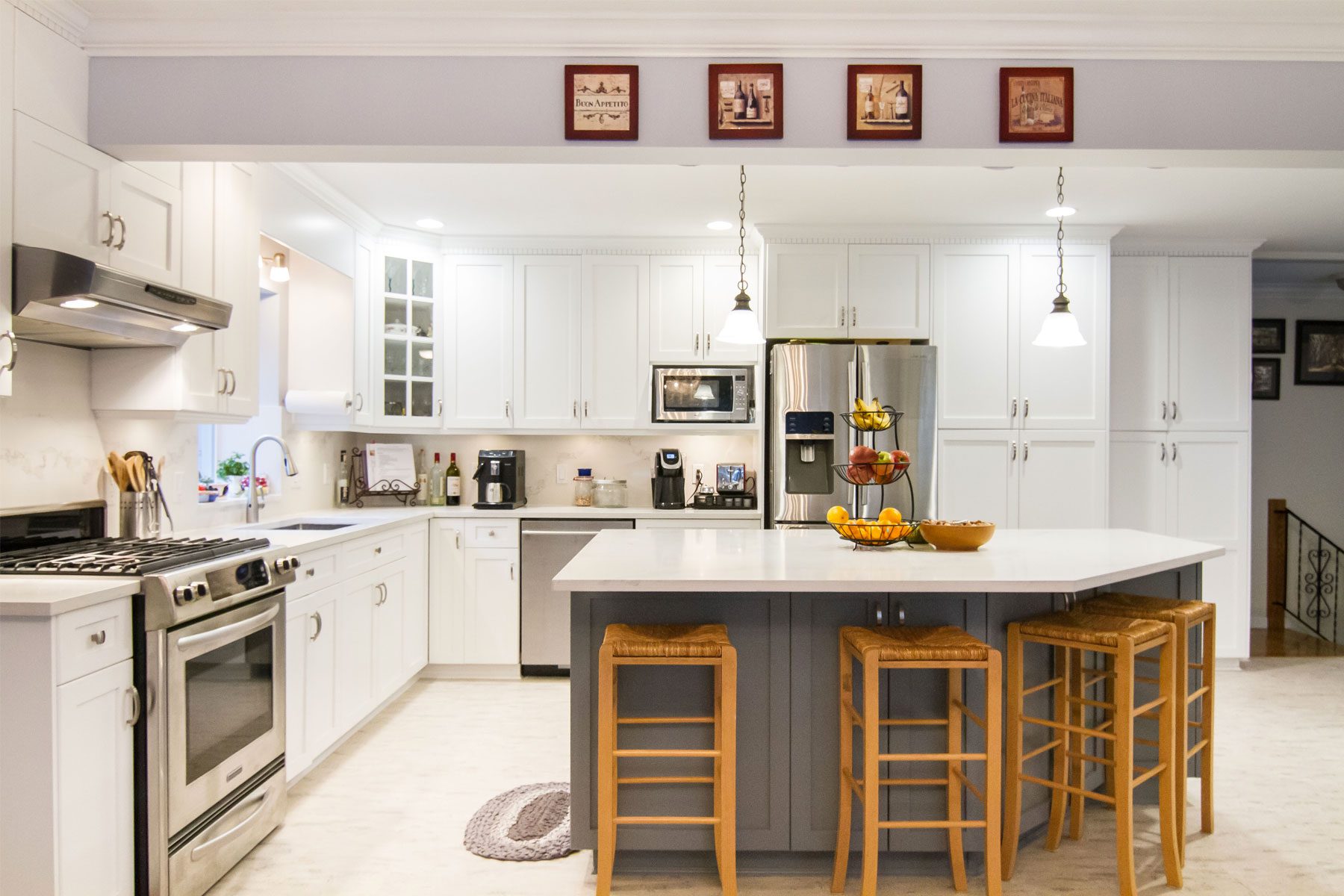 Kitchen Reno
Flooring Refresh
Cost: $27,000*
*Costs are a rough guide only. Your own specific project may cost more or less depending on many variables.
This big Italian family with four boys needed to give their kitchen a massive update so they could keep serving up those homemade lasagnas! Our client knew exactly what she wanted and didn't waste any time getting all of her decisions made. With an already large kitchen and great layout, we just needed to bring the style into this century.
CABINETS | For her complete kitchen remodel we started with our LOW VOC waterborne lacquer refinishing of her light stained cabinets to transform them into a white and bright modern low sheen finish. The upper cabinets were resprayed with Benjamin Moore's classic off-white "Oxford White" (CC-30). For the island she chose a beautiful contrasting grey, Benjamin Moore's "Whale Gray" (2134-40). This gave her the look and feel of new cabinets, but at less than half the cost of demolishing them and installing new cabinets.
To complete the four-day kitchen renovation process, we installed some gorgeous new brushed nickel knobs and pulls to give the space an elegant touch. To improve on the function of the cabinets, we added soft-close hardware to the doors and drawers so they no longer slam when closed. Apparently, this is important with four teenage boys in the house.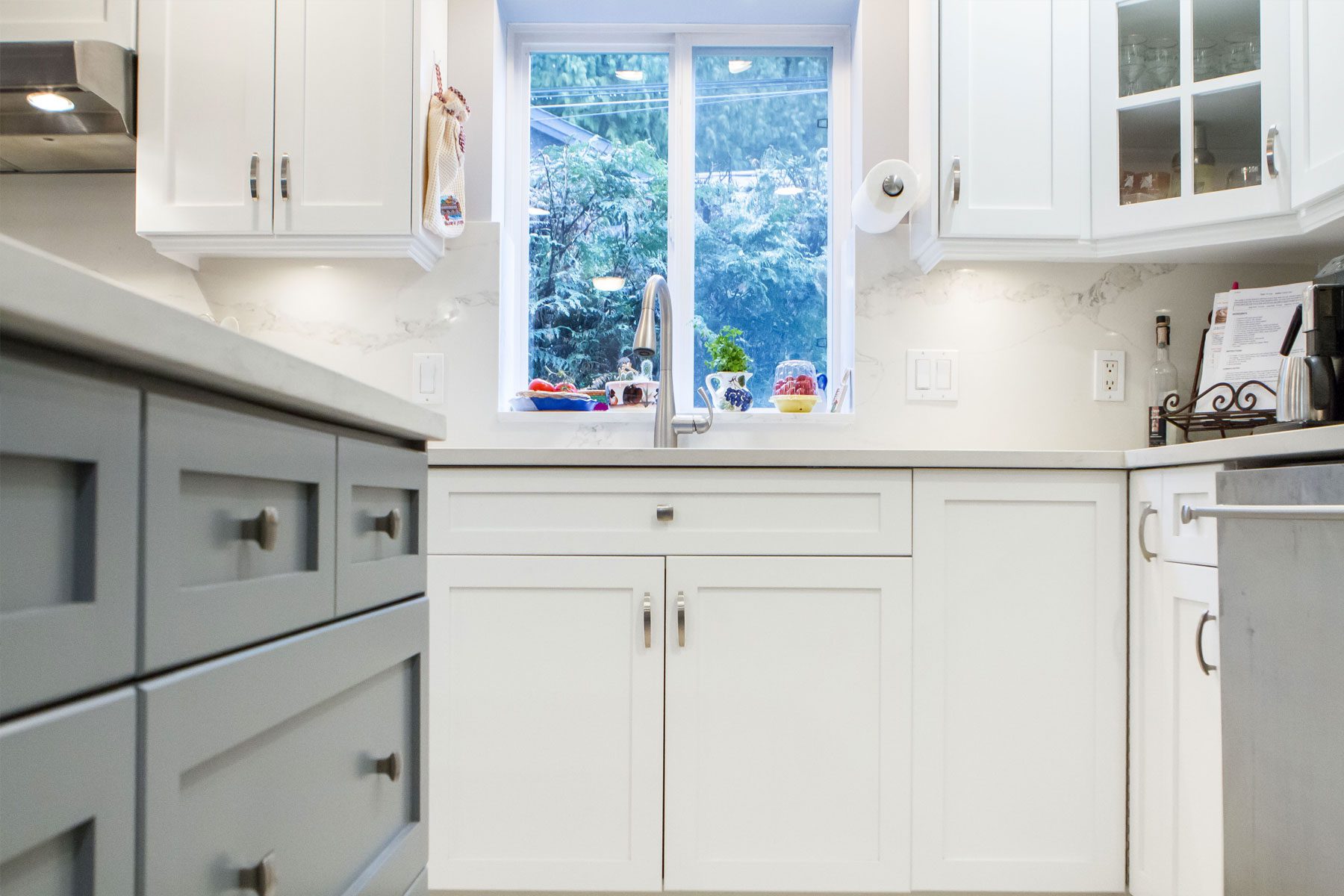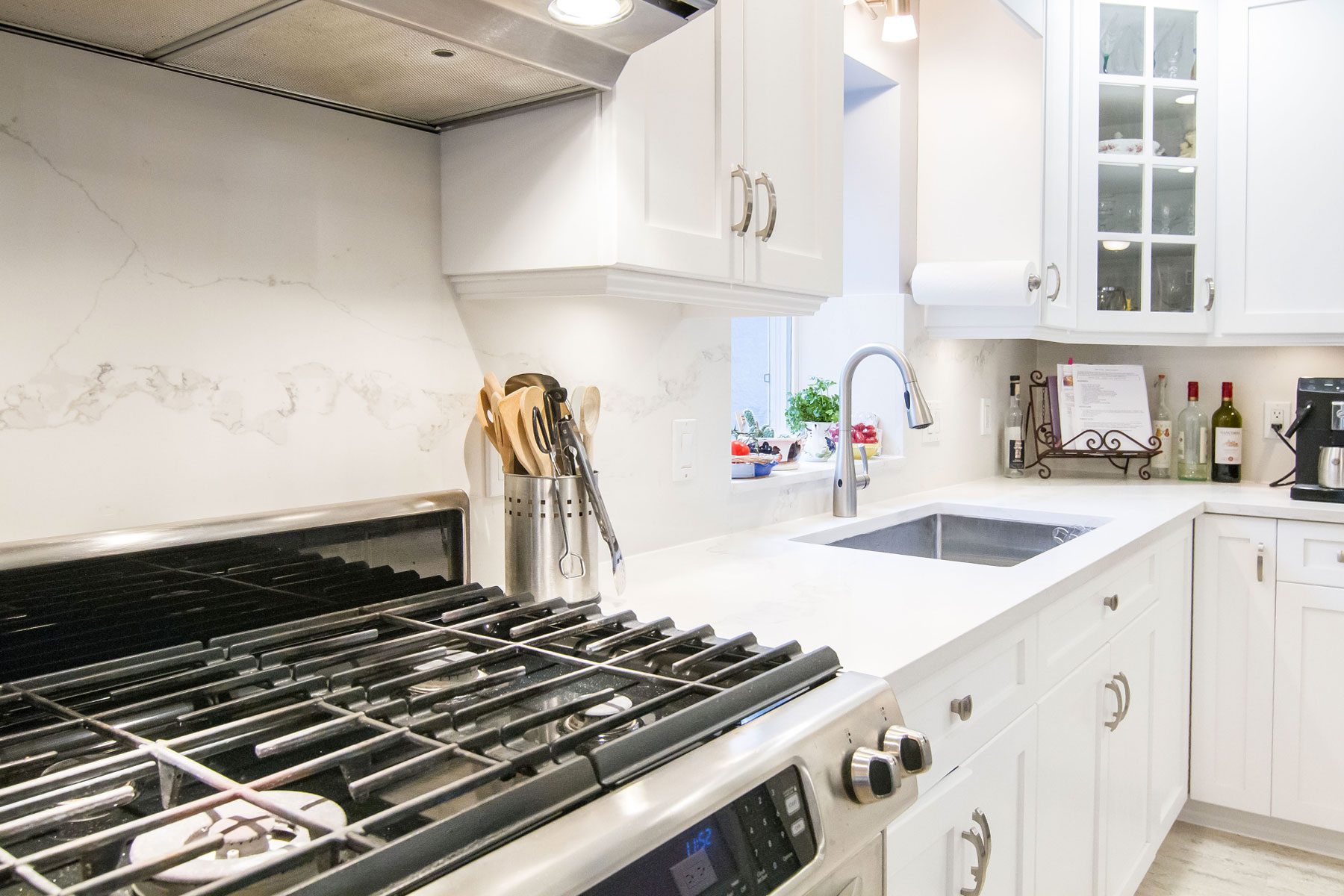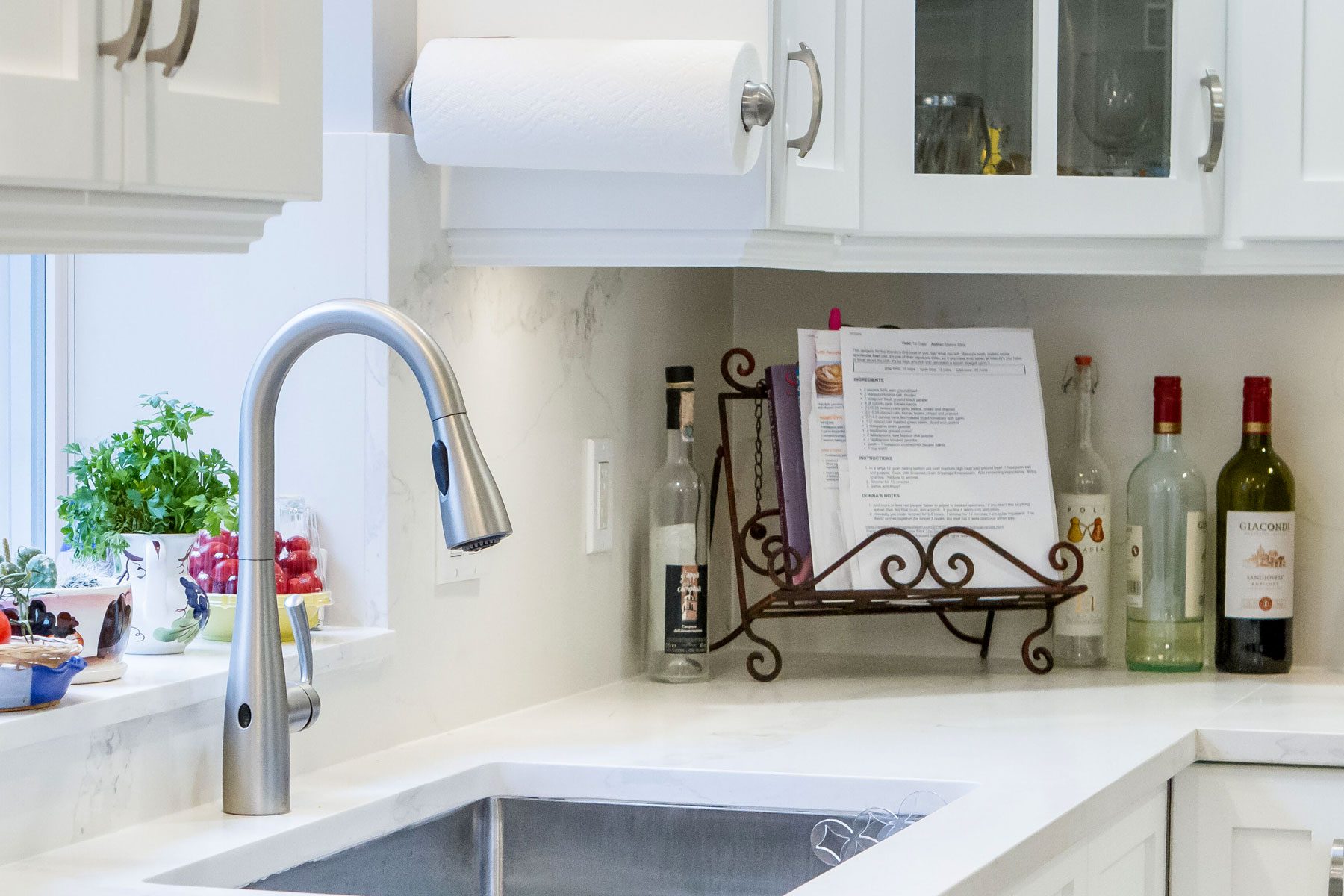 Photographs by Jon Milstein
COUNTERTOPS | Our Italian client had a big, beautiful island countertop which she chose to accent with a high quality but cost-effective quartz. The faux marble style gives you the look of natural stone but without the sealing, risk of staining, or brittle nature of natural stone. We also supplied an extremely cost effective and beautiful rectangular vessel 18-gauge stainless steel sink, complete with fitted bottom grates and drain filters. It's massive on the inside so she can fit all her large lasagna dishes in without any problems. We're all about finding the best fit and materials without the bloated costs!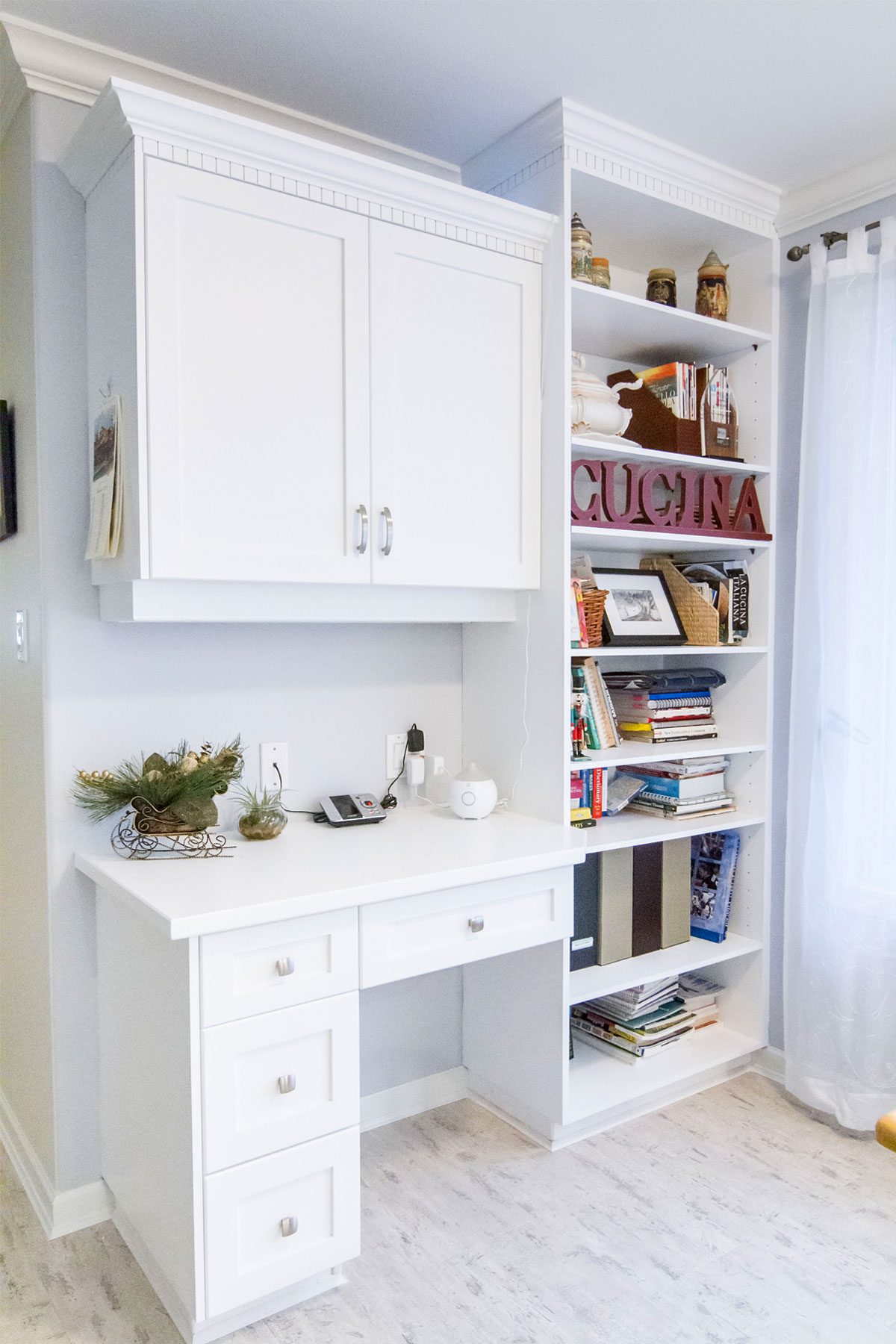 By using our recommended products and refinishing her cabinets instead of demolishing everything, our client not only saved at least $20,000 and a month of renovation time. She also saved perfectly good cabinets from the landfill. 
BACKSPLASH | Once we let our client know that quartz backsplashes would actually be more cost-effective than tile, she was on board to continue her marble pattern right up onto her backsplash – a trick that gives the feel of a bigger space and makes the surfaces a dream to clean. We even used the quartz to return around the kitchen window and included a sill so it's extremely easy to clean down the road, and there's no risk of mold near the sink.
FLOORING | In order to save both time and money, we installed a glue down vinyl plank tile over top of the existing flooring. This saved days of labour and a ton of cost for the client. This particular vinyl plank was extremely high quality and was actually a composite made of limestone and vinyl, which carries a 20 year residential warranty! It looks and feels like ceramic tile, and can actually be grouted for added aesthetic appeal. They decided against the grout, which made it a breeze for install. We ran the flooring throughout their upper floor to ensure it all matched.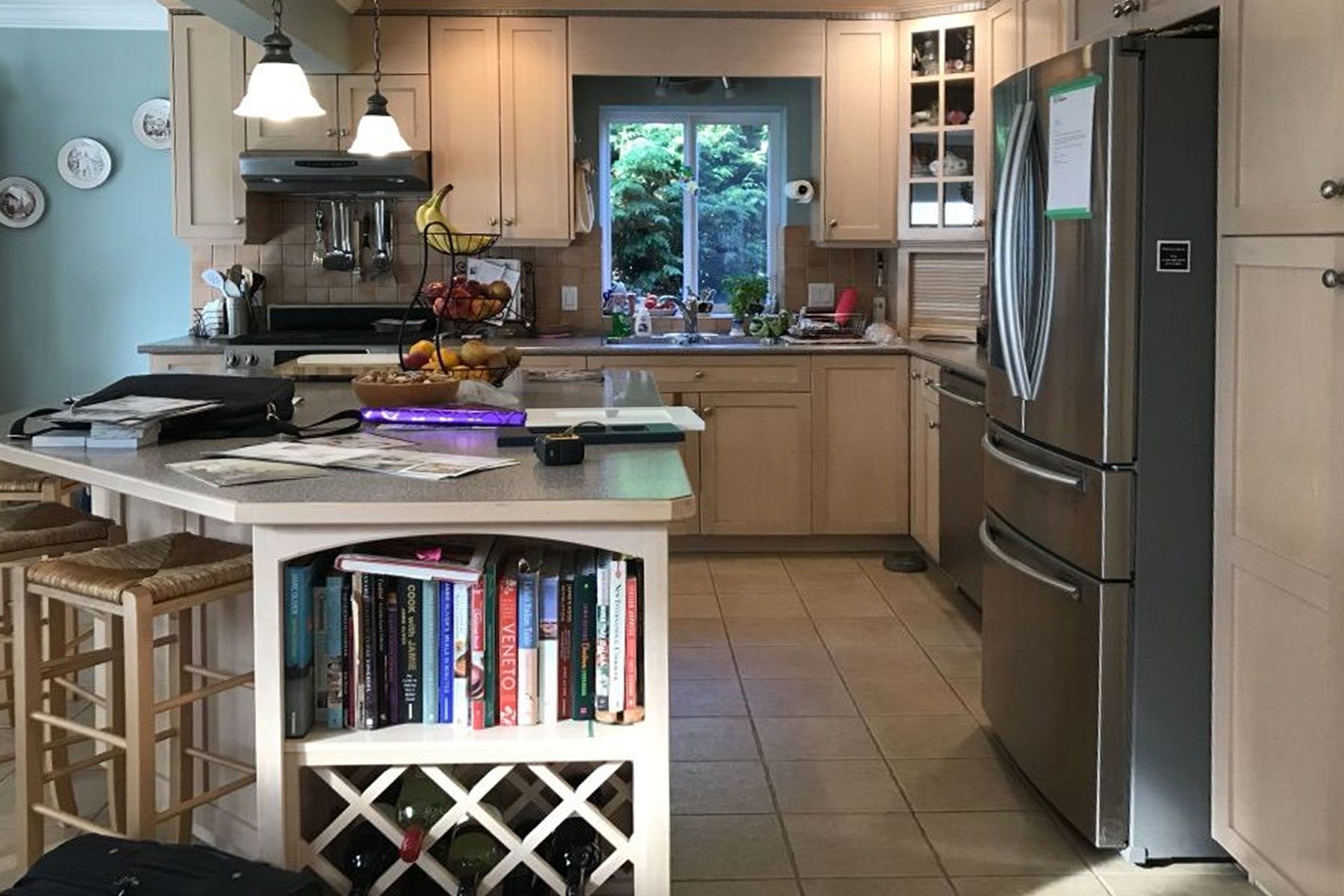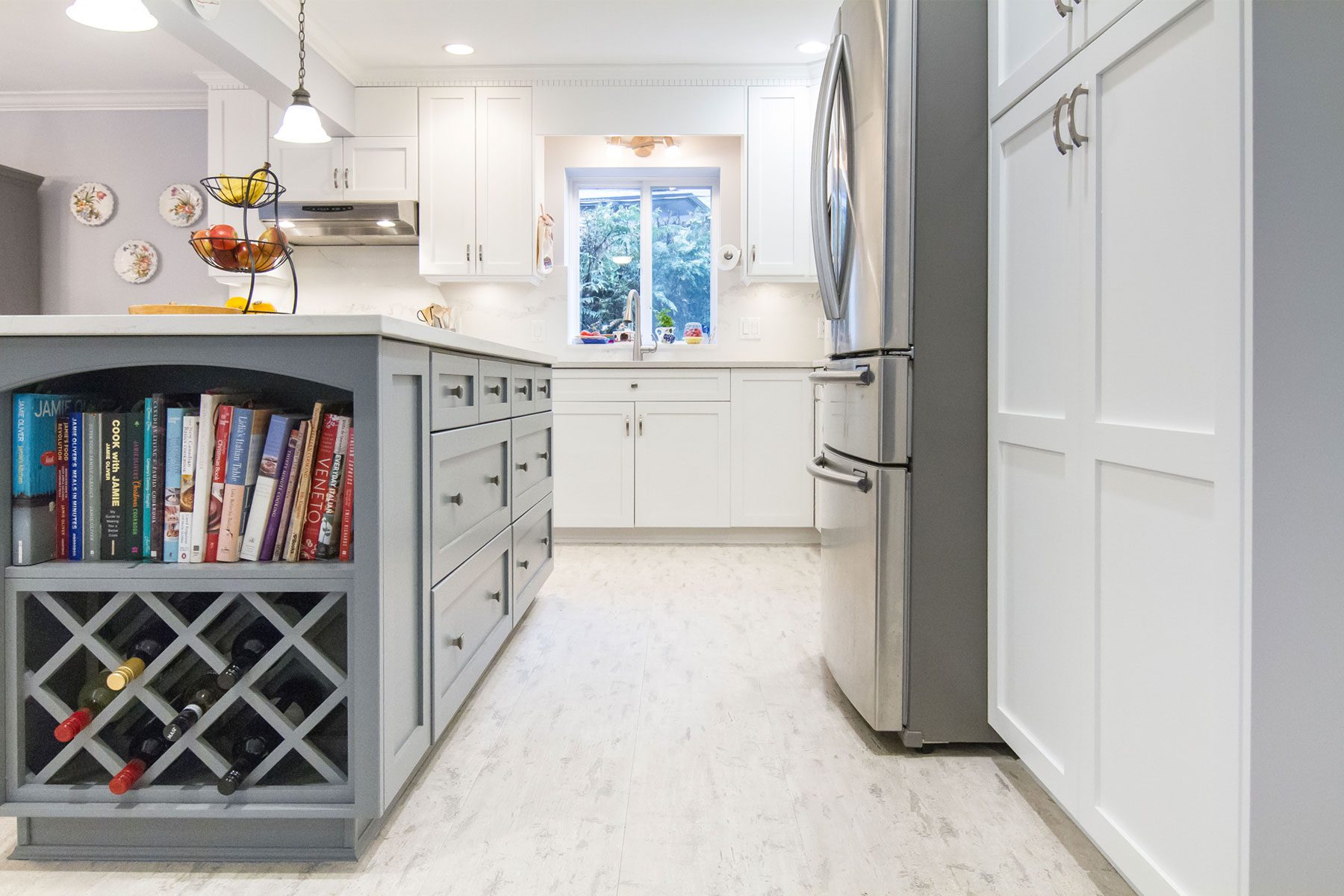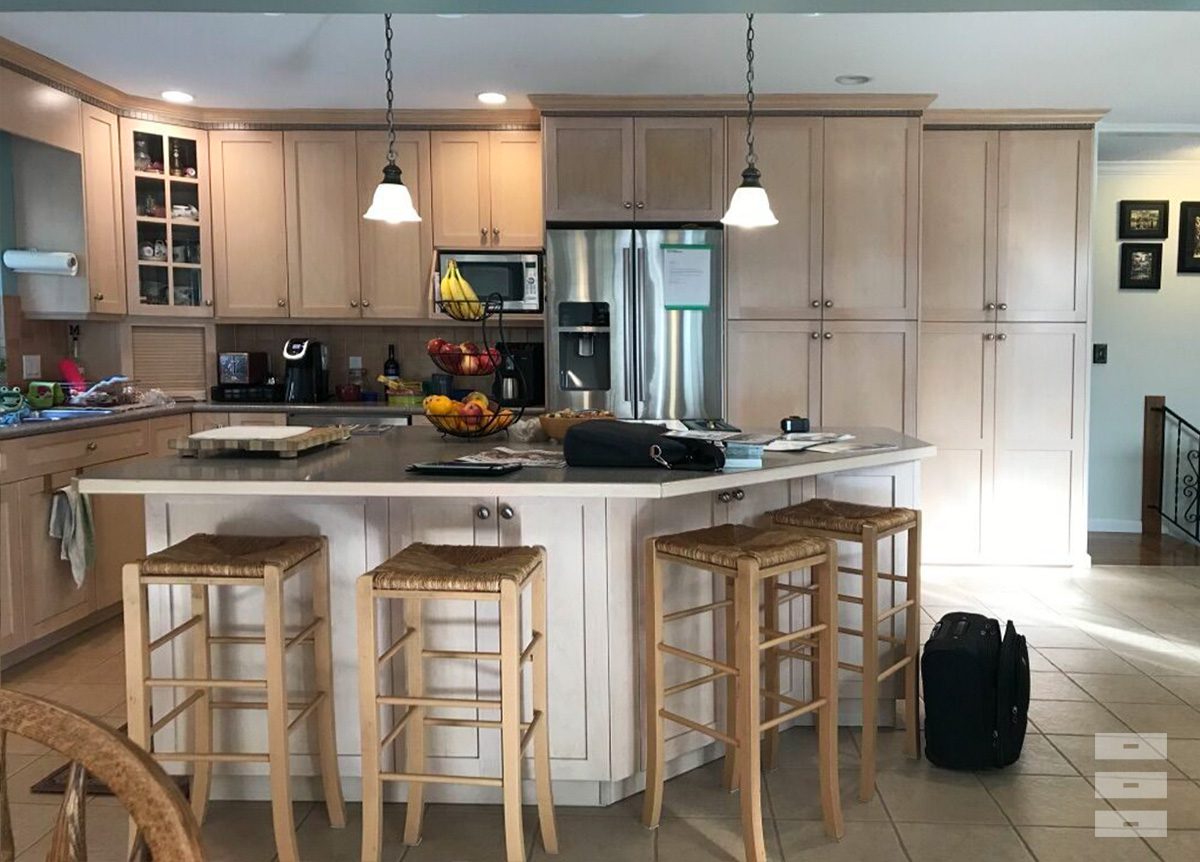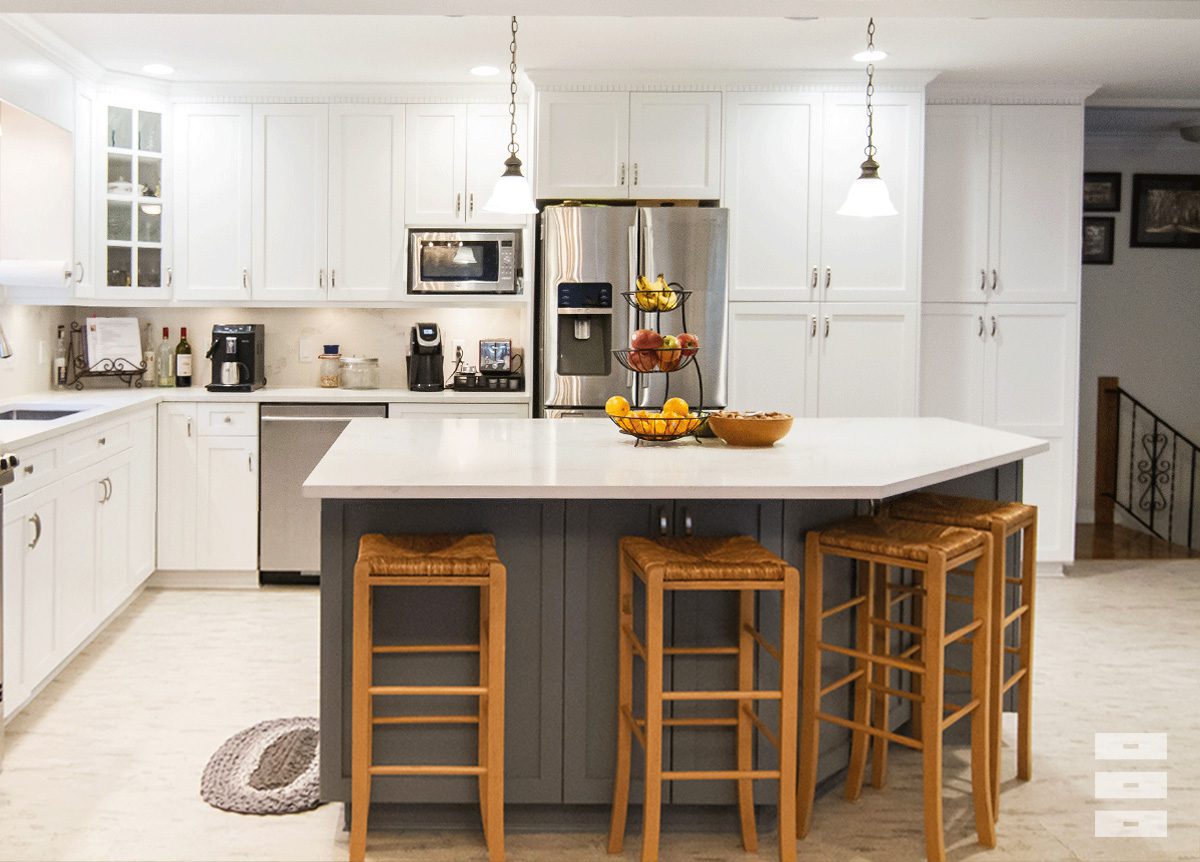 PAINT |The existing green just wasn't working on the walls and so our client decided to repaint the walls in a complementary colour to her lower cabinet accent colour. We also did a coat on all the trim, crown, and baseboards to ensure everything was updated and looking good as new.
And the cherry meatball on top? The entire process took us under two weeks, so our clients could get back to feeding their large family as soon as possible.
All in all, the total time from demo to final details came in at under two weeks, with the approximate cost for both the kitchen and two baths at around $20,000. 
Why settle for runaway renovation timelines and budgets? We can guarantee both!