Cabinets  •  Counters  •  Backsplash •  Sink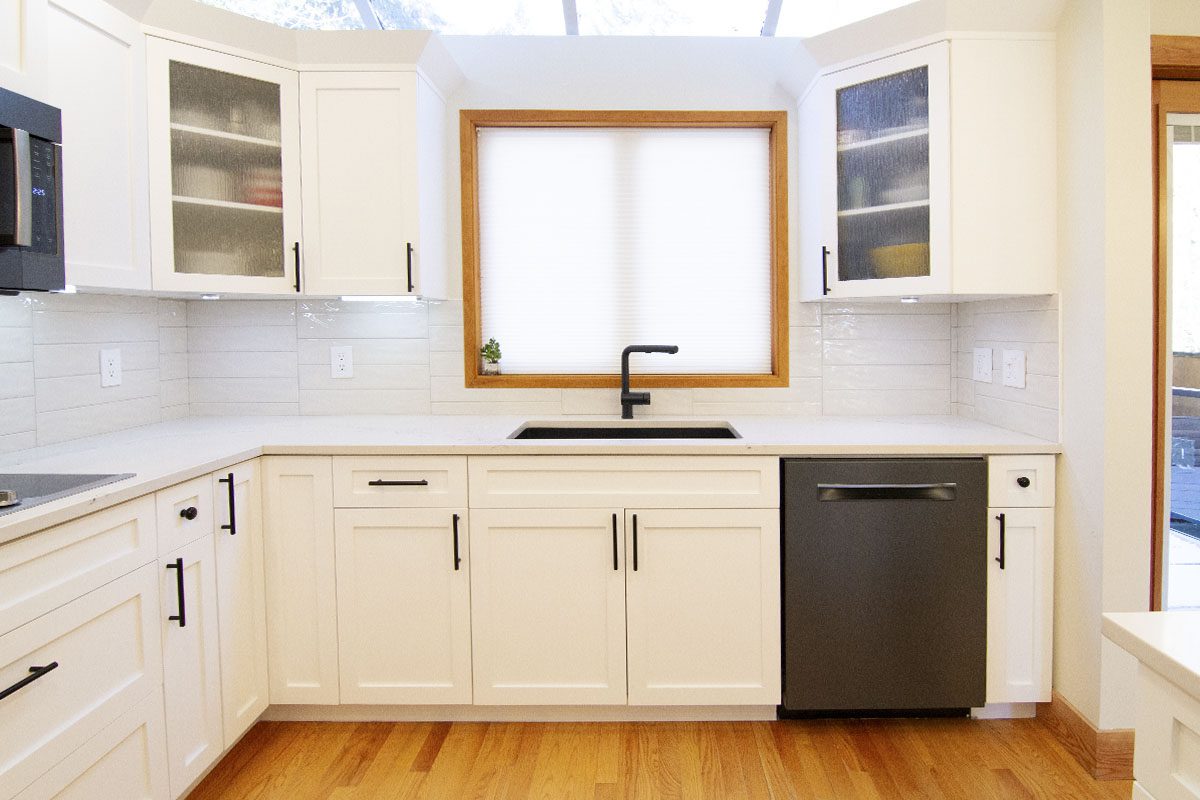 Oxford White Cabinets
Caesarstone Countertops
Subway Tile Backsplash
NuGranite Sink
Cost: $26,000*
*Costs are a rough guide only. Your own specific project may cost more or less depending on many variables.
John and his wife have a beautiful craftsman home in North Vancouver, with stunning wood accents running throughout. But their kitchen was feeling dark and out of step with their modern design aesthetic.
This was another fun project for us as we guided John and his wife through the design and remodel process for their kitchen. We did two or three consultations as they weren't sure if they wanted to replace their cabinets and everything else in the kitchen, replace the doors and refinish their cabinets, or just refinish the existing cabinets and update the counters, backsplash, etc.
CONSULT | The couple met with our designer for a consultation and some guidance, and after we showed them the roughly $10,000 saved by keeping their existing cabinets, they decided on refinishing and gave their deposit! Since they were going with the timeless white kitchen, and had design help, the material selection process was a breeze.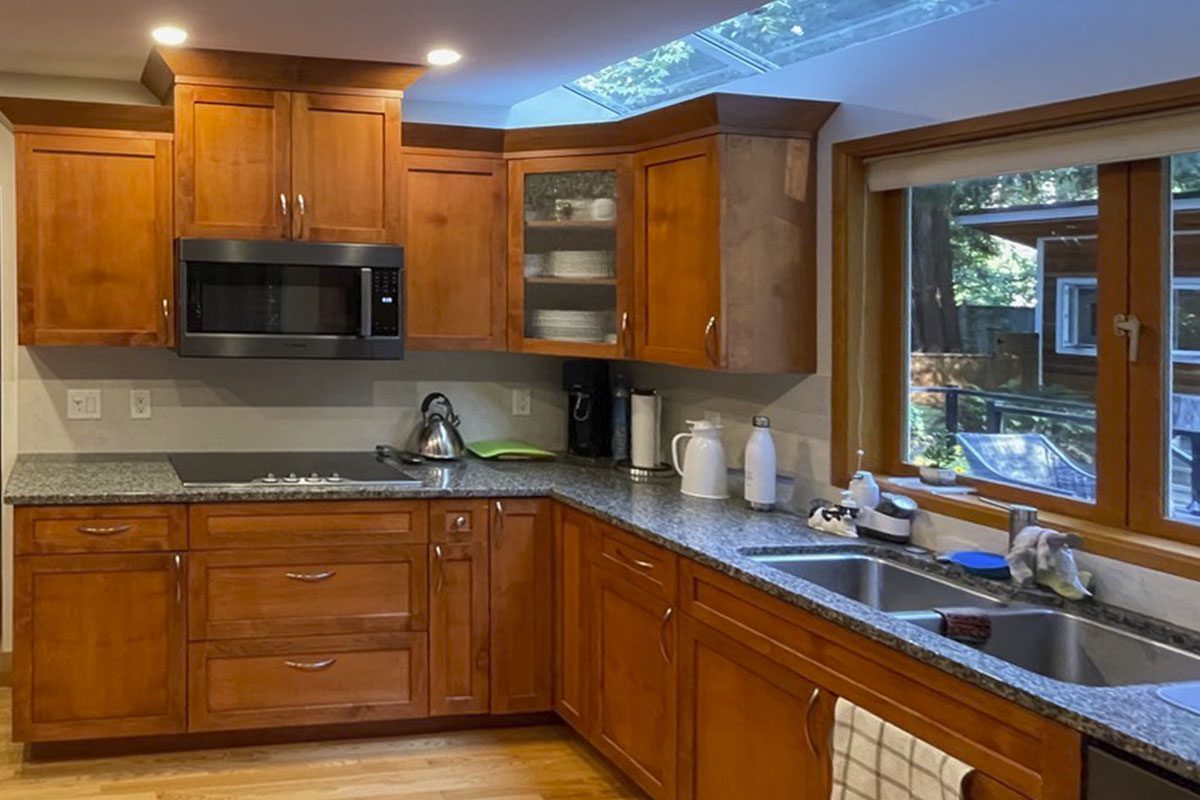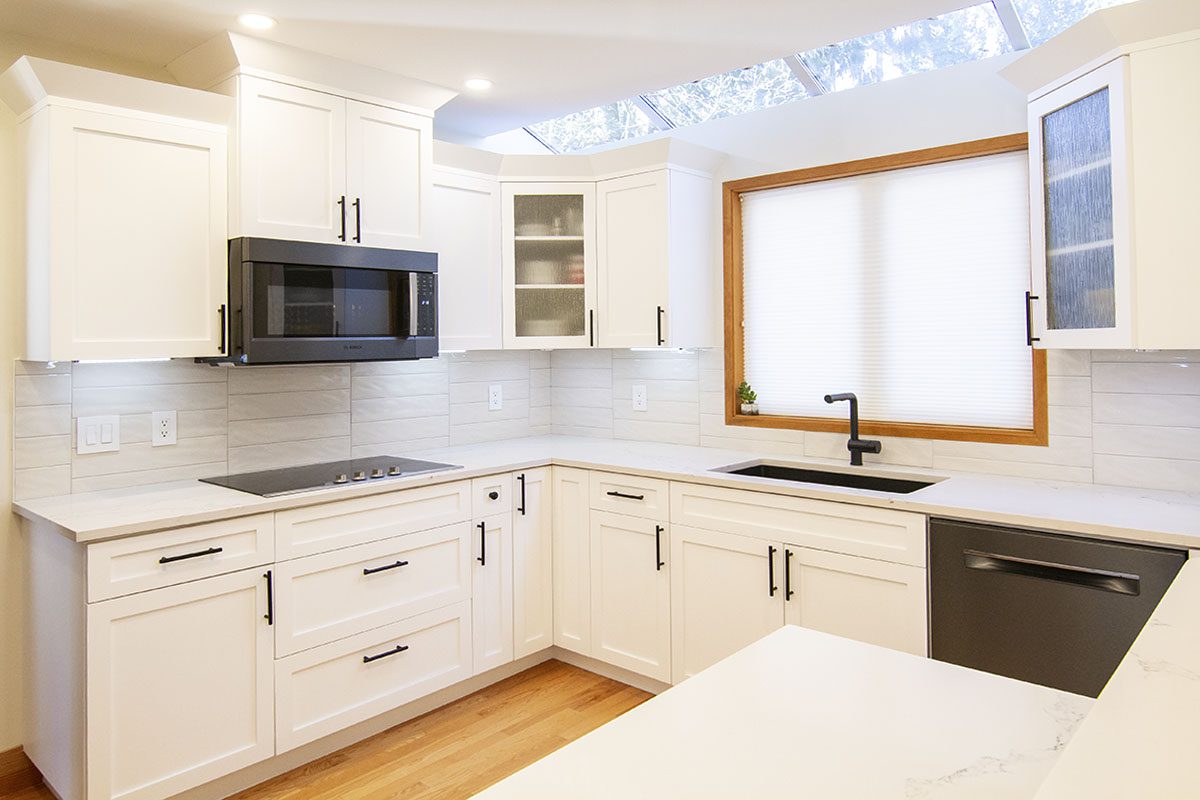 Before and After: What a difference!
Photographs by John & Jon Milstein
CABINETS | They chose Oxford White for the colour of their cabinets. Our refinishing system is perfect for white cabinets as the doors and drawers are sprayed with the same lacquer you get should you order brand new custom cabinets, so the stain, scratch and dent resistance is the absolute best in the industry. The water based coatings some competitors use will still stain with coffee, red wine, turmeric, and more. We don't want our clients to ever have to call us back with an issue, so we make sure our refinishing system is on point! As always we went with our 20-degree sheen for a low-lustre finish on the cabinets that won't show dirt, grease, or fingerprints like a glossy finish will.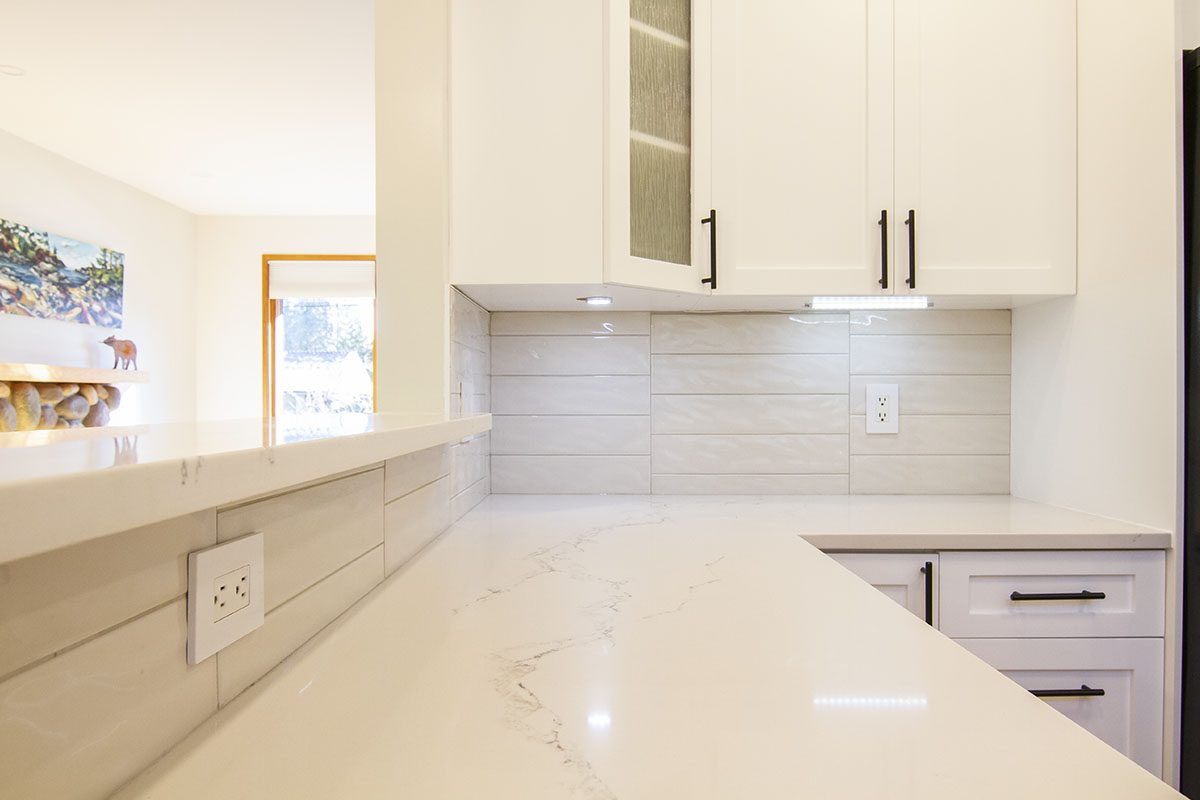 COUNTERTOPS | The countertops are a beautiful Caesarstone 5111 Statuario Nuvo. This product has a beautiful but subtle veining throughout the slab. It was a premium from the brands we usually recommend for clients, due to cost savings, but the clients and designer fell in love with it. And the reason we are crazy about quartz is it doesn't require sealing, you CAN put hot items on it (up to 300 degrees Fahrenheit), and I've even tested cutting on it with a knife (you'll dull your knife, don't try it!).
BACKSPLASH | The backsplash they chose is a beautiful glossy wide subway tile that has a subtle three dimensional pattern to it.
SINK | The newest trend in sinks are composite sinks (you may know Silgranit) and we have installed a ton of them! They come in some beautiful colours like white, smoke grey, and black. Made of reconstituted granite, they are extremely dent and scratch resistant. The client went with the VERTU K NuGranite sink from our recommended supplier Pearl. It comes with a lifetime warranty, which we love! The faucet is a Blanco Alta anthracite.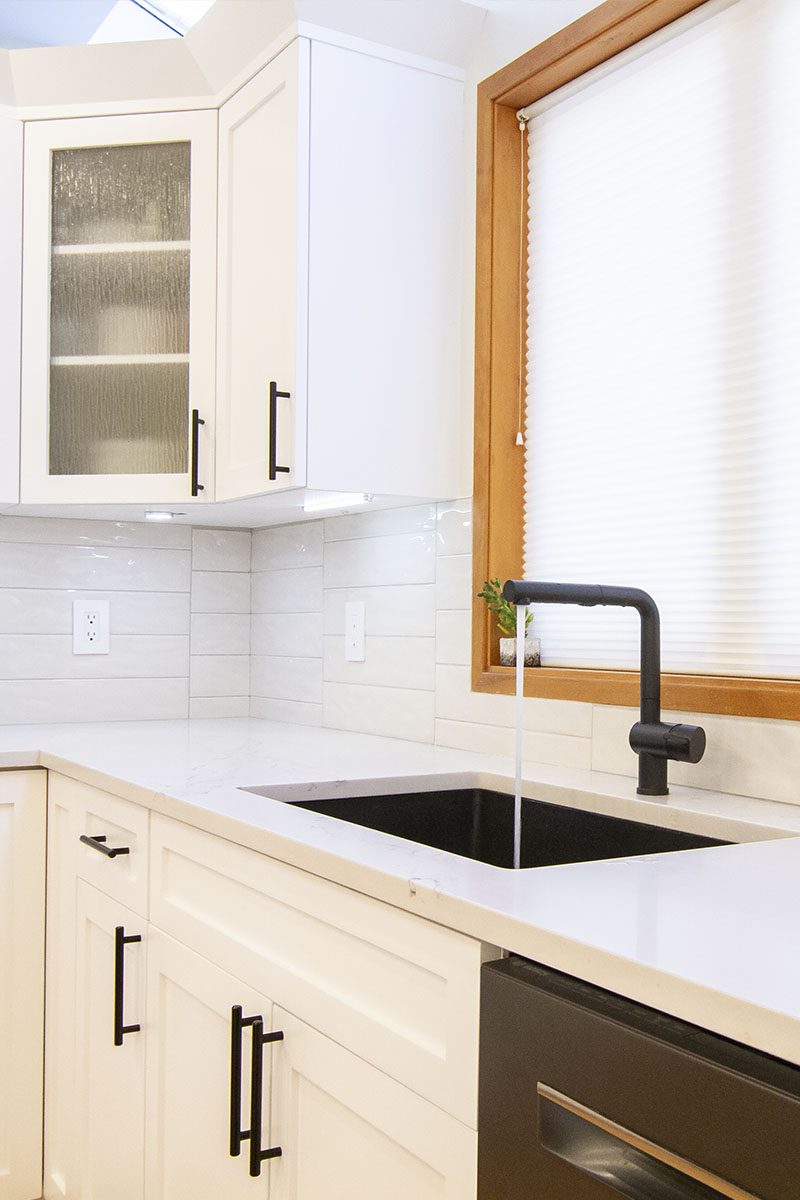 "John mentioned that he really loved our extremely fast turnaround time, how we stuck to our quote, and how we stuck to the schedule we gave them. We never get tired of hearing that — we created our service to solve the pain points that most people experience during renovations. "
We never get tired of hearing that as we created our service to solve the pain points that most people experience during renovations. Making and delivering on bold promises is one of our core values. It's extremely rewarding to hear that hard work and dedication appreciated! We also love the fact that we saved our clients enough money to take an extra vacation by refinishing their cabinets, saved many pounds of waste from the landfill, and some trees from being harvested for cabinets.
Everybody wins!