Update Kitchen  •  New Flooring  •  2 Bathroom   •  1 Powder Room 
Updated Kitchen
2 Bathrooms
1 Powder Room
Cost: $42,000*
*Costs are a rough guide only. Your own specific project may cost more or less depending on many variables.
Catherine and Dave reached out to us to update the floors, kitchen, and bathrooms in their East Vancouver townhouse. With the family out of the house in an Airbnb for a month – and four unique spaces to renovate – the clock was ticking. Could we deliver in style and on time?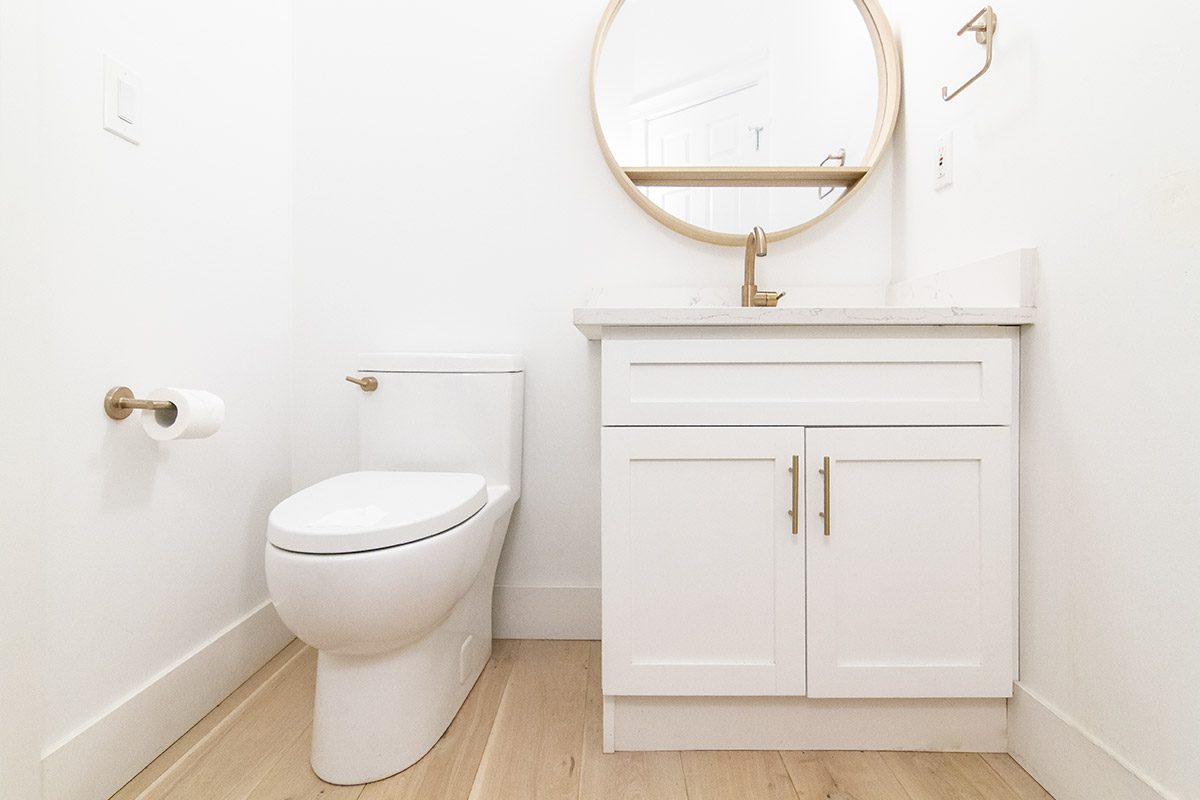 Two of the sweetest clients you could ever hope for, Catherine and Dave reached out to us to update the floors, kitchen, and bathrooms in their East Vancouver townhouse. They had a strong sense of design and knew exactly which colour palette they wanted throughout their home.
As you can see in the before pictures, their dark stained wood kitchen and chunky tile definitely weren't in keeping with the modern vision they had. After two or three meetings and preparing quotes to update the home, Dave and Catherine signed on and we set their guaranteed start date for their project.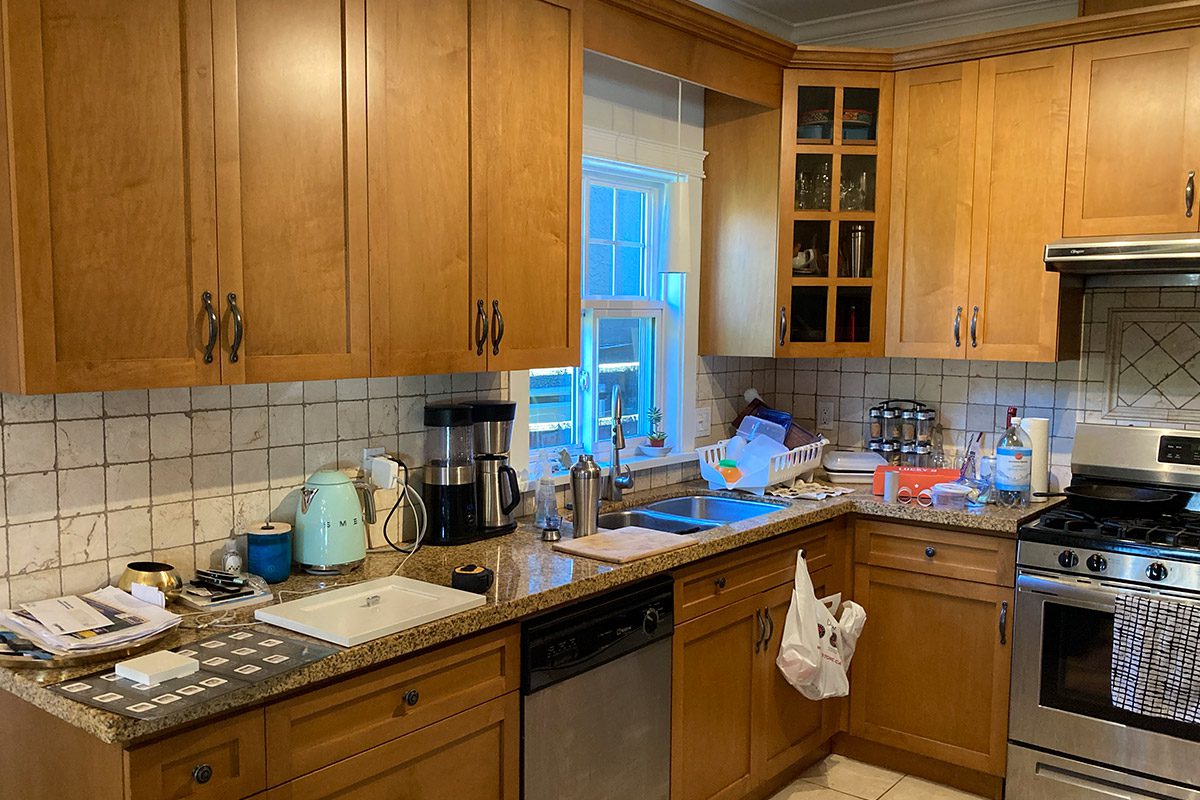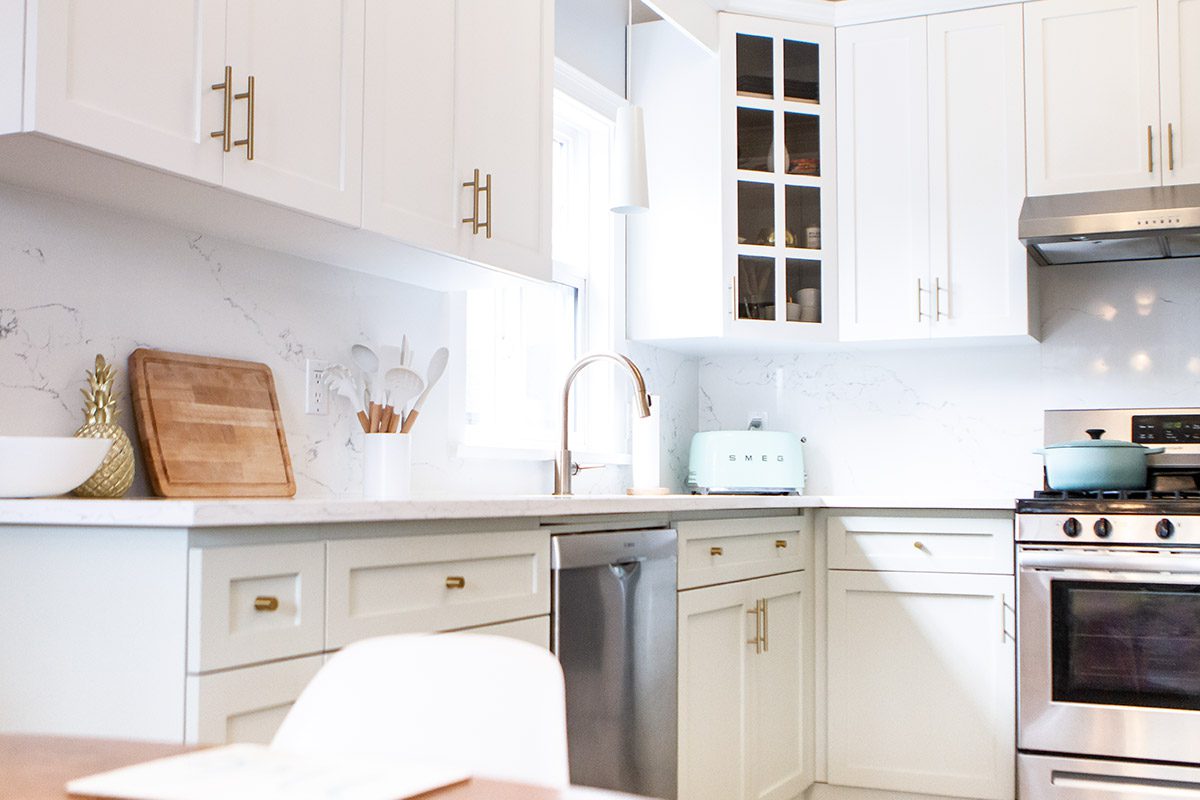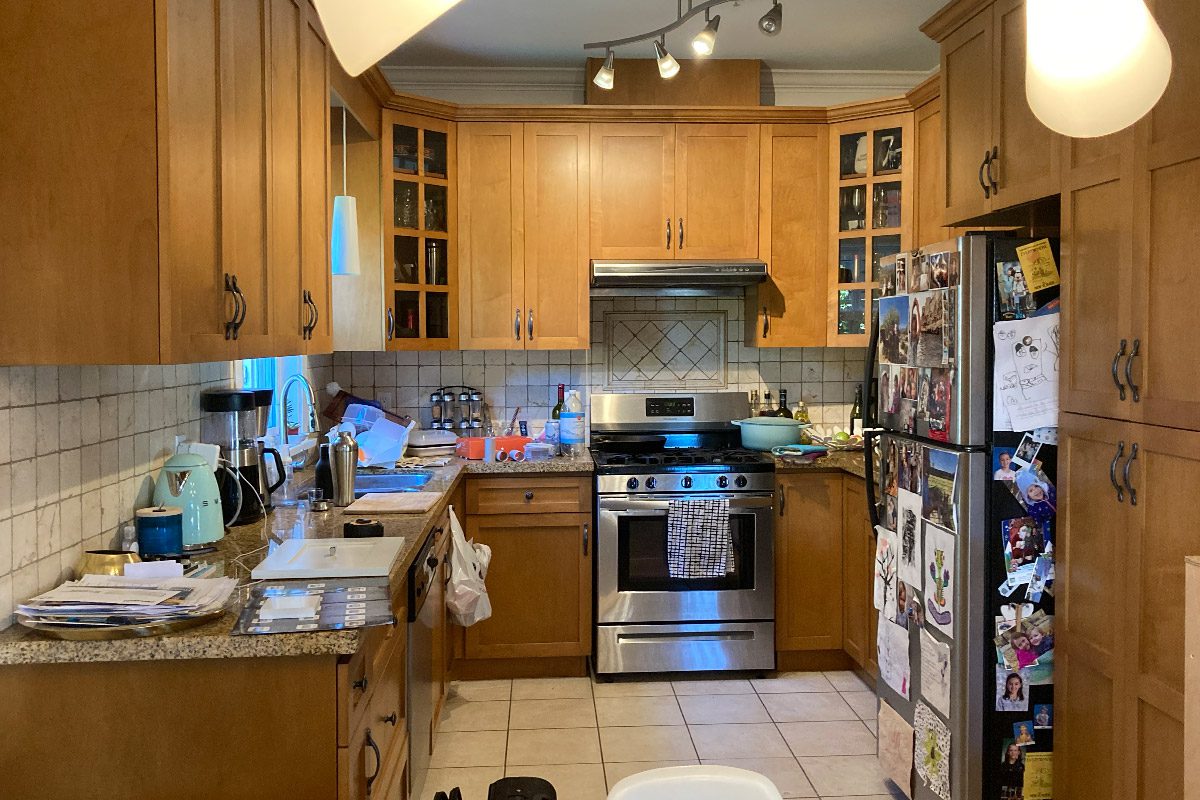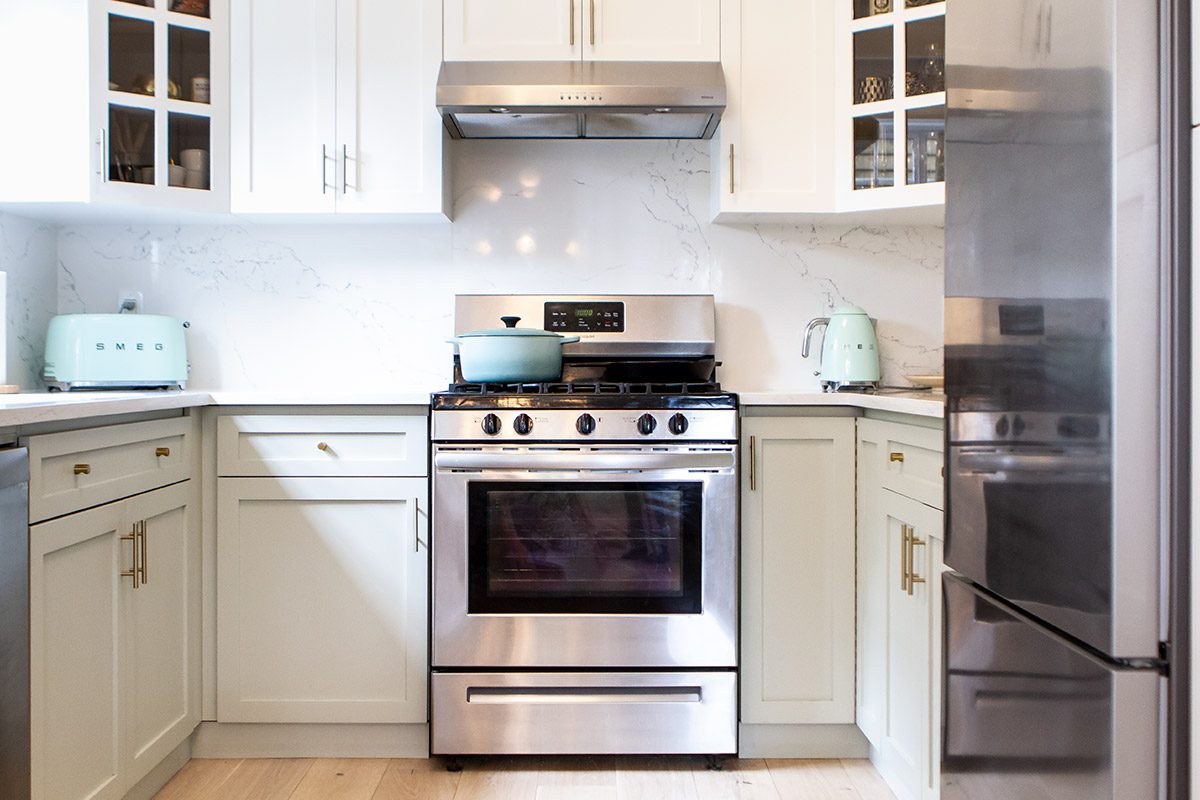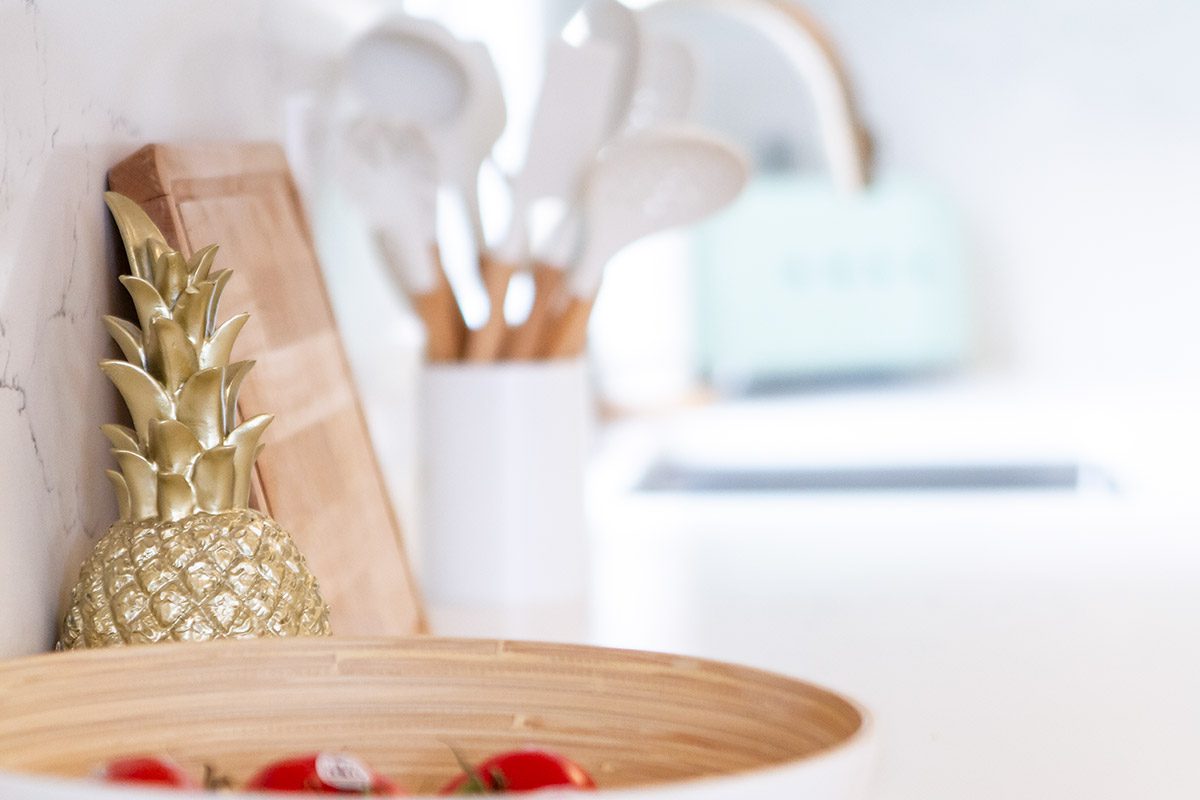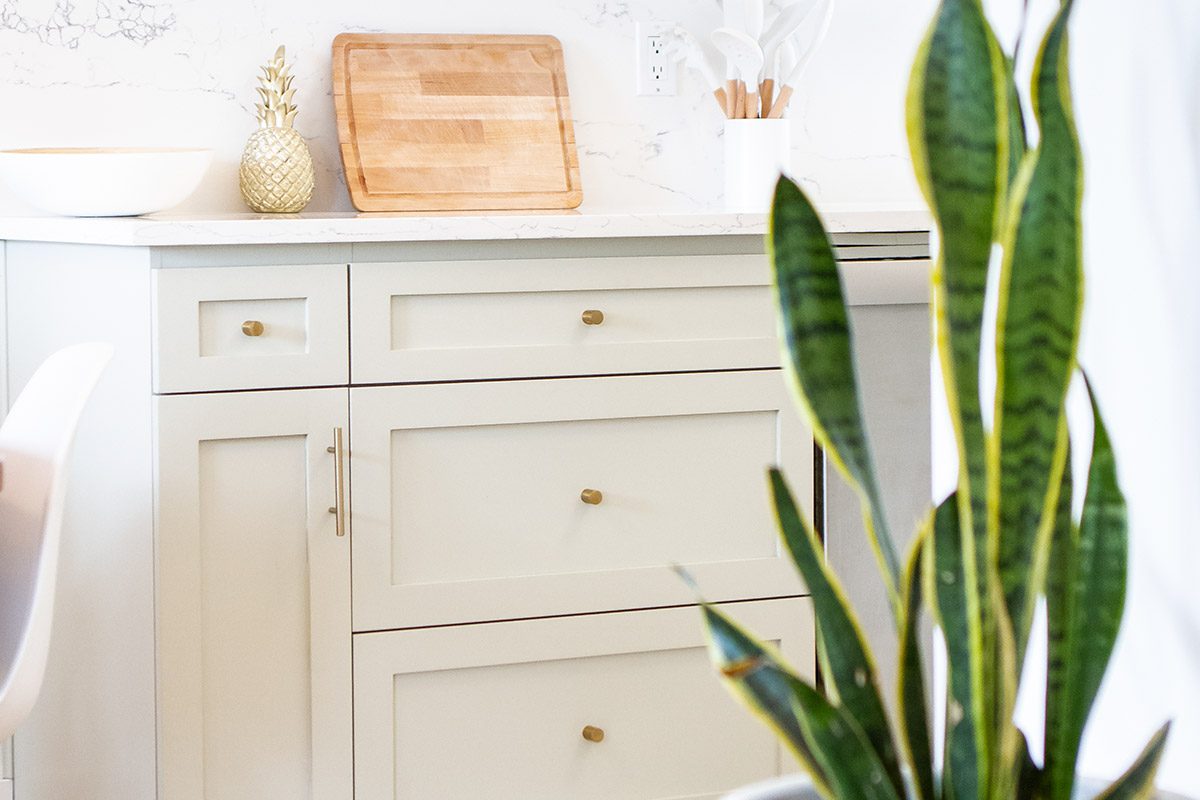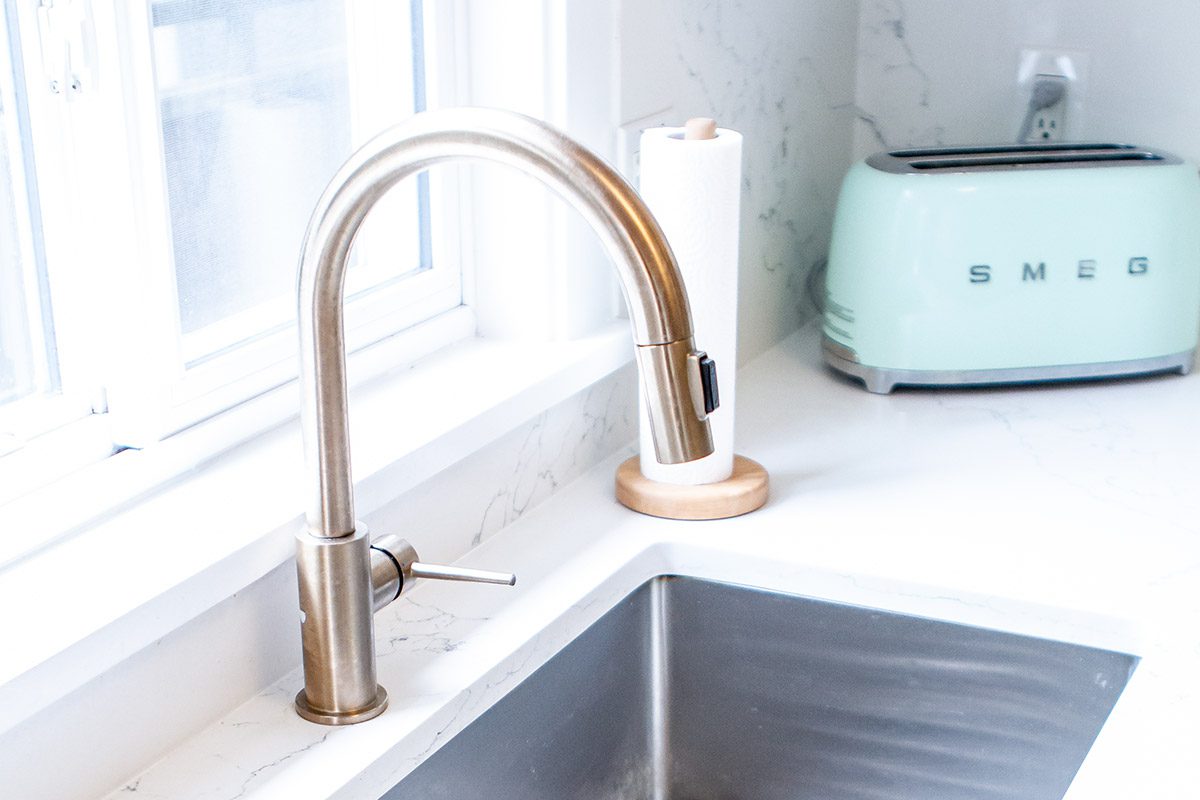 Photographs by Jon Milstein
Since we would be updating all of the kitchens and bathrooms simultaneously, the couple decided to rent an Airbnb for a month so their small family could live in peace, and we could blow out their renovations in record time.
RENO TIP | LIVING IN VS MOVING OUT
This is an often overlooked part of renovations, whether you will remain in the home or not. Over the last decade, we've seen countless clients live in the homes while their contractors worked around them. Finding accommodation while you're having a major reno done seems like a major cost, and it can be. But the other side of trying to live in a home while the major services are disconnected – and messy, loud, and stressful work is occurring day in and day out – is not something we would wish on anyone. Staying in-home also means your crews typically work at half efficiency since they can't work on all areas simultaneously, must keep your space meticulously clean, and have much less room to work, store tools, or materials. All in all, this can massively drive up the final cost of renovations. So, whenever you're making large scale updates (ex. all bathrooms and your kitchen), we always recommend, if at all possible, that you find an alternative home for 2-3 weeks. You may cringe at the upfront cost, but it will save you 1,000 times the value in stress and renovation costs. 
Our typical turnaround for kitchens is 2 weeks, but bathrooms are more intricate and are typically 3-4 weeks. We told these clients to expect 4 weeks but finished in just over 3, right on target. Most of our general contractor friends ask for 8-16 weeks for a kitchen and bathroom makeover, but there are a ton of hidden costs (like accommodation, meals eaten out, and stress on the family) that clients incur when renovations drag on. That's why it's a core tenant of our business to provide the absolute most efficient turnaround time for clients, without sacrificing the care and attention to detail important for a high-quality and long-lasting product.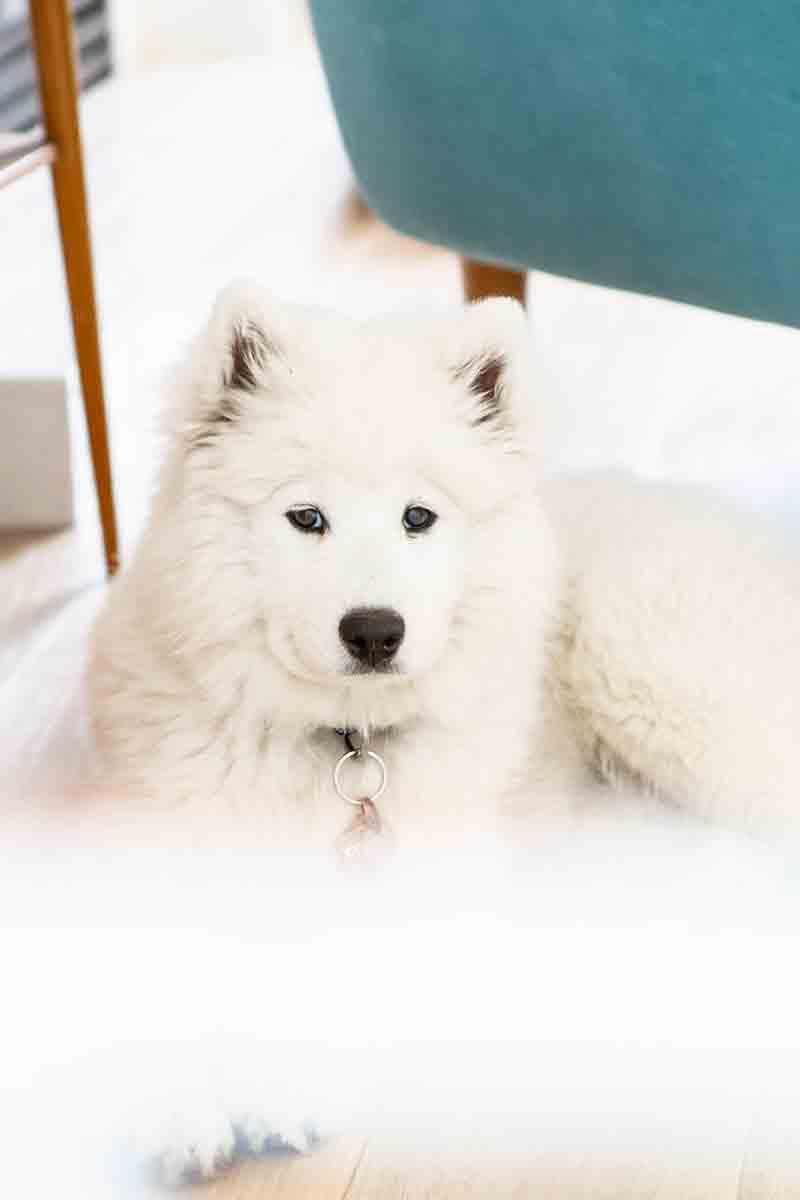 We believe that the true test of a company is not how they act when things go right, but how they behave when things don't go as planned… The end result was a fantastic refresh for the entire family.
FLOORING | Since the family's flooring scope was extensive throughout the main area and up the stairs, we referred them to one of our trusted partners for flooring, Ethical Flooring. Even if we can't help a client with a specific scope, we always want to make sure we can recommend them a trusted supplier and at least save them the countless hours of searching and vetting, and experimenting with new and untested providers.
CABINETS & HARDWARE | The kitchen received a total facelift. We started by refinishing their cabinets with a two tone look. Chantilly Lace (oc-65) and Vale Mist (1494) created one of my favorite subtle contrasts I think we have ever seen. The cabinets were finished with gold handles on doors and knobs on drawers for a subtle accent which really compliments both cabinet colours.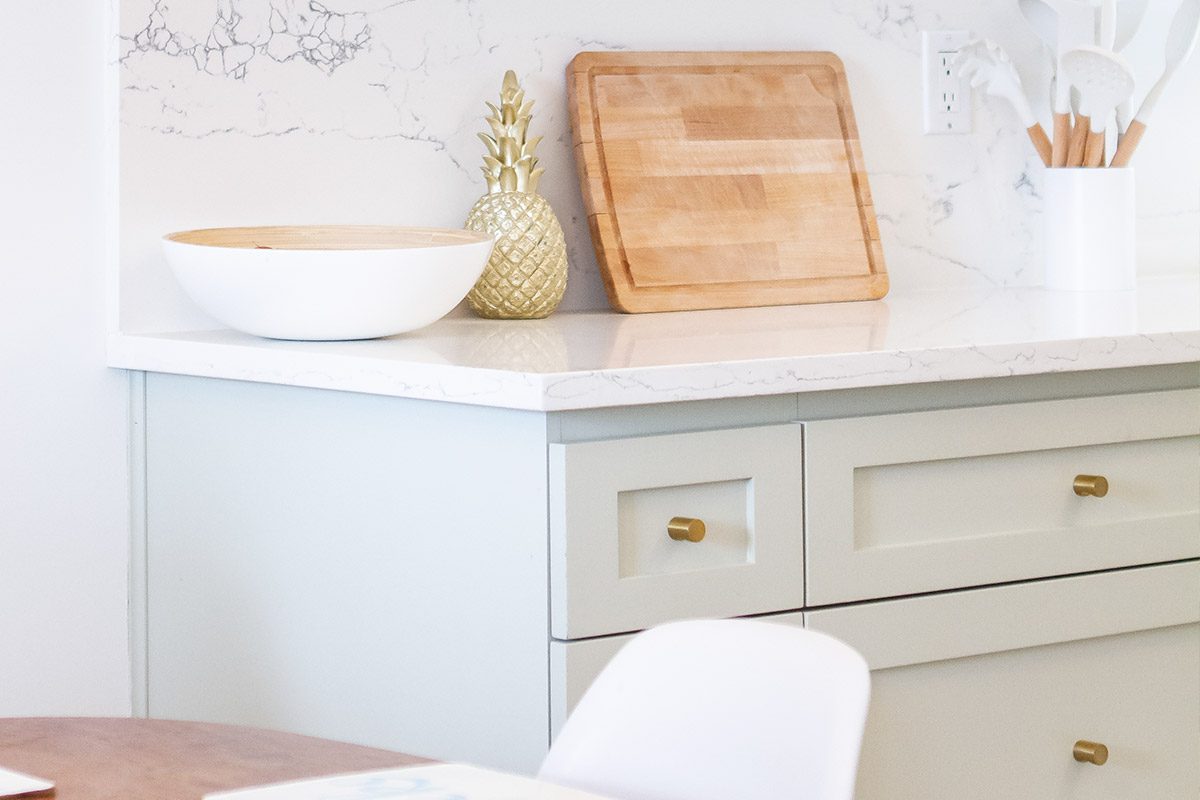 SINK & FAUCET | They carried the gold accents into the sink with a gold faucet from our supplier Pearl, and a stainless steel sink from them as well. Some clients really hesitate to introduce metal finishes like gold because they feel you have to commit to having gold everywhere, but as our designer believes metal finishes can be mixed when done sparingly and with intention.
This kitchen had a quirky detail around the faucet and window sill. The previous owners had chosen a fairly thick faucet and the previous installers hadn't accounted for it when positioning the sink and faucet. So to make it fit, they cut a hole out of the window sill to make room for it and had the faucet turned sideways so the control arm could operate!

Now, we definitely made sure to measure twice before cutting and installing the sink and faucet this time, but the hole in the sill remained. The clients actually said they weren't bothered by it but after seeing the beautifully remodeled kitchen, I couldn't leave it unfinished. So I used a hole saw to cut a piece of wood that would mostly fill the hole and then used some filler and paint to make it look like it was never there!
BATHROOMS | The two upstairs bathrooms and downstairs powder room needed some major help. We installed new tubs, new tile around the showers, and new floor tile. We also refinished the cabinets, and installed new custom glass for the upstairs baths. We carried the custom gold finishes from downstairs into the upstairs bathrooms… and this is where we ran into a few hiccups.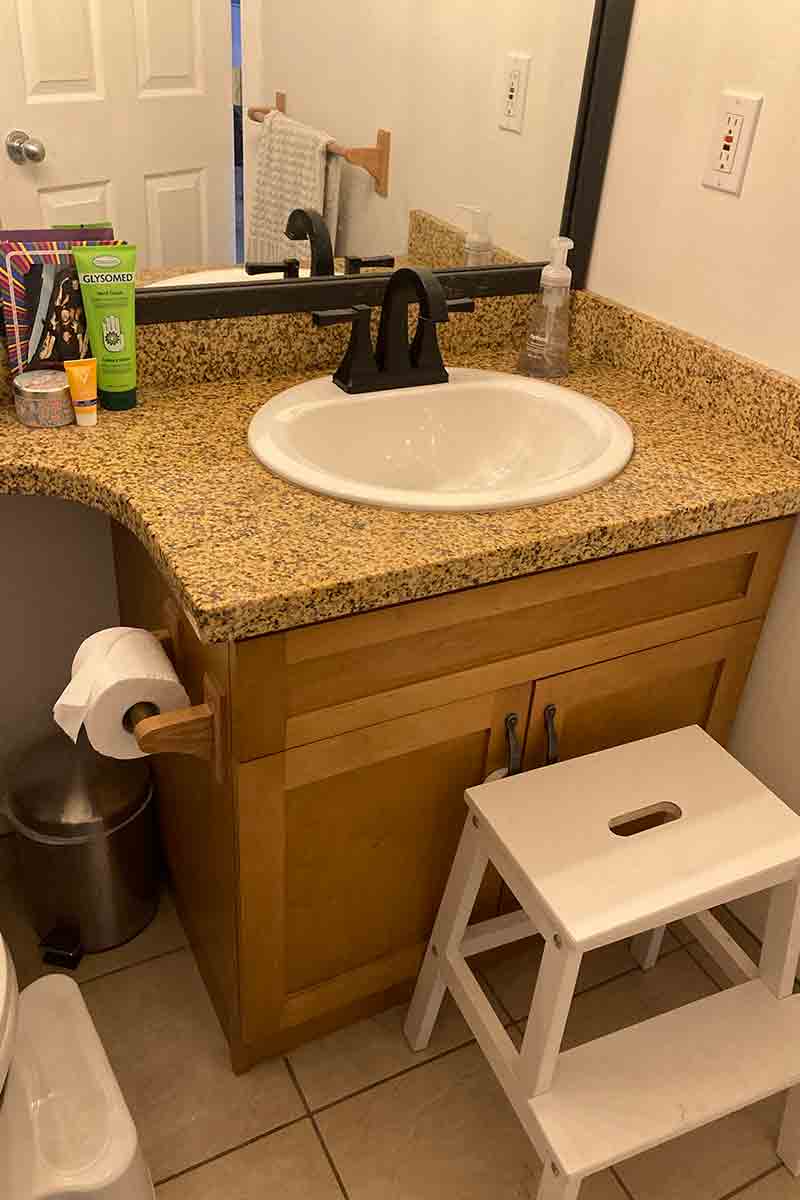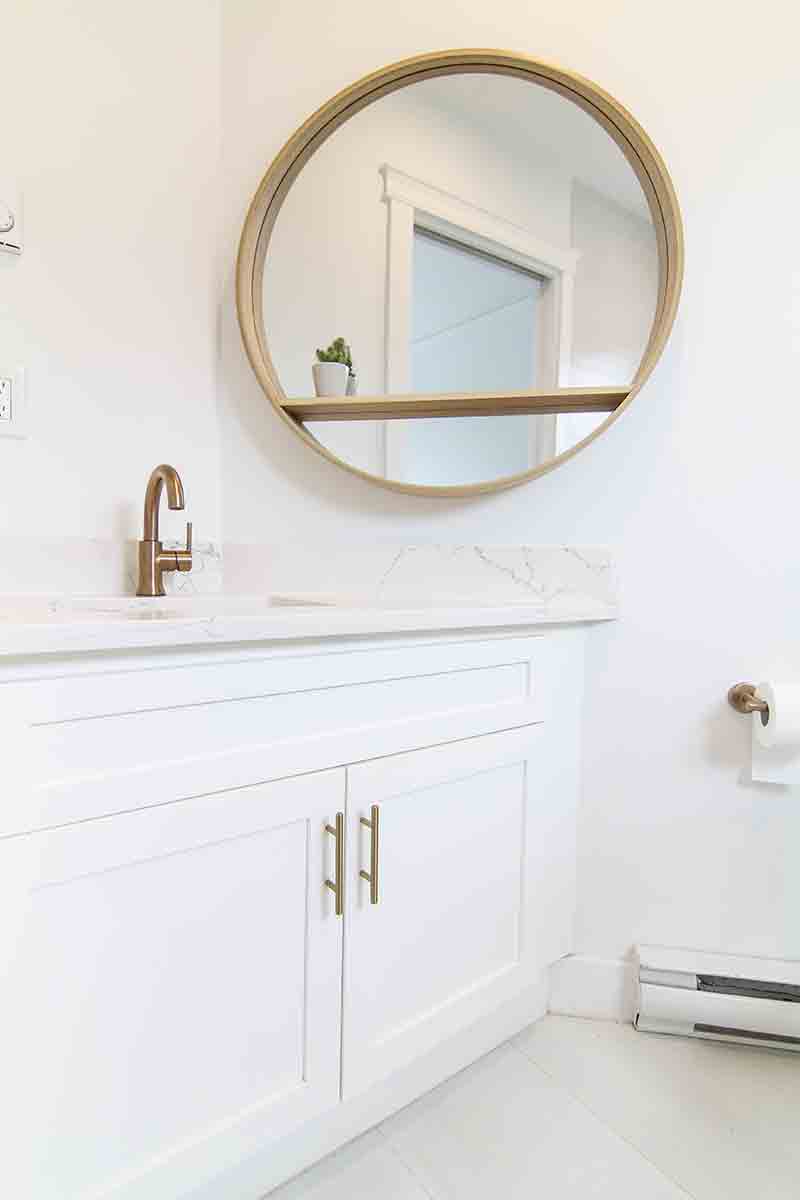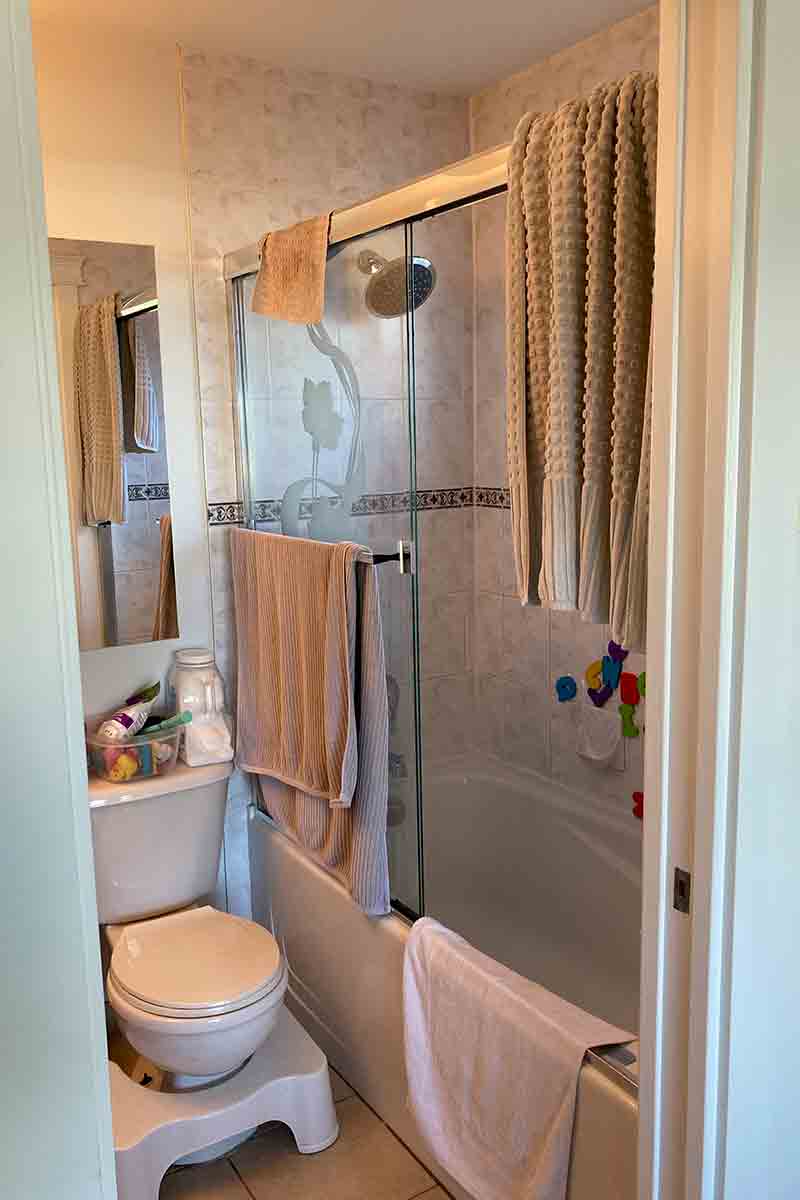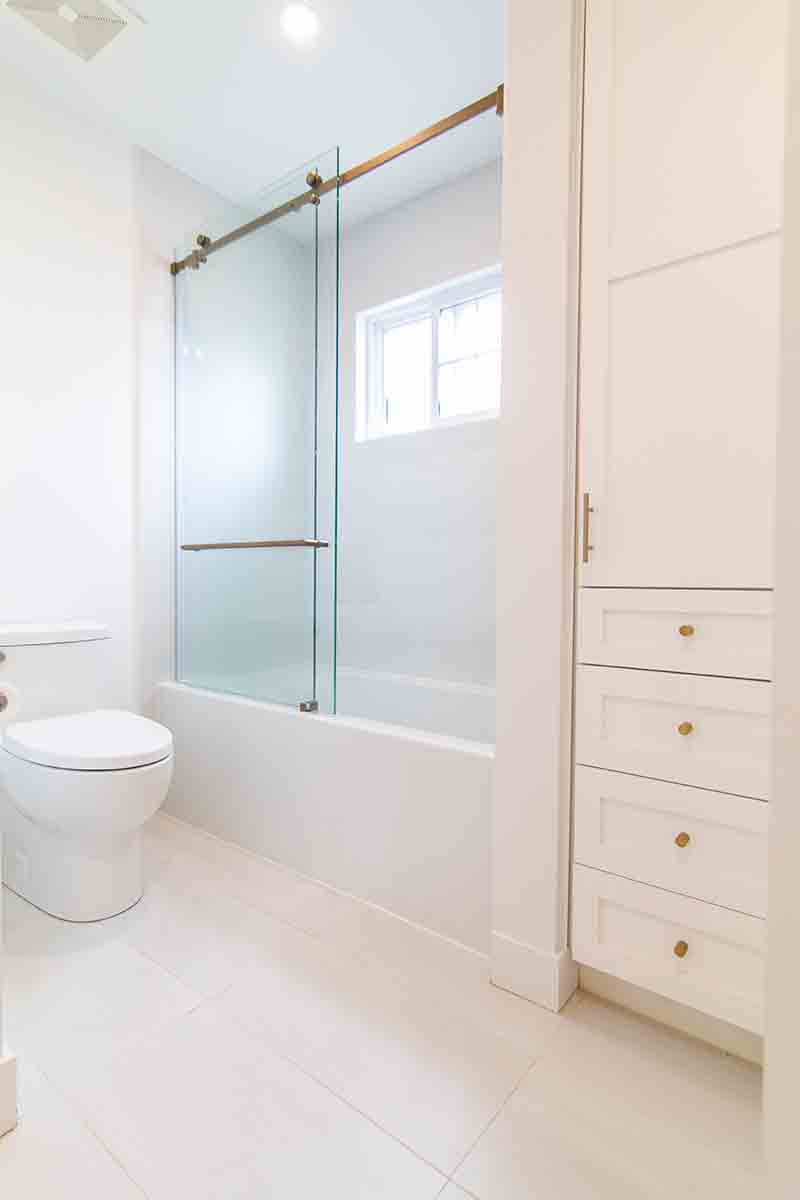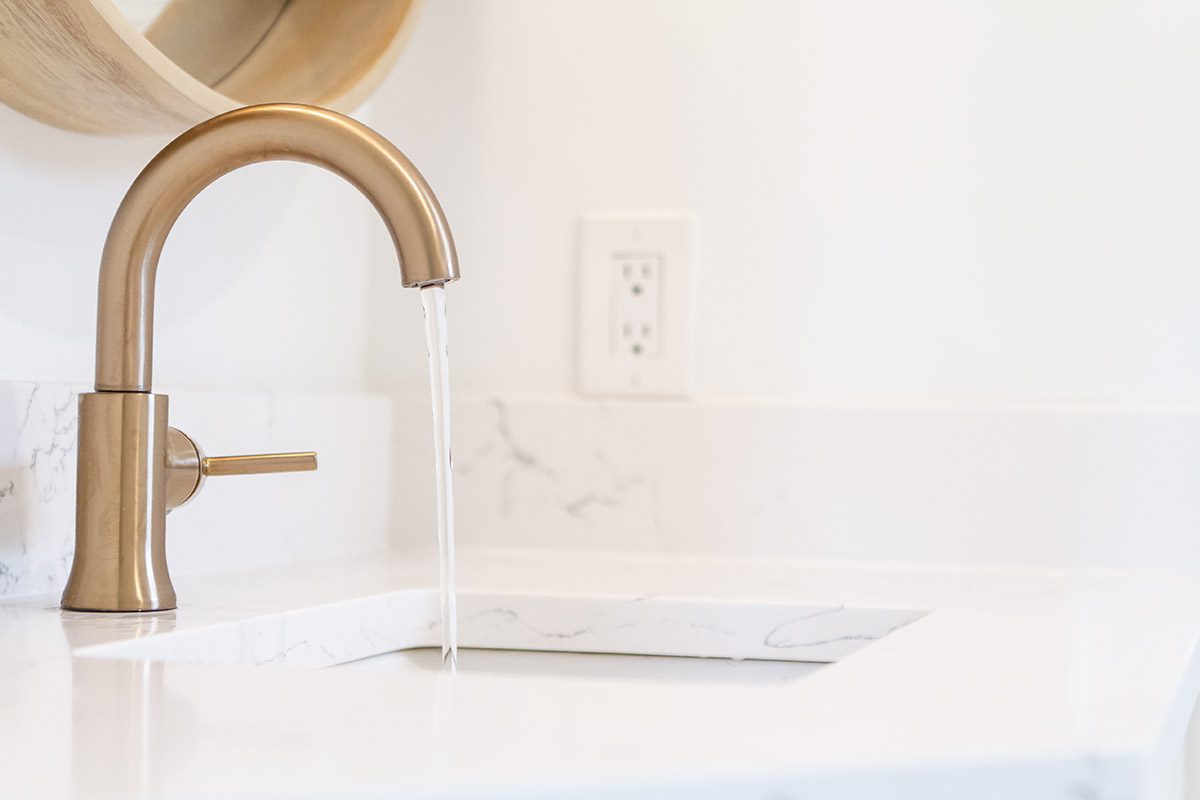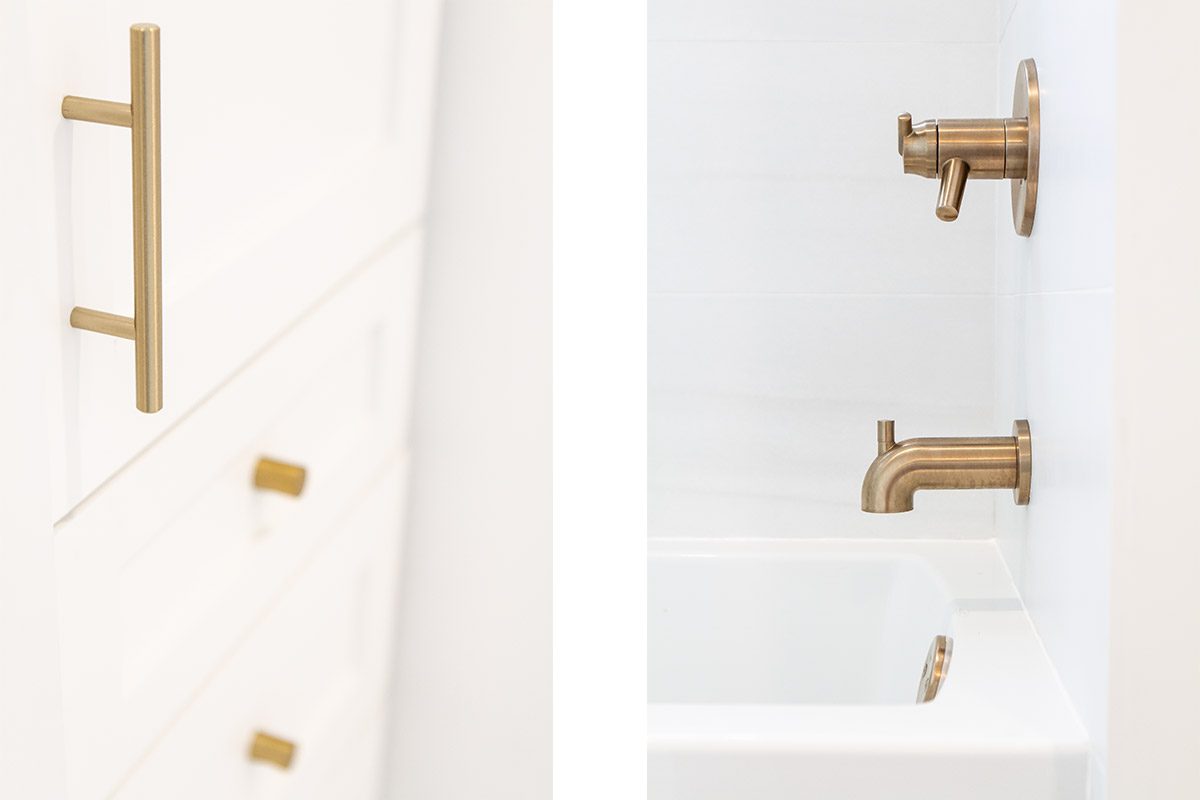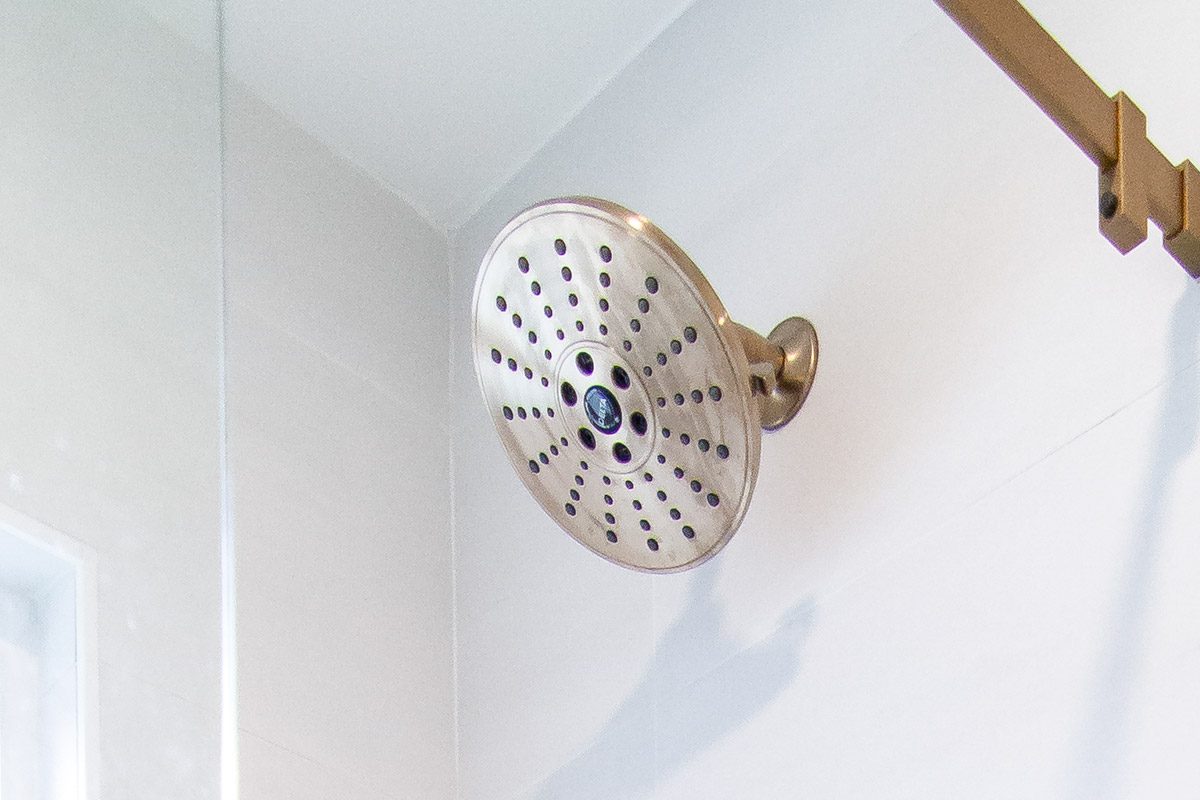 Every major renovation has a few bumps in the road. We believe that the true test of a company is not how they act when things go right, but how they behave when things don't go as planned. We had set up a dust enclosure wall to contain the significant amount of dust from touching their personal items in the master bedroom. However, the wind had lifted some of our low tack tape used to save the walls while we were working, and when we removed the wall of plastic we found a nice layer of dust around the room. We immediately called in cleaners to dust absolutely everything in the area and get it back to the way it was.
The end result was fantastic, and we think the photos and videos show just how much of a massive transformation this project was.